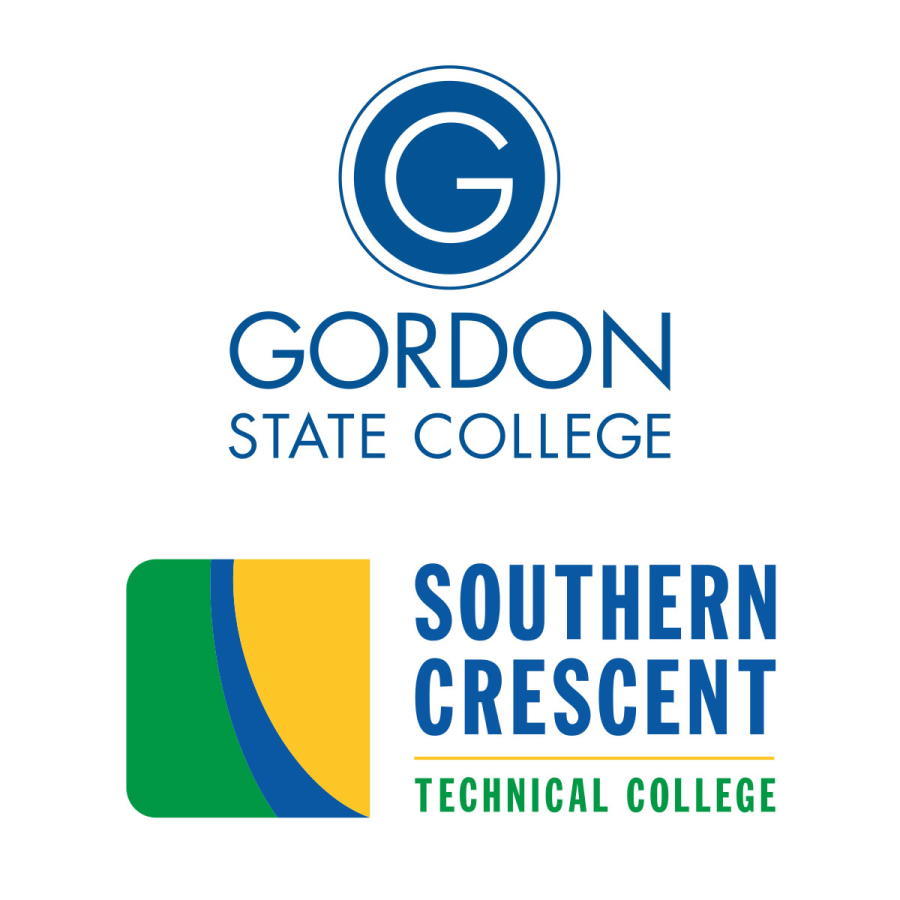 Date Posted: November 13, 2020
Gordon State College President Kirk A. Nooks and Southern Crescent Technical College President Alvetta P. Thomas signed an articulation agreement Thursday to facilitate the transfer of courses from SCTC for students pursing a bachelor's degree at Gordon State.
This agreement, signed by both parties virtually, establishes a plan whereby an undergraduate student may first attend Southern Crescent Technical College, an institution accredited by the Commission on Colleges of the Southern Association of Colleges and Schools, to complete an associate degree and then transfer to Gordon State College to complete a bachelor's degree where offered on campus, online, at Gordon State's McDonough Center or at Southern Crescent Technical College's Henry Center.
Under this agreement, students completing an Associate of Applied Science Degree (AAS) from Southern Crescent Technical College are eligible to pursue a Bachelor of Arts degree in Interdisciplinary Studies with a concentration in Management from Gordon State College. Gordon State will guarantee the transfer of at least 45 credit hours of course work toward the BAIS degree with a concentration in management to students who graduate from SCTC with an AAS in accounting, business, or business technology.
SCTC students who complete the core requirements for the Bachelor of Arts in Interdisciplinary Studies with a management track before transferring to GSC will be able to complete the degree in four semesters.
The Adults Forward program at Gordon features two baccalaureate degrees, Business Management and Administration and Interdisciplinary Studies, that this agreement will allow associate degree credits earned at SCTC to transfer toward the completion of, providing SCTC students a seamless transition in order to continue their education. The Adults Forward program is slated to start January 2021 at SCTC's Henry Center. Gordon will host an open house for the Adults Forward program November 19 at 6 p.m. at the Academy for Advanced Studies in Henry County, 401 Tomlinson Street in McDonough.
"We are fortunate to continue to partner with Southern Crescent Technical College to provide opportunities for students to further their education through the Adults Forward program," Nooks said. "The strategic partnerships we are nurturing and building with relationships like this one within Higher Education institutions reinforce the pipeline from our education ecosystem. This supports our approach to increase the regional completion rate, which in turn benefits our region with stronger workforce leaders."
Thomas said the articulation agreement aligns with SCTC's mission to develop talent within the region and allow their graduates to continue their academic journey locally. "This partnership between Southern Crescent Technical College and Gordon State College demonstrates the commitment both institutions have to creating opportunities for the students and the communities that we serve," Thomas said. "This agreement will provide an additional education pathway for SCTC graduates to have a seamless transfer opportunity and further their education at Gordon State College.  At Southern Crescent Technical College, we are focused on helping our students reach their educational goals as we strive to build strong students, strong careers, and strong communities."
Any Southern Crescent student who completes the AAS in accounting, business management, or business technology, is in good standing at SCTC, and meets the appropriate admissions requirements to attend Gordon State will be ensured that the courses earned at SCTC and listed in the articulation agreement will transfer to GSC.
Administrators at both schools say the agreement is a partnership that provides educational opportunities for currently enrolled and potential students of both institutions. Both institutions will encourage the dissemination of information about programs in this agreement with interested and qualified students, with both institutions providing advising and counseling to prospective students.
To facilitate the transfer of coursework, this articulation agreement includes the courses normally taken by students at Gordon State College's main and off campus sites during their freshman and sophomore years. Transfer students should realize that they must complete all coursework necessary in their respective degree plan of study before receiving their bachelor's degree from Gordon State College. A minimum grade of C or above will be required for any course designated for transfer of course credit that is not covered in the agreement.
The agreement was also signed by Southern Crescent's Vice President for Academic Affairs, Dr. Steve Pearce, and Vice President for Academic Affairs, Dr. Xenia Johns. Gordon's Provost and Vice President for Academic Affairs, Dr. C. Jeffery Knighton, and Vice President for Enrollment Management and Student Affairs, Dr. John Head, signed the document in addition to Nooks.