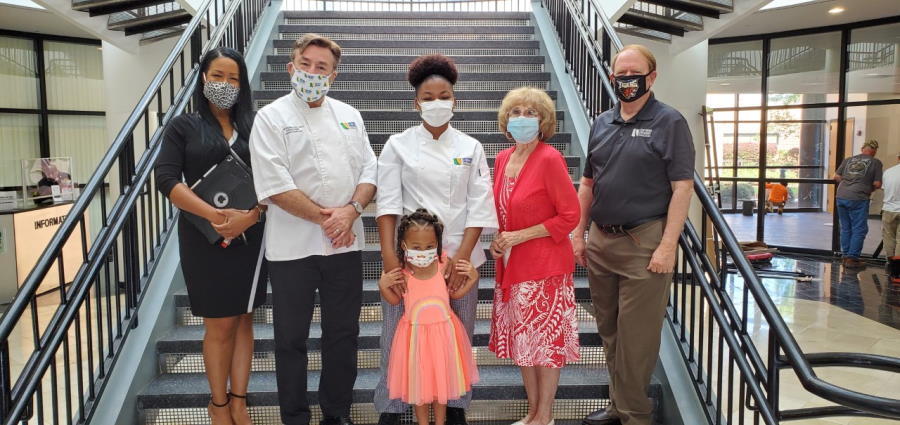 Date Posted: September 16, 2020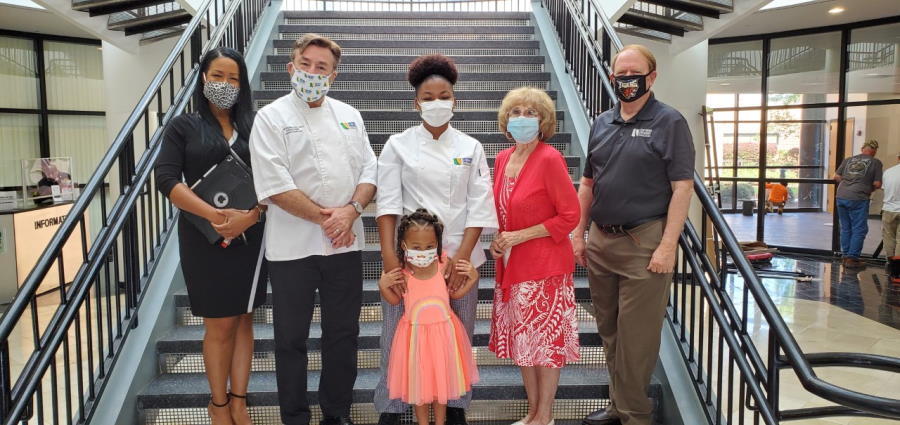 Congratulations to Southern Crescent Technical College (SCTC) Culinary Arts student Marinda Wilson for being awarded a $750 scholarship from the Iris Chapter of the American Business Women's Association (ABWA).  ABWA Secretary Bonnie Pfrogner awarded the scholarship.
Marinda will graduate in May 2021 with an Associate Degree in Culinary Arts. She has a very busy life, raising a five year old daughter, working part-time at Hanna Brothers Catering in Fayetteville (Pinewood Studio) and taking a full time course load at SCTC.  She has perfect attendance and a 4.00 GPA.
Chef Patrick Boutier, SCTC Culinary Arts Program Coordinator stated, "Marinda is a fantastic student and well-deserving of this recognition and scholarship.  She always gives her best effort in class and I know she will be a great representative as a graduate of our program."
The mission of the American Business Women's Association is to bring together business women of diverse occupations and to provide opportunities for them to help themselves and others grow personally and professionally through leadership, education, networking support and national recognition.  The local chapter meets monthly has awarded over $100,000 in scholarships to women pursuing higher education.  These scholarships are funded through member organized and staffed events such as the Bel Charity Day Fundraiser and the popular Cards for College game day and lunch held in the Fall and Spring. The local Iris Chapter was organized in 1985.
Wilson stated, "I am honored to be chosen for this scholarship and so glad that my hard work is not going unseen. I am a single mother, so any financial assistance toward my schooling is very much needed and appreciated. Parenthood is no easy task, so dealing with parenting and staying on top of my grades has been a strenuous process. I plan to put this money toward my school supplies as I finish my degree at Southern Crescent Technical College and also to pay toward my student loans. I may even use some to get myself a new stand mixer!"
Upon graduation, Marinda plans to work in various kitchen environments so she can gain more experience with differing styles of food service and preparation as well as learning to handle customers, events, front of house and back of house in different settings before she opens her own restaurant or catering business.
Wilson continued, "I want to be well seasoned in the culinary field before going out on my own. Once in business, I hope to be able to assist my community by helping and mentoring those who have been disadvantaged like I was. For single parents who want to go to school or better their lives, for struggling college students who need a push, or for any person looking for help with a job: I want to be there!"