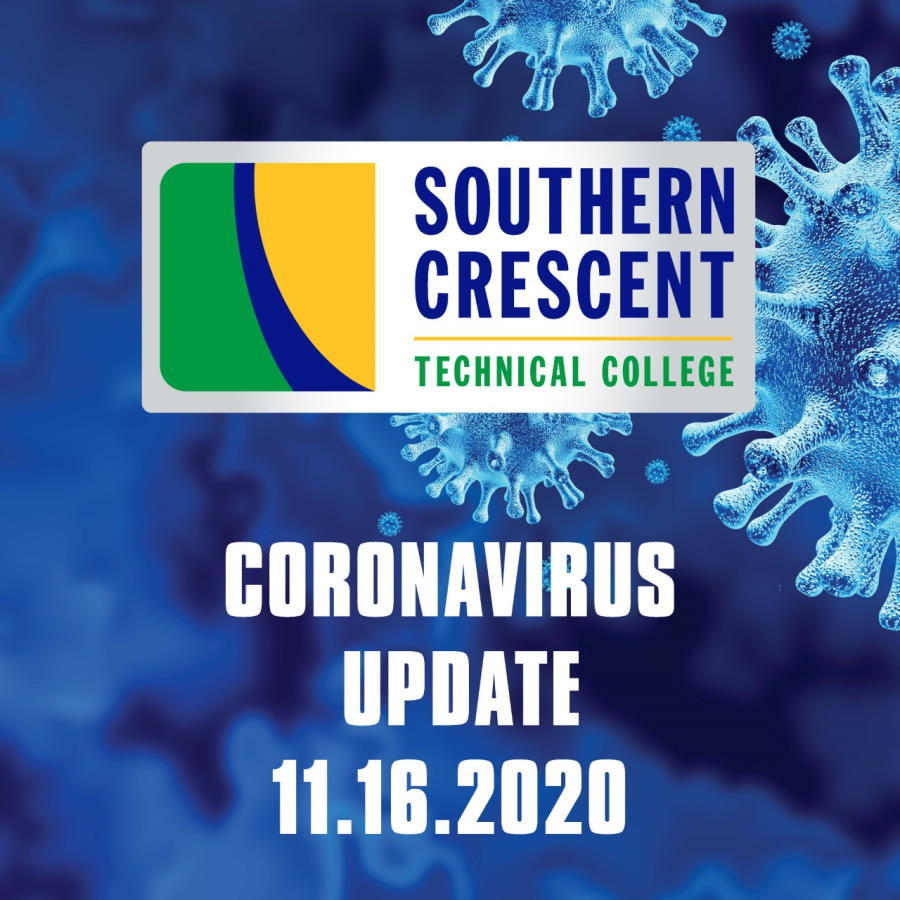 Date Posted: November 16, 2020
The health and safety of Southern Crescent Technical College's (SCTC) students, faculty, and staff remain our first priority.  Over the past week, the College has had five positive COVID-19 cases that were self-reported.   These cases were confined to the Griffin Campus.  Based on recent self-reported information, the risk of spread remains low but in an abundance of caution and upon recommendation by the Department of Public Health (DPH), Southern Crescent Technical College has made the decision to move to a remote format for all classes and services held on the Griffin Campus effective Tuesday, November 17, 2020.  Employees should check with their immediate supervisor for further instructions and students should contact their instructors with any questions.  For additional information on reporting data, please visit the College's Coronavirus information webpage (https://www.sctech.edu/covid-19/).  During this closure, the College will take precautionary measures to deep clean and sanitize all areas on the Griffin Campus.
The Southern Crescent Technical College Griffin Campus will be closed to students and outside guests from November 17 – November 29, 2020.  Faculty and staff will continue to offer assistance during this time while working remotely.
Students should continue to report to clinical sites as scheduled.    Students scheduled to attend the Kettering Seminar should report to Chappell Hall in the Dundee Education Technology Center (Building 200) on the Griffin Campus at the scheduled time.
The outdoor graduation ceremony, scheduled at the SCTC Education and Training Complex at Ellis Crossing parking lot for November 30, 2020, will continue as planned.  Cap and gown pickup will also continue as scheduled.
Health officials are continuously working to quickly identify cases of COVID-19, take appropriate public health action to reduce its spread, and protect the general public in identifying potential contacts.  As a reminder, the best prevention measures for any respiratory virus, including COVID-19, are:
Wear a mask or face covering.
Practice social distancing.
Wash your hands often with soap and warm water for at least 20 seconds.
 If soap and water are not available, use an alcohol-based hand sanitizer.
Avoid touching your eyes, nose, and mouth with unwashed hands.
Avoid close contact with people who are sick.
Stay home when you are sick.
Cover your cough or sneeze with a tissue, and then throw the tissue in the trash.
Clean and disinfect frequently touched objects and surfaces.
The College continues to routinely clean and disinfect all locations.  Should the need arise, we will provide additional guidance.  In the meantime, you are advised to follow all appropriate health and safety guidelines.  For accurate and reliable information about COVID-19, visit dph.georgia.gov/novelcoronavirus or cdc.gov/coronavirus/2019-ncov.