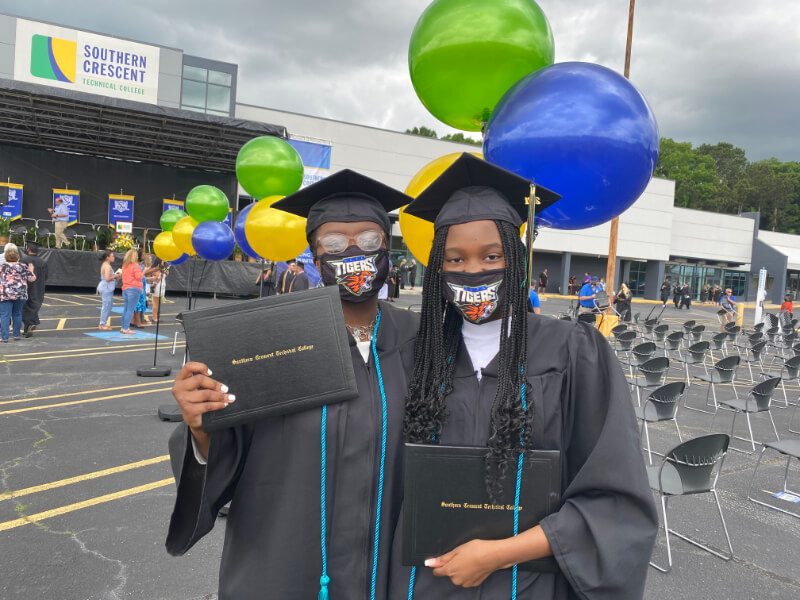 Date Posted: May 17, 2021
In the moments leading up to Southern Crescent Technical College's (SCTC) graduation ceremony last week, over 350 graduates lined up to prepare for one of the greatest accomplishments of their life. Walking through, the graduates look the same for the most part, wearing the traditional black cap and gown with a 2021 tassel in the yellow, green and blue colors of SCTC.
The only thing differentiating students from one another are the different color cords and stoles draped over some of the graduates' necks, each representing an accomplishment or affiliation during the student's time at Southern Crescent Technical College. Some wear gold medallions or gold cords to signify them as honor graduates, others wear white and purple cords representing their affiliation with the National Technical Honor Society, and countless others wear a rainbow of different color cords to represent their specific club or organization.
But in the mix of all the colors, a handful of students stand out from the others. They wear one of the most coveted colors of cords – turquoise – which represents that these students are receiving their Associate Degree before they have even graduated from high school. These seven students are Dual Enrollment students.
Kelisia Morrison, Miderline Charles, Karima Newman, and Jayla Smith are a few of these students.
"To be honest, it all seemed to happen really fast," Eagle's Landing High School student Kelisia Morrison said. "One minute I'm taking my first college class and the next minute, I'm walking across the stage with my Associate Degree in Business Management before I even finished high school."
"I made the decision to enroll in the Dual Enrollment program because I liked the thought of taking college classes while still in high school and it seemed like a good idea to save some money while I still could. I wanted to get ahead of the game and obtain some credit hours so that I would be closer to starting my career," Morrison said.  Morrison plans to attend Florida A&M University in the fall.
Jayla Smith, a recent graduate of Hampton High School and a graduate of the Healthcare Management program at SCTC, said that she originally chose to enroll in Southern Crescent Technical College's Dual Enrollment classes to get a jump start on her college education and to help defer the costs associated with a college degree.
"It just seemed like the logical thing to do. I had watched others take classes through the Dual Enrollment program and realized what an advantage it gave them, so I wanted to do it as well. It just makes sense," Smith said. Smith plans to continue her studies to obtain her Bachelor of Science in Nursing and plans to work as a travel nurse for a few years with her ultimate goal to become a Nurse Practitioner.
Grace Christian Academy students Karima Newman and Miderline Charles are have both recently completed an Associate Degree in General Studies.  Newman stated, "Dual Enrollment at Southern Crescent Techncial College opened my eyes to the college experience.  I have worked very hard and am very proud of my accomplishments.  Both Miderline and I felt like this was a great stepping stone toward completing our educational goals. It is great to know that I have my General Core courses behind me thanks to Southern Crescent Technical College."  Both have plans to continue their education to earn a Bachelor's Degree after graduation.
"This is the reason we do what we do, helping our dual enrollment students jump-start their careers while in high school," SCTC Associate Vice President of Enrollment Management Dr. Drew Todd said about these Dual Enrollment students. "We are so proud of all of our 1,549 dual enrollment students, but especially proud of these students who have gone the extra mile to earn their Associate Degree before obtaining their high school diploma. Dual Enrollment is such a great program for students and it is our hope that other high school students will take notice and realize that they can do this too."
The Dual Enrollment program allows high school students to take academic degree level core courses as well as a multitude of occupational courses that will transfer to any TCSG or USG college or university.  Some students may choose to enroll fully into a degree, diploma or technical certificate of credit program, or they may choose to just take a few courses. All college coursework taken through Dual enrollment is fully covered through state of Georgia funding, and students will not be required to pay out of pocket for tuition, college fees, or textbooks.
After accomplishing this feat, Morrison hopes to encourage others to take the same path she did through Dual Enrollment. ""Hearing from alumni, Southern Crescent Technical College is known for their amazing instructors and outstanding prep for the workplace," Coley said.  "I knew early on that this is something that I wanted to be a part of.  I began taking college classes when I was in the ninth grade and although it's been a challenging few years, the rewards have been totally worth it! I can say that becoming a Dual Enrollment student is one of the best decisions I have ever made."
For more information about the Dual Enrollment program at Southern Crescent Technical College, contact Dr. Drew Todd at (770) 229-3065 or recruiter@sctech.edu.