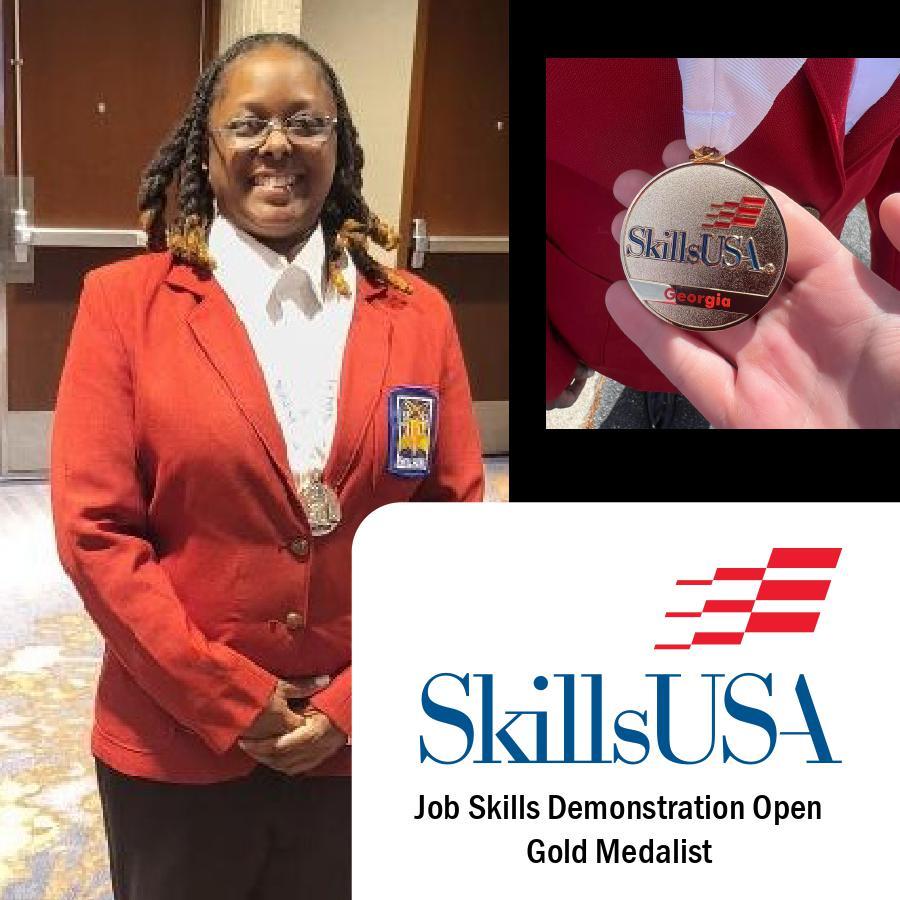 Date Posted: March 14, 2023
Seven outstanding students recently attended the 2023 SkillsUSA Georgia State Conference and Competition representing Southern Crescent Technical College. The conference, held March 9-11, 2023 in Atlanta, Georgia was attended by students and advisors from colleges around the state.  Featuring the best of the best from across the state of Georgia, the State Leadership and Skills Conference gives students the opportunity to put their technical skills to the test in over 70 career competitions including leadership, health, trade and technical competitions.
While at the conference, SCTC Horticulture student Letitia Trotter received top honors with a Gold medal in the Job Skills Demonstration Open category.  Trotter transferred her skills from her Horticulture classes with a presentation on Plant Propagation.  Trotter's instructor, Dr. Bethany Harris also accompanied her to the competition.  Other students that attended and competed include:  Rosalita Grier – Medical Terminology, Thelma Saab – Medical Terminology, Parker Radatz – Welding Fabrication, Harrison Miller – Welding Fabrication, Connor Bushmire – Welding Fabrication, and Areli Hernandez – Welding Fabrication Alternate.
As the gold medal winner from the state competition, Trotter will return to Atlanta for the National SkillsUSA Conference June 19-23, 2023. There, she will compete against winners from all across the nation in the largest display of skills training in the country.
During the opening ceremony of the conference, the Southern Crescent Technical College SkillsUSA Chapter was recognized for achieving the status of Level One Quality Chapter for their commitment to the SkillsUSA values and to student success.
SkillsUSA is a partnership of students, teachers, and industry representatives working together to ensure America has a skilled work force.  They are a national nonprofit organization serving teachers and college students who are preparing for careers in trade, technical, and skilled service occupations, including health occupations.
Southern Crescent Technical College congratulates each of the winners and is proud of our local SkillsUSA representation at this year's state conference!