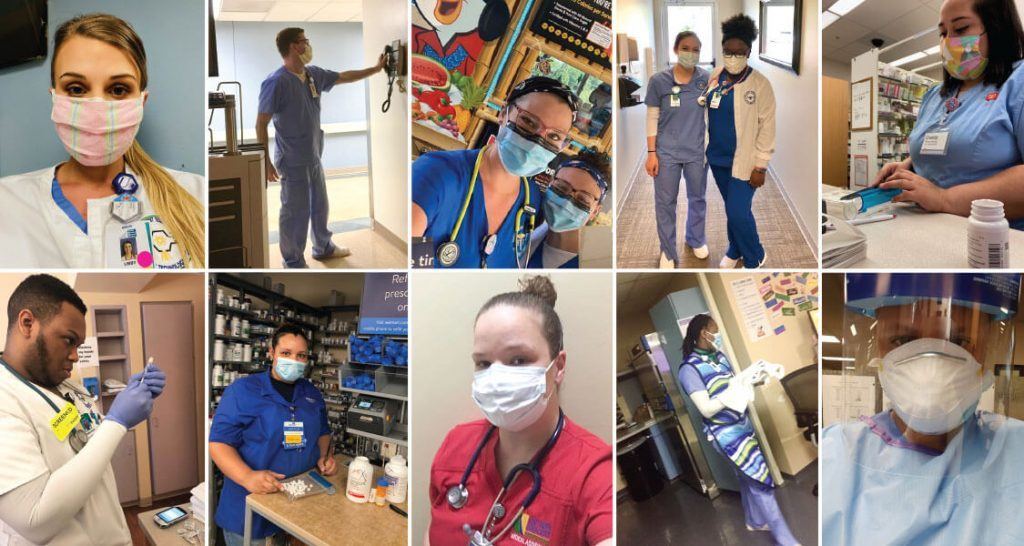 Date Posted: April 29, 2020
The term "business as usual" has taken on a whole new meaning at Southern Crescent Technical College (SCTC) since March 13 when classes were transitioned to remote learning because of COVID-19.   Since that time, all face-to-face learning as well as academic and student support services have all been fully transitioned to virtual methods and instructors and employees are finding creative new ways to complete daily tasks. For many students, this has been an interesting transition, but in many of our allied health programs, students continued their clinical rotations, choosing to work during the pandemic.
Students in Respiratory Care, Radiologic Technology, Practical Nursing, Registered Nursing, Cardiovascular Technology, Paramedicine, Medical Assisting, Central Sterile Processing Technician, Electrocardiography Technician, Pharmacy Technology, and Orthopedic Technology suited up each day to continue to train alongside doctors and nurses in our area.
According to Kim Register, Dean for Allied Health programs at Southern Crescent Technical College, when the SCTC doors had to close due to COVID-19 the allied health students were given the choice to continue in their clinical rotations, or wait and make-up this instructional time later.
"The essence of a healthcare professional is that they put the interests of patients and the public before their own," stated Register. "Our healthcare students showed us what the heart of healthcare is, and voluntarily chose to remain in clinical at their assigned healthcare facilities. They understood the risks before them, chose to uphold their commitment, and joined together with our healthcare partners on the frontlines of this crisis. During a time where staffing concerns and exhaustion were prevalent in our healthcare facilities, our students showed solidarity and were there to assist."
Dr. Alvetta Thomas, SCTC President stated, "I am extremely proud of our students for their commitment to their program and their eagerness to learn. For years, SCTC students have had the opportunity to train alongside some of the best doctors, nurses, and medical professionals around and this crisis has provided them with unique learning experiences that they will remember forever. Through this pandemic, I am grateful that Southern Crescent Technical College has been able support our medical community through the donation of medical equipment and supplies, snack donations to our local healthcare workers, but most importantly, by providing assistance on the front line."