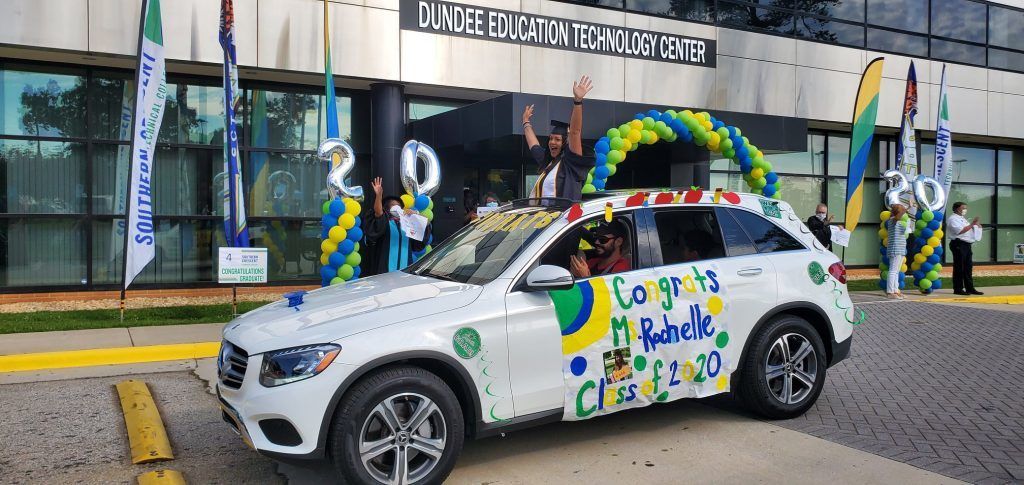 Date Posted: June 5, 2020
Not even a rain delay or a global pandemic could keep Southern Crescent Technical College faculty and staff from celebrating our recent graduates!
As a sign of the times, on Friday morning, June 5, 2020, approximately 75 cars filled with SCTC graduates and their families participated in a socially distant Graduate Parade where they were greeted with cheers and praise from SCTC faculty, staff, and administrators as well as a number of dignitaries including Technical College System of Georgia Commissioner Greg Dozier, State Representatives Karen Mathiak and Sandra Scott, several local community leaders, and local school superintendents.
Some graduates suited up in their official regalia, some decorated their cars, but all were excited to publicly acknowledge their accomplishments.
Due to the ongoing COVID-19 pandemic, colleges throughout the nation resorted to alternate plans to celebrate graduates when it became clear that traditional graduation ceremonies would need to be postponed. The design of the SCTC ceremony allowed for students and their families to remain in their vehicles with faculty and staff standing at various locations throughout the Griffin Campus parade route to wave, cheer, and congratulate students. Also along the route and as a special treat for SCTC Dual Enrollment graduates, Griffin-Spalding County School System Superintendent Jim Smith took post outside of the Griffin Region College and Career Academy alongside GRCCA Director Katy Castanien and School Board Member Barbara Jo Cook.
SCTC President, Dr. Alvetta Thomas stated, "It was an exciting day for everyone involved! The students were excited, the faculty and staff loved it, and it was a great way to spotlight these graduates until we can properly celebrate them through more traditional methods. We wanted to capture this moment in time and the feeling of celebration and community was palpable. Doing something positive for these graduates, when so many traditions have been postponed or changed for them, was wonderful. Seeing them so happy as they rode through was amazing."
Technical College System of Georgia Commissioner Greg Dozier was in attendance and said, "What a special day this has been! On behalf of Governor Brian Kemp and the entire team at the Technical College System of Georgia, it is my honor to share this occasion and congratulate the 2020 graduates of Southern Crescent Technical College! I applaud each of you for the tremendous accomplishment you are celebrating, especially during these challenging times and I wish all of you continued success in your future endeavors both professionally and personally."
As a memento from today's events, each graduate received a congratulatory booklet with messages from Commissioner Dozier, State Senator Brian Strickland, State Representatives Demetrius Douglas, David Knight, and Karen Mathiak, local Development Authority and Chamber of Commerce leaders, school superintendents, SCTC Board and Foundation members, local business and community leaders as well as Southern Crescent Technical College faculty, staff, and administrators.
The graduation ceremony, originally scheduled for May 2020, has been postponed to November 30, 2020 at First Assembly of God Church in Griffin.