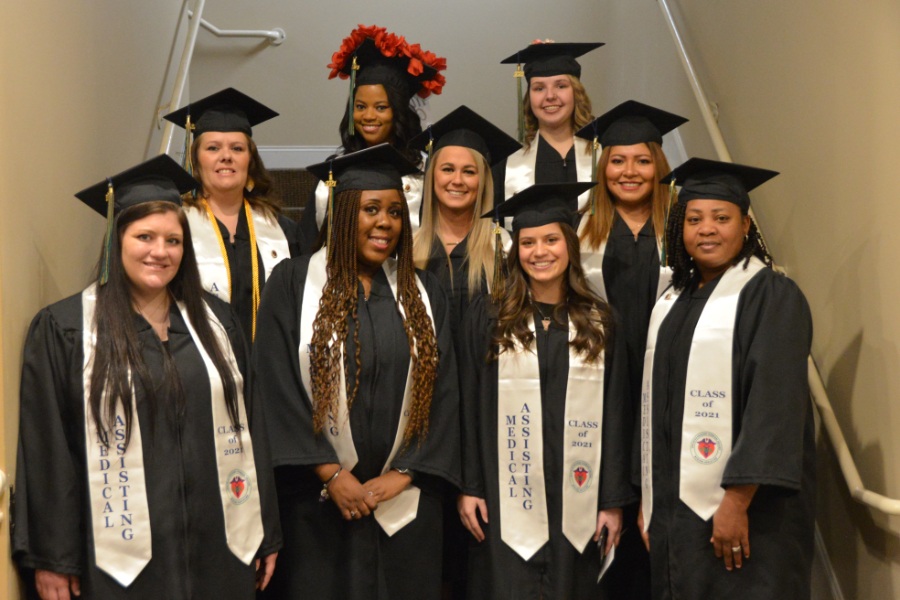 Date Posted: December 20, 2021
Graduates were all smiles on Tuesday, December 14, 2021 as Southern Crescent Technical College students celebrated their graduation during two commencement ceremonies held at First Assembly of God Church in Griffin.
During the Summer and Fall Semesters, Southern Crescent Technical College has awarded almost 1,700 unduplicated credentials to students who have completed requirements for Associate Degrees, Diplomas and Technical Certificates of Credit. Over 200 graduates chose to participate in Tuesday's ceremonies.
Delivering the commencement address for both ceremonies was SCTC President Dr. Alvetta Thomas.  She congratulated the students on their many achievements and spoke to them about the importance of setting and reaching goals throughout their life.  In her final graduation address, she bid farewell to Southern Crescent Technical College after serving as President for the past five years.  She stated, "We are confident that Southern Crescent Technical College has provided these graduates with the skills and education they need to launch successful careers and build productive lives.
Dr. Thomas encouraged the students to think about "what's next" and closed by telling them that this would be her last graduation as President of Southern Crescent Technical College.  She continued, "And as for my 'what's next?' Well, my steps are ordered and the very best is yet to come.  I am grateful and humbled to have had the opportunity to work with our students and staff and in this community building strong students, strong careers, and strong communities. Go forth and do great things."
These ceremonies primarily honored graduates from Summer 2021 and Fall 2021 semesters. The morning ceremony began at 10 am and graduates from all Allied Health, Arts and Sciences, Business, and Computer Information Systems programs participated in the ceremony. The afternoon ceremony began at 2 pm and graduates from all Industrial Technology, Film Technology, Public Safety, and Professional Services programs as well as Adult Education graduates participated in the ceremony.
The commencement ceremonies were certainly a time for celebration as students were rewarded for both their achievements and sacrifices in their pursuit of their educational goals and dreams.  The graduates have worked diligently for this great accomplishment and should be commended for their dedication to education.