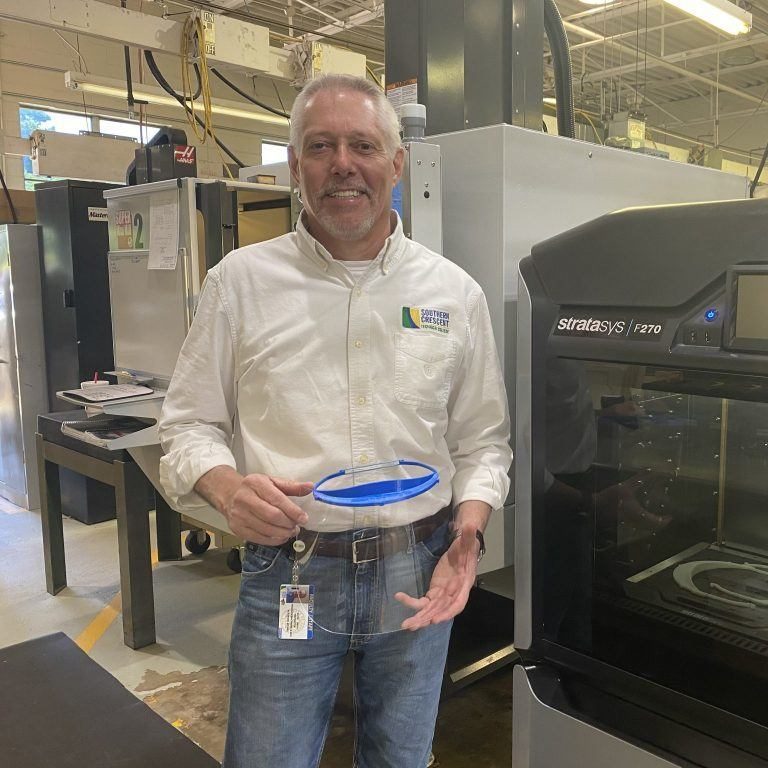 Date Posted: May 13, 2020
When the COVID-19 pandemic abruptly closed Southern Crescent Technical College campuses and instruction transitioned to remote methods, Machine Tool Technology Instructor Keith Smith set aside some time to lend a helping hand by making face shields as protection from the virus.
To date, 100 face shields have been created using Industry 4.0 technologies such as digital manufacturing, 3D printing, and real-world collaborative design software. With these tools, Smith was able to quickly begin work on a face shield to join the battle against the spread of the COVID-19 outbreak.
"As the news began to emerge about the national shortage of Personal Protective Equipment (PPE), I knew that I had the ability and the means to create more face shields with the technology in my lab," Smith said. "I quickly got to work on the design and within a few days had the first prototypes coming out of the printer."
Face shields are simple, transparent screens that cover the face and help prevent infectious droplets from entering the eyes, nose and mouth. They are usually worn in conjunction with masks or respirators, blocking splashes and sprays from reaching the face and preventing workers from touching their faces.
Dr. Steve Pearce, SCTC Vice President for Academic Affairs said, "Our first plan was to send these face shields to our local medical professionals working to combat this virus, but we immediately realized that our students and employees needed them as they completed their clinical rotations and training on the front line. It was then that we made the obvious decision to keep them in-house."
SCTC President Dr. Alvetta Thomas stated, "As we begin to gradually reopen our campus, these face shields will be crucial in our various lab settings. We are grateful that our College has qualified instructors that are able to design and produce this extra layer of protection for our faculty, staff and students."
Southern Crescent Technical College is currently working toward returning students to lab work in a limited capacity and the masks will be utilized to provide a safe and healthy environment.
Thomas continued, "At Southern Crescent Technical College, we often say that we prepare students for real-world careers and the production of this PPE is a great example of that. Throughout our programs, our students train in state-of-the-art labs with cutting-edge technologies designed to replicate the most modern industry facilities. We are very proud of our collective ability to take classroom training and apply them to healthcare needs in the midst of the COVID-19 pandemic. This project is further proof that the skills our students earn are what make our graduates essential."
For those interested in learning more about essential careers offered at Southern Crescent Technical College, visit www.sctech.edu. Please review special notices on the College's website regarding new, easier Summer and Fall semester admission requirements due to COVID-19. Southern Crescent Technical College is open by virtual methods while students utilize remote learning for Spring Semester and transition to Summer Semester classes.