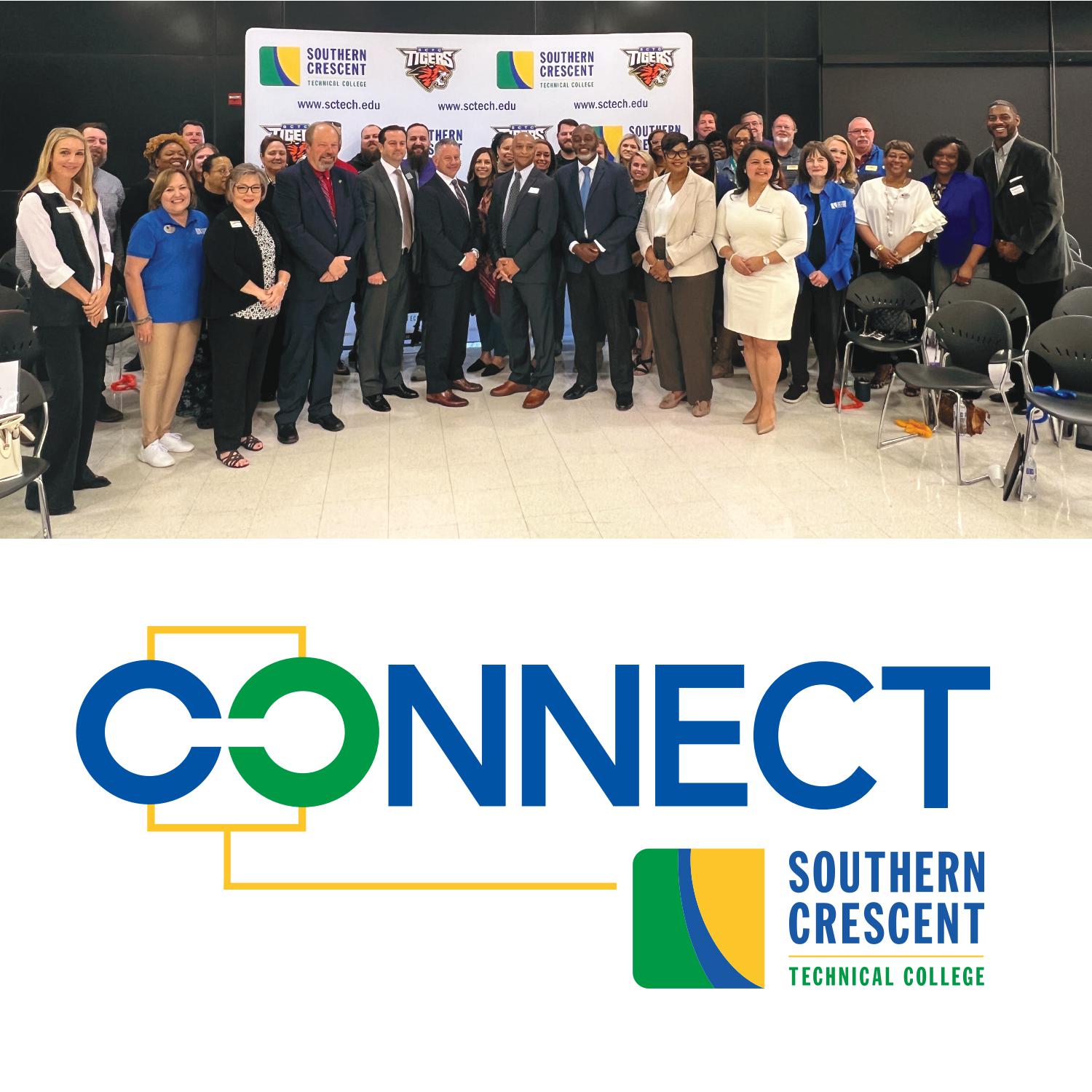 Date Posted: April 12, 2023
Recognizing the need to strengthen the region's workforce pipeline through innovative collaborations with our K-12 colleagues, Southern Crescent Technical College in partnership with Georgia Power is hosting Connect – SCTC, an Educator Externship Program. SCTC recently hosted a kick-off event for this exciting program that will provide an opportunity for educators to observe technical education in action while interacting with local companies and gaining real-world industry experience to bring back to their schools and students.
Southern Crescent Technical College has partnered with local public school systems in Butts, Fayette, Henry, Jasper, Lamar, Pike, Spalding, and Upson counties to offer this unique program. Through Connect – SCTC, three educators from each county will spend four days from June 20-23, 2023, participating in the Educator Externship Program. Time will be spent understanding the local economy and exploring career and workforce development opportunities in our Industrial and Allied Health sectors.
While at industry sites and medical facilities in the area, educators will meet with key leaders to learn about the mission and vision of the company, participate in a tour, and shadow employees in key occupations. Proposed visits include local industry and allied health partners, Development Authorities, Chambers of Commerce, WorkSource Boards, Departments of Labor, and Southern Crescent Technical College classrooms and training labs. The educators participating in the program have each been nominated by their superintendents.
Misty Fernandez, Regional Director, Georgia Power Company, helped kick-off this exciting initiative. She addressed the college staff, externship participants and school system administrators and spoke of the importance of technical education in today's workforce. "Georgia Power is proud to partner with Southern Crescent Technical College to sponsor this important initiative as we work to create a better understanding of the important role that technical education plays in today's workforce."
Through this program, participants will create a portfolio/presentation featuring a summary of the companies visited, an overview of four occupations found within the company, information regarding technical education, adult education, and business and industry training programs at Southern Crescent Technical College and ideas to reinforce the soft skills/employability skills needed to succeed at the company.
The Educator Externship Program is designed to be rewarding, informative, and interactive. The program will provide a foundation for fostering future opportunities for our K-12 students in the region and strengthen the partnerships with education and industry to produce a better-equipped workforce.