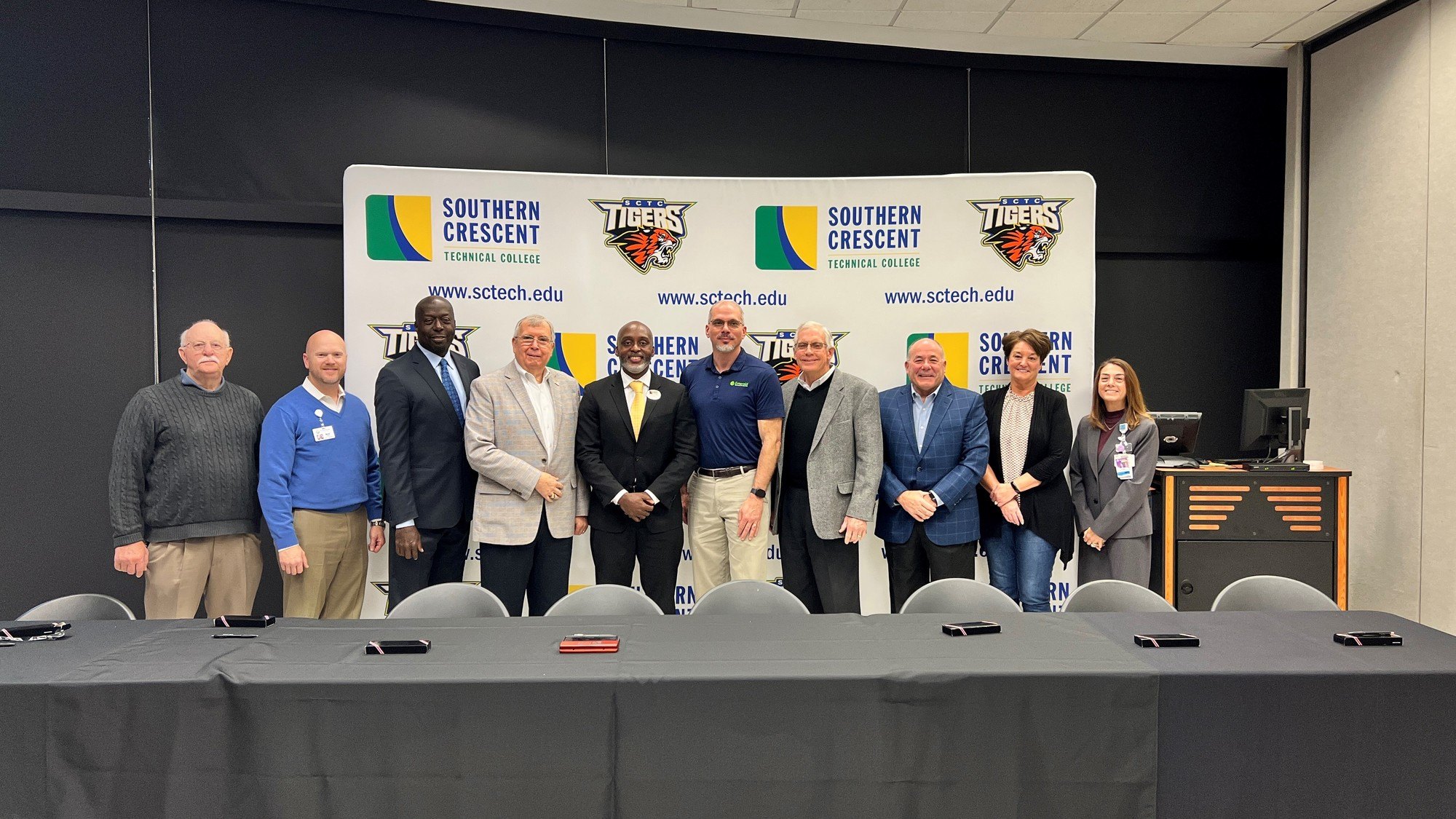 Date Posted: November 17, 2022
Southern Crescent Technical College celebrated National Apprenticeship Week on November 16, 2022 with a signing ceremony on the Griffin Campus. During the ceremony, representatives from seven local industry partners signed Registered Apprenticeship Agreements that would allow students to learn while they earn, pairing related technical instruction from Southern Crescent Technical College with paid on-the-job learning.
Those companies attending today's event include:  Bellwether Inc. with plans to hire 2 apprentices in Industrial Maintenance, Brightmoor with plans to hire 14 apprentices in Healthcare, Eternal Hope/CareMaster with plans to hire 14 apprentices in Healthcare, Emerald Transportation with plans to hire 6 apprentices in Automotive Climate Control Technician, Peterbilt of Atlanta with plans to hire 8 apprentices in Diesel Technology, Vernay Manufacturing Inc. with plans to hire 6 apprentices in  Mechatronics, and Wellstar with plans to hire 14 apprentices in Healthcare.  1888 Mills is also participating in this initial phase but was not in attendance.
SCTC President Dr. Irvin Clark said, "We are excited to be working with these local companies to offer our students and employers mutually beneficial Registered Apprenticeships. This work-based learning system fulfills workforce needs by preparing individuals for a career in high demand technical programs.  The Registered Apprenticeship model enables employers to take charge of building their own pipeline of highly-skilled and motivated employees, offering a flexible and specific learning program aligned with national industry standards."
Donna Lackey, SCTC Vice President for Economic Development continued, "Southern Crescent Technical College is proud to assist our local employers with innovative and timely workforce solutions. Today's ceremony is just the beginning for Registered Apprenticeships in this region and we are looking forward to signing up over 20 additional companies who are in various stages of the application process."
National Apprenticeship Week (NAW), celebrated November 14-18, 2022, is a nationwide celebration where industry, labor, workforce, education, and government leaders host events to showcase the successes and value of Registered Apprenticeship for re-building our economy, advancing racial and gender equity, and supporting underserved communities. NAW is an opportunity to highlight how Registered Apprenticeship, a proven and industry-driven training model, provides a critical talent pipeline that can help to address some of our nation's pressing workforce challenges such as rebuilding our country's infrastructure, addressing critical supply chain demands, supporting a clean energy workforce, modernizing our cybersecurity response, and responding to care economy issues.