Overview #
---
This documentation was created to help you understand your new website: How it works, all the various pieces that make up the site, where to find things, etc. With this documentation and the corresponding style guide, you will be able to edit existing pages, and create new ones as you continue to add content to build out the site.
Framework
This is a Wordpress website. Wordpress is a Content Management System (CMS), or a platform used to build and maintain a website with the use of a user-friendly interface. This software enables you to customize just about every aspect of your site. With various options, you are able to determine if you want to build using code (HTML editor), or with a WYSIWYG editor. Wordpress powers over 30% of all sites on the internet, making it a leading platform.
Themes
Wordpress sites are powered by themes. Themes allow users to change the look and functionality of a WordPress website without altering the core code or site content. Every WordPress website requires at least one theme to be present and every theme should be designed using WordPress standards with structured PHP and HTML. This website is built using a custom theme called Arena Base Theme.
Plugins
Custom functionality can be created with the use of plugins. Currently there are 55k+ Wordpress plugins available to add the specific functionality you may need. We currently have plugins to assist with everything from form creation, SEO, image sliders, etc. More information on plugins is available in Wordpress section of documentation.
Customizations
With Wordpress and customizations we made to the website, you are able to easily update the site and create new pages. You will notice some pages are as easy as filling out form fields. Once you submit, they are displayed with a specific design. We have separated code from content, allowing you to focus on the content and us the design. These fields are called Advanced Custom Fields (ACF). You will find them on custom page templates.
With the use of page templates and pre-coded custom layouts we have created for the site, you have the tools you need to create new pages.
---
Page Templates
---
Standard Templates #
These 4 page templates will be your go-to templates when creating new pages and are the most commonly used throughout the website. These templates include: default, two column left spotlight, two column right spotlight, and three column.
Default
The default page template is the simplest layout and has one main content area. You can see the available layouts for the main content section below. Because of the large size of the main content section, most layouts are available for use on this template.
---
Two Column Right Spotlight
This template includes a main content area, and a larger right column to feature additional content. You can see the available layouts for each of the content areas below.
---
Two Column Left Spotlight
This template includes a main content area, and a smaller left column, which is most commonly used for a secondary navigation block. You can see the available layouts for each of the sections below.
---
Three Column
This template has a left column, a main content area, and a right column. You can see the available layouts for each of the sections below.
---
Custom Templates #
These page templates were created specifically for pages with highly custom layouts (homepage, programs landing page, styleguide, etc.) While you will see them as template options, you should have no need to select one of these templates, unless you are copying one of these pages.
Programs Templates
These templates were created specifically for the Programs section of the website. They provide a unique layout and custom functionality that allow ease of use when creating new programs pages. Because they are a template, they also create uniformity and consistency to keep all program listings the same.
---
---
Home Page Template
This template was created to build the hompage and should only be used on the homepage. We will review its various layouts to guide how to make edits and keep the site up to date.
---
How To Edit the Homepage
---
---
---
---
---
---
---
---
---
---
Reference Templates: Documentation and Styleguide
These specific templates were created for and are to only be used for the Stylguide and Documentation pages.
Page Options
Each page template comes with Page Options, where custom scripts and styles can be added, along with Header options to show, hide, and position the default H1 page header.
---
Breadcrumbs

Breadcrumbs will automatically appear at the top of every page and rely on the page attributes (parent-child relationship) to function correctly. Assigning pages a parent page when organizationally necccessary will help with navigation and breadcrumb linking.
---
Layout Options

The majority of layouts will have layout options available at the bottom of the layout. These options apply to the layouts outer most wrapper.
Admin Title (adds a label to the layout header for better organization)
ID (adds an ID to the outer wrapping container)
Classes (adds classes to the outer wrapping container, margin and padding are the most commonly added classes in this area)
Background Image (change layout background image)
Background Color (change layout background color)
Text Color (change layout text color)
Disable Section (hide layout)
---
Drag & Drop Layouts
Drag to reorder
Layout containers and repeating layout rows can be re-ordered with a convenient drag and drop feature. Simply hover over the top of the layout container and the "drag to reorder" arrows will appear. For layout rows hover over the left side of the row where the row number appears.
---
Add & Remove Layouts

Layouts are added and removed with the plus and minus buttons located in the top right corner of each layout.
---
Layouts Library
While page templates create the framework and basic structure of pages, layouts are the blocks that contain the content of the page.
Each page template is divided into different content areas or sections. Each section has available layouts for use, depending on the size of each of those sections. We have tested which layouts work best in each of the sections and have taken responsiveness into consideration.
Just like page templates, we have custom layouts and standard layouts. Layouts vary in simplicity from a WYSIWYG editor and an HTML block, to predefined layouts that create the code needed to create a custom layout.
---
Standard Layouts #
Here you will find all the available layouts for the site. Some layouts are available globally, while some are further limited by page templates, and certain content areas within the templates. You can learn more about where they are available in the page layout section. With each layout comes a set of advanced options where the user may add an Admin Title to add a descriptive name for the layout, ID and Class fields to help with CSS and/or script targeting, Background Image and color to streamline background control, and font color control settings. If this section is ever not needed, there is an option to disable to keep things organized.
---
---
Custom Layouts #
Created specifically for the custom page templates. Only needed and used on program templates (H, I, J, R), and the homepage template (K, L, M, N, O, P)
---
---
WordPress #
How to work with Posts
Menus
---
---
Campus Security
The [campus_security] shortcode can be placed anywhere in the site where the information would be pertinent. To edit, navigate to Campus Security > All Campus Security > Emergency Information. Here you'll be able to add emergency phone numbers and info as needed. Updating the information in the Campus Security backend automatically updates the front end wherever the shortcode is placed.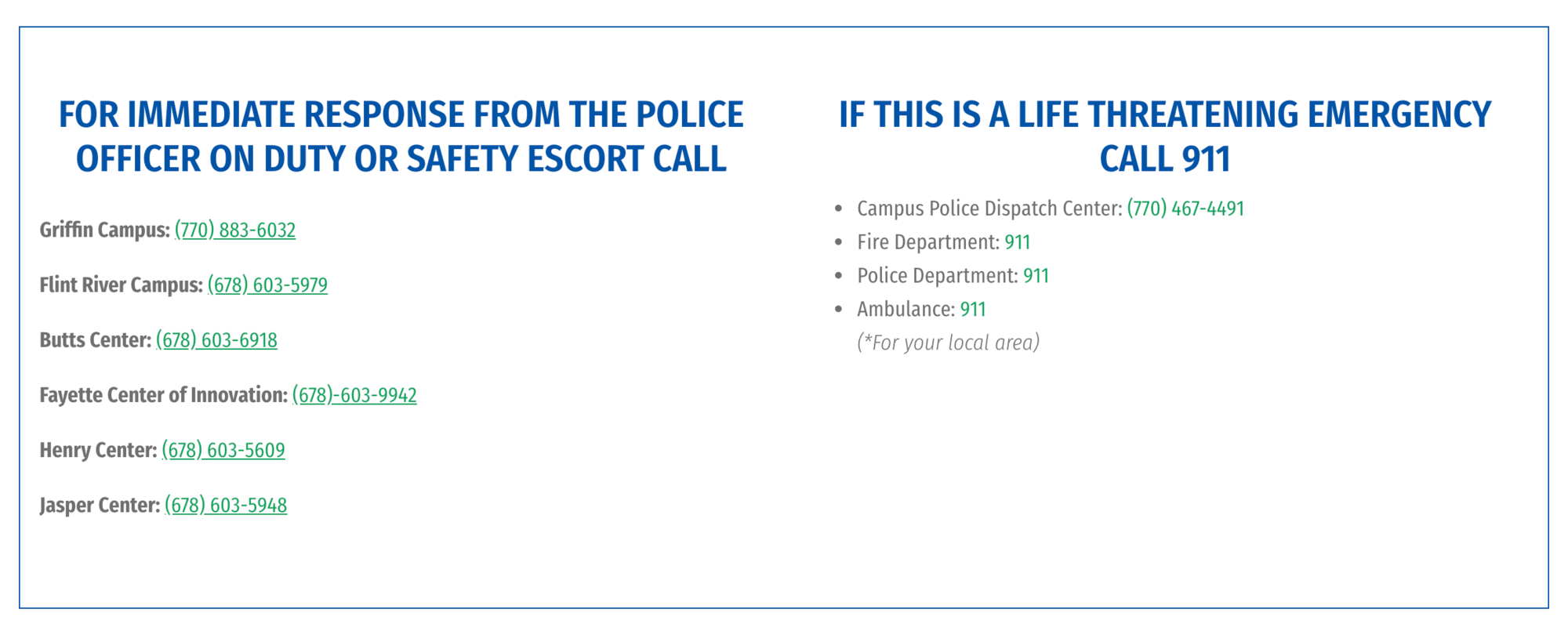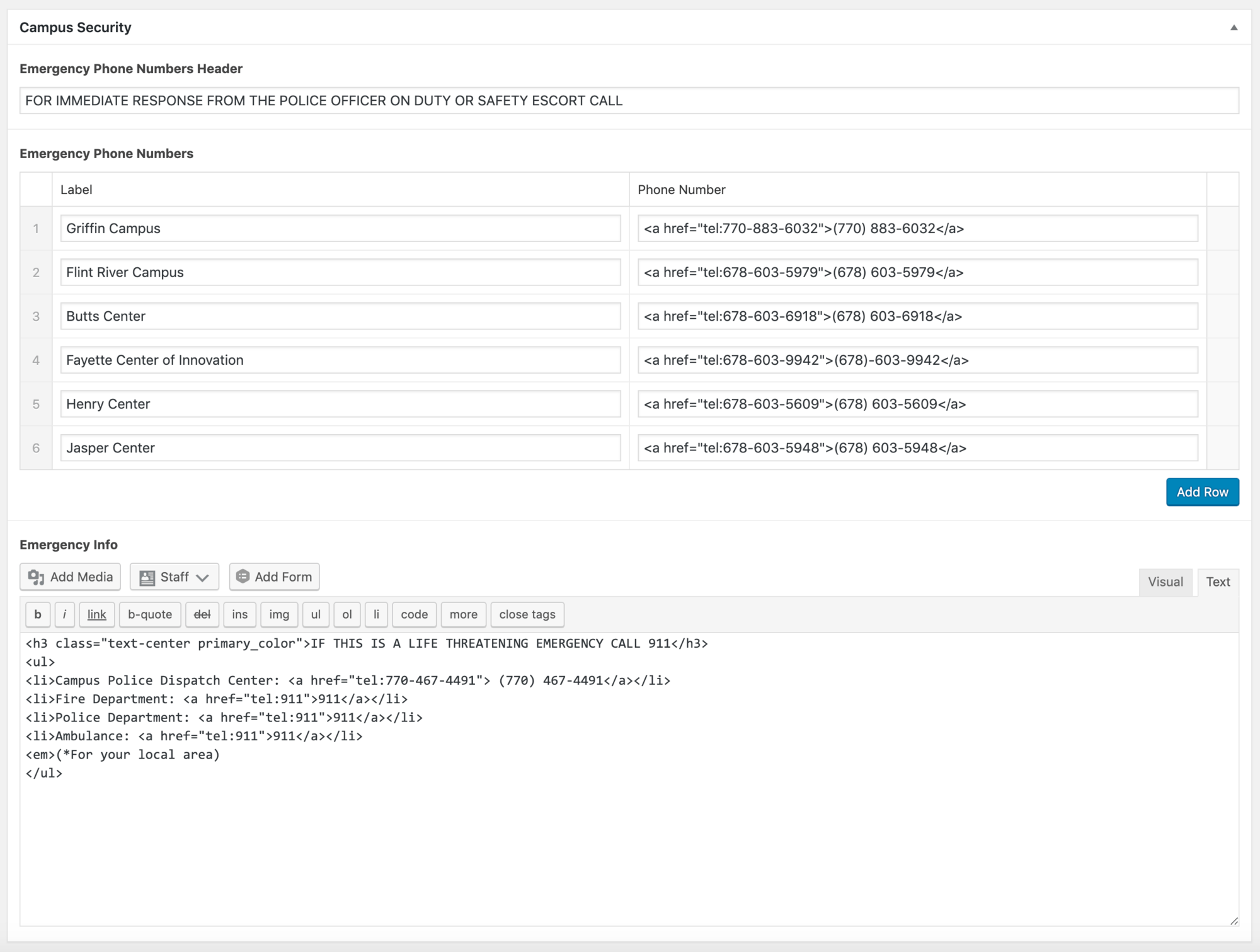 ---
Plugins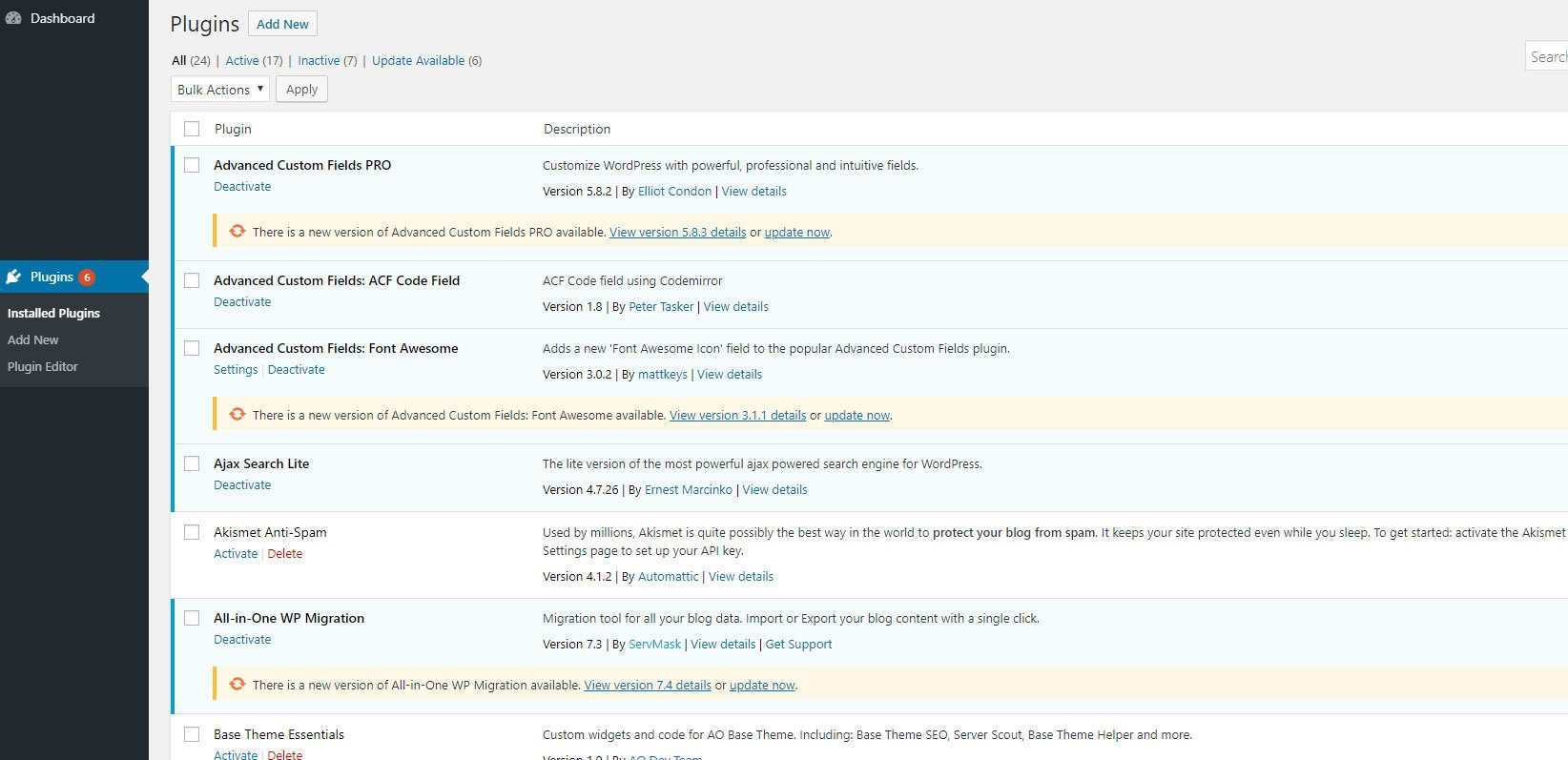 ---
Yoast
Yoast is an SEO feature provided on each page on the backend. It gives a preview for search results, as well as provides readability scores to help streamline search engine optimization.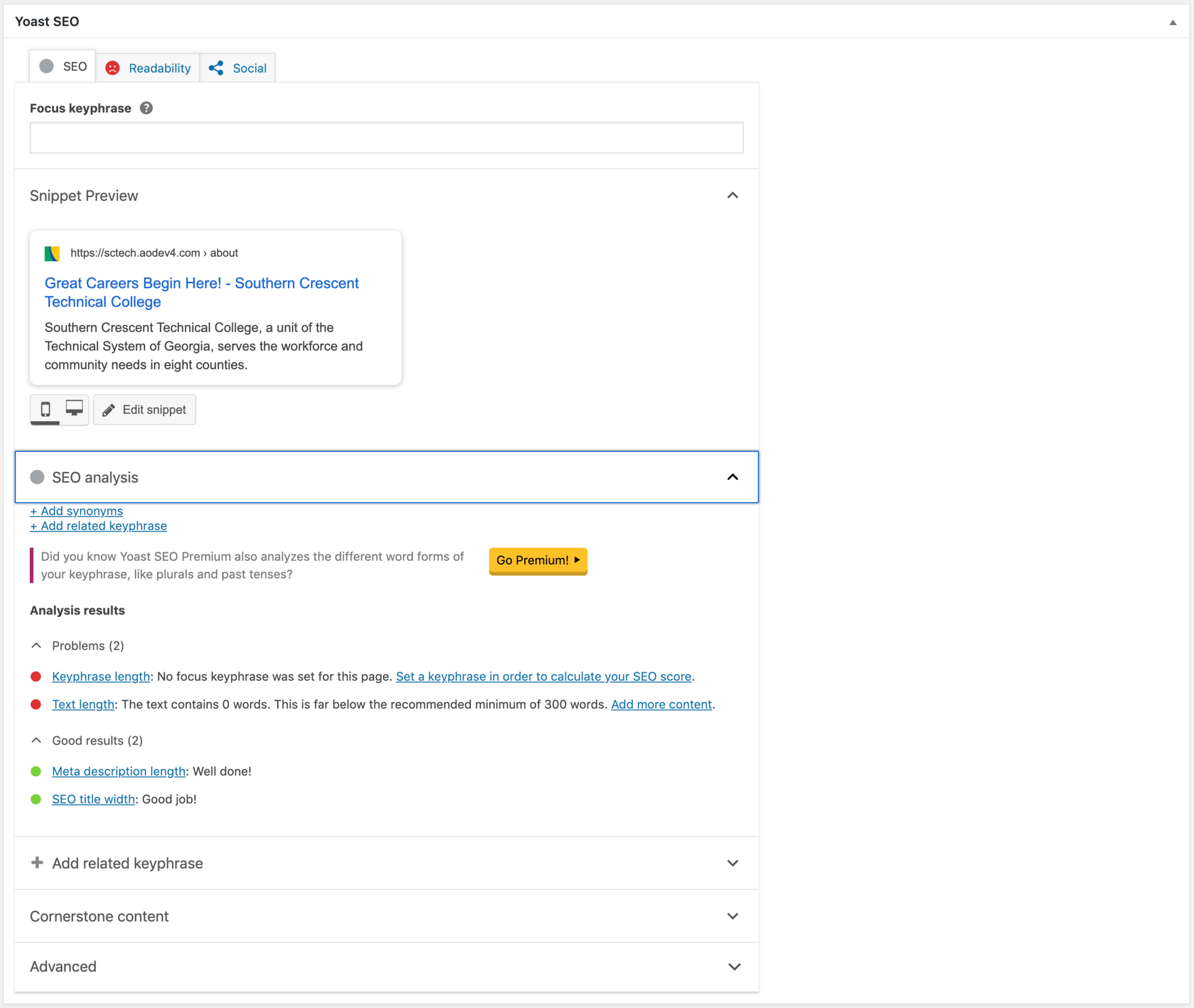 ---
Theme Options
General Settings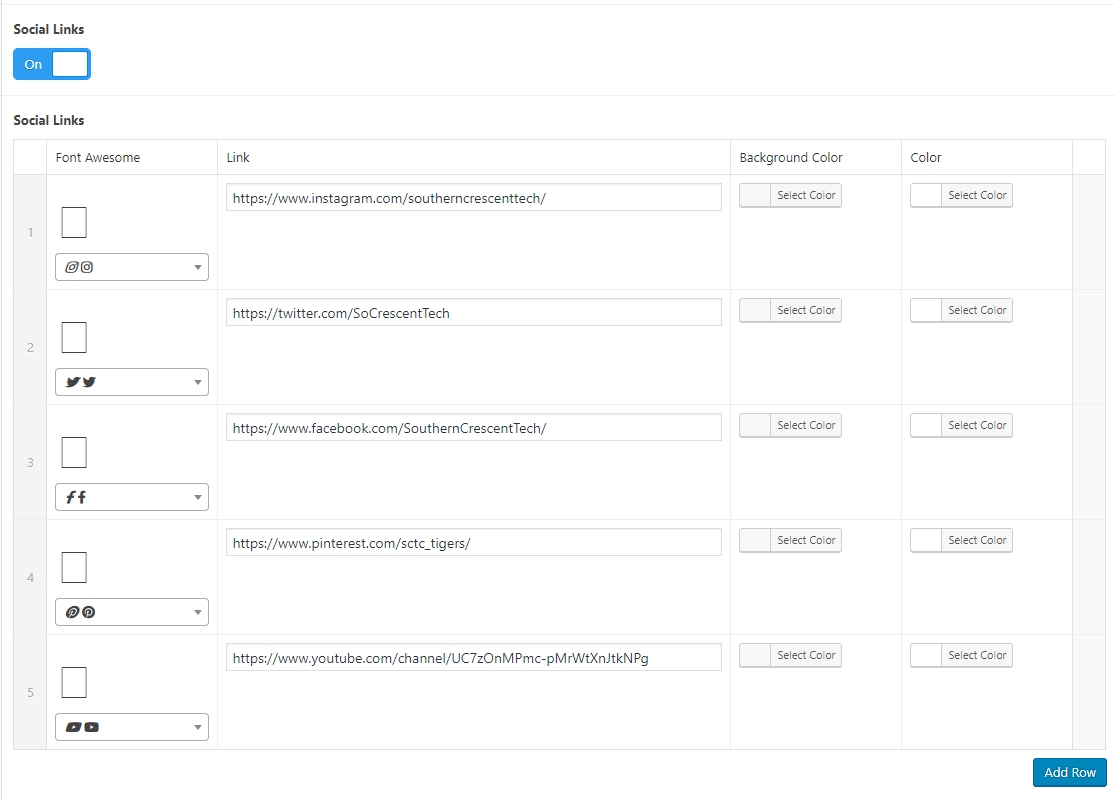 Custom Code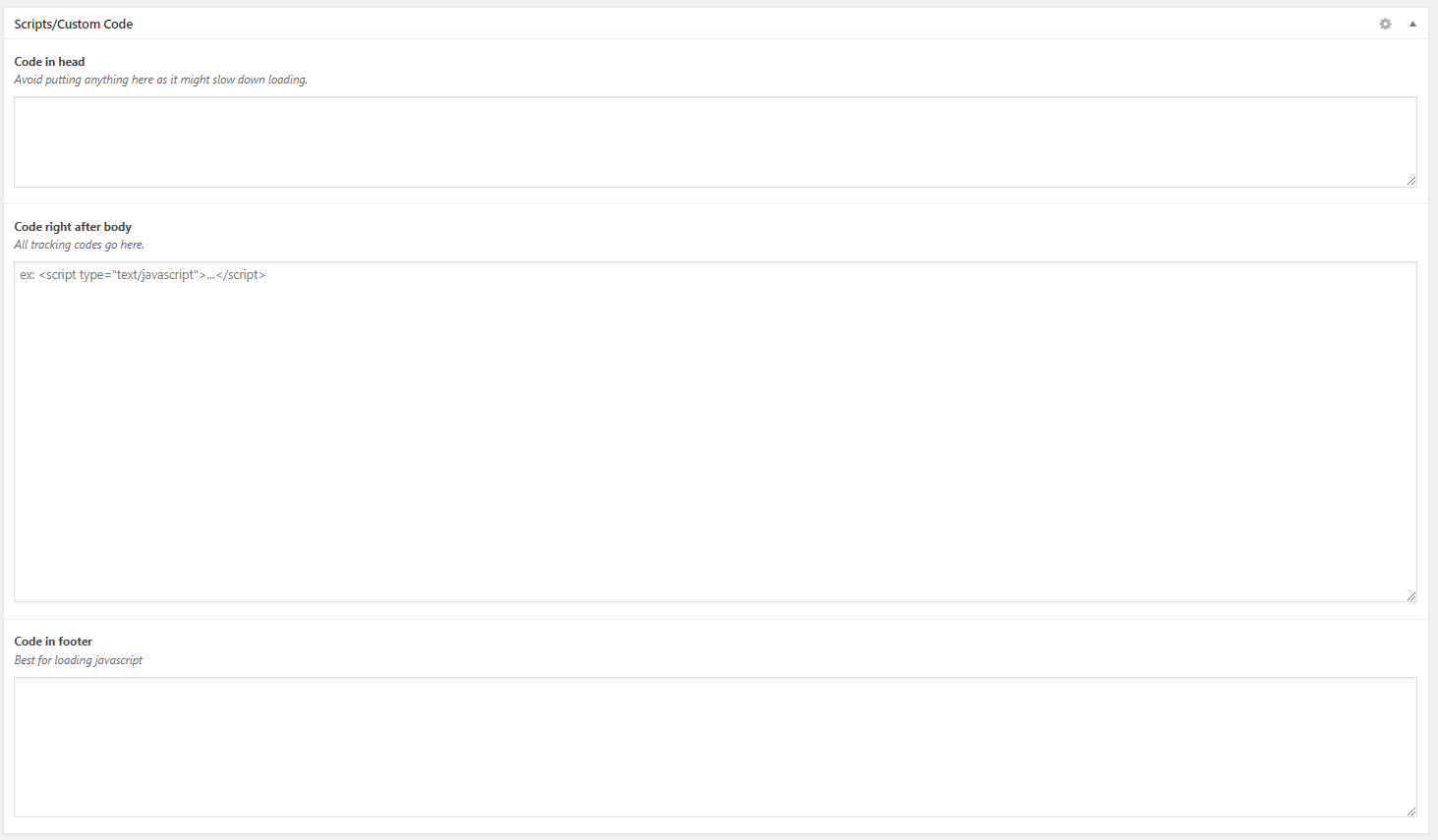 ---
Navigation (Appearance > Menus)
Here you will find all the main and secondary nav menus on the site. Select a menu to edit from the dropdown menu at the top to select the menu to edit.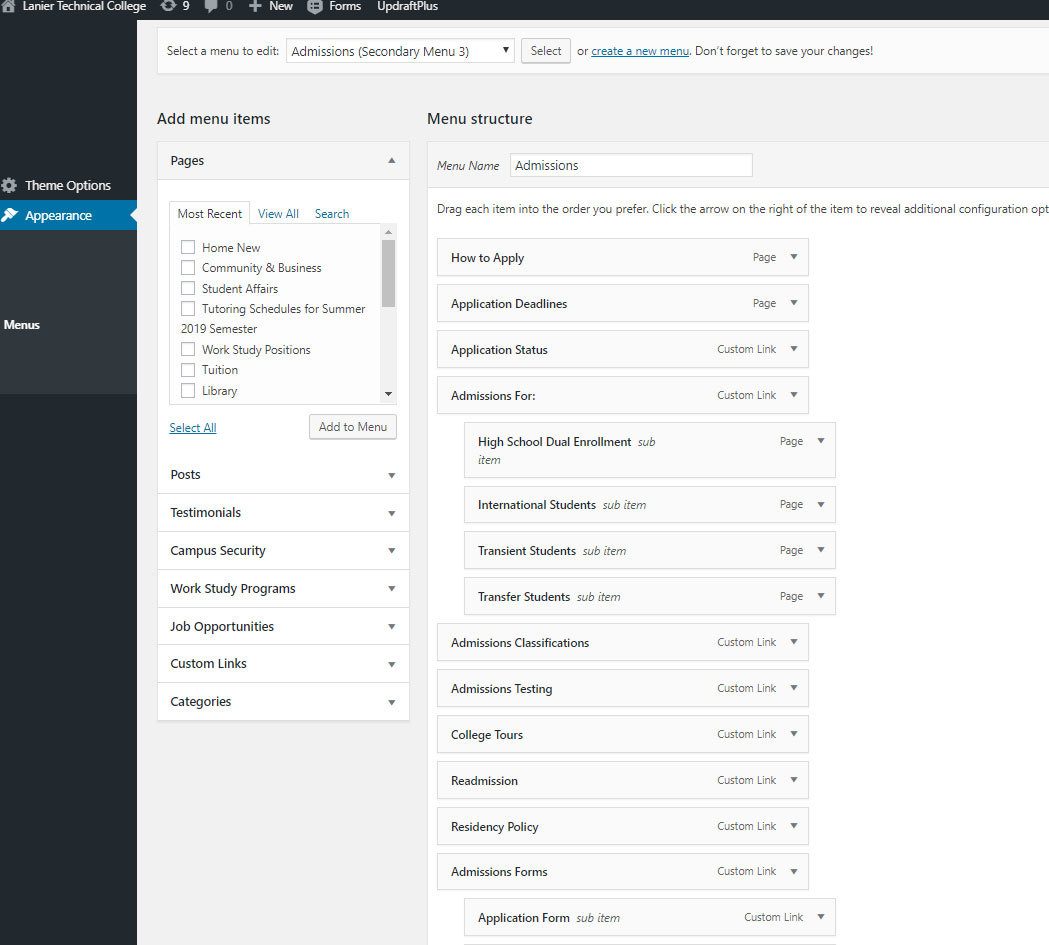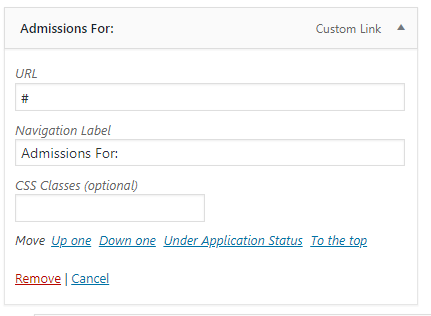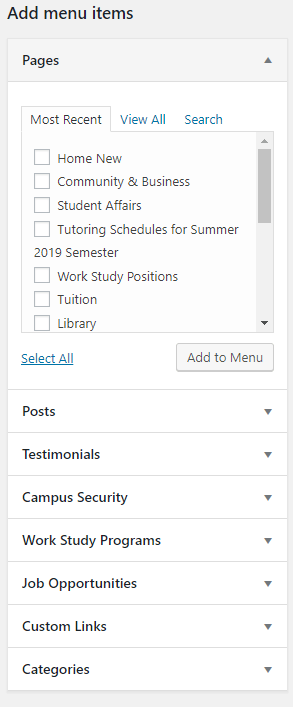 ---
Bootstrap Tutorial #
Bootstrap is the most popular CSS framework for developing responsive, mobile-first websites. Bootstrap 4 is the newest version, and includes seamless JavaScript integration to build interactive elements, such as accordions and tabbed navigation. It also uses Flexbox to reduce the need for complicated media queries and build grid-based layouts with ease.
Among such utilities as Colors, Display, Spacing, and Typography, Bootstrap provides accessibility frameworks to help your site with standards and best practice requirements. For more information on how Bootstrap's Accessibility is utilized, see Bootstrap's Accessibility Features.
---
Grid layout and using .row and .col-* classes
Bootstrap's mobile-first flexbox grid is used to build layouts of all shapes and sizes thanks to a twelve column system, five default responsive tiers, and dozens of predefined classes. Our Base Theme makes extensive use of the row and col class framework to construct responsive and customizable layouts.
How it works
The grid system uses a series of containers, rows, and columns to lay out and align content. It's built with flexbox and is fully responsive (for more information on how flexbox works, see A Complete Guide to Flexbox, and Basic Concepts of Flexbox). Below is an example and in-depth look at how the grid comes together.
The above example creates three equal-width columns on small, medium, large, and extra large devices using Bootstrap's predefined grid classes.
Here's how the system works:
Rows are wrappers for columns, each column having horizontal padding (known as a gutter) for controlling the space between them. Note: In a grid layout, content must be placed within columns, and only columns may be immediate children of rows. Think of the .row class as being like a bookshelf, where .col- classes are books. Without the shelf, the books would be scattered and unorganized, much like the layout and code if the parent .row class isn't first used.
Thanks to flexbox, grid columns without a specified width will automatically lay out as equal-width columns. For example, four instances of .col-sm will each automatically be 25% wide from mobile device sizes and up.
Column classes indicate the number of columns to use out of the possible 12 per row. So, if you want three equal-width columns across, you can use .col-4. Similarly, you could mix and match column classes to equal out 12 columns or fewer, i.e. .col-8 and .col-4, or .col-5 and .col-6.
Column widths are set in percentages, so they're always fluid and sized relative to their parent element.
Columns have horizontal padding to create the gutters between individual columns, but you can remove the margin from the rows and padding from columns with the class .no-gutters on the .row parent.
To make the grid responsive, there are five grid breakpoints, one for each responsive breakpoint: all breakpoints (extra small), small, medium, large, and extra large.*
*Breakpoints: Bootstrap uses breakpoints based on minimum viewport widths that allow elements to scale up as the viewport changes and are called with class modifiers. These breakpoint modifiers are appended to positioning and grid classes (such as margin and padding and col classes) and are defined as xs (extra small), sm (small), md (medium), lg (large), and xl (extra large). Leaving off a breakpoint modifier is a good way to take advantage of Bootstrap's CSS library mobile-first principles, and can be used in place of the xs modifier. Several modifiers can be used at once to dictate an elements behavior across devices.
For example, the breakpoint modifiers in the following code will display the h2 element in a width spanning twelve columns in all mobile devices up until the md modifier is fired at a minimum device width of 991.98 pixels, where the width will span only three columns. Using class modifiers in this fashion will greatly reduce the need for media queries, providing an eloquent and user-friendly way to control the behavior of content on a website.

            
  <div class="row">
    <div class="col-12 col-md-3">
      <h2>Breakpoint Modifiers</h2>
    </div>
  </div>
            
          
For more information on the Bootstrap grid system, see this
Bootstrap Grid Article.
Grid Options
Extra small
<576px
Small
≥576px
Medium
≥768px
Large
≥992px
Extra large
≥1200px
Max container width
None (auto)
540px
720px
960px
1140px
Class prefix
.col-
.col-sm-
.col-md-
.col-lg-
.col-xl-
# of columns
12
Gutter width
30px (15px on each side of a column)
Nestable
Yes
Column ordering
Yes
Margin and padding classes can be similarly modified, as outlined in the Bootstrap Spacing Utilities section of the Lanier Styleguide.