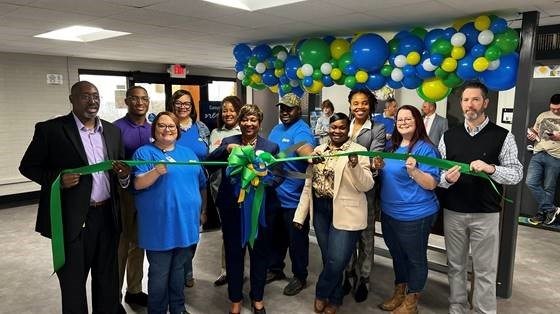 Date Posted: January 24, 2023
Southern Crescent Technical College held a ribbon cutting ceremony on January 12, 2023 for the new Student Success Center.  Attendees were able to tour the recently updated space which includes soft seating and study spaces with charging ports.  This addition was made possible by funding received from the USDOE Title lll, Part A, PBI Formula Grant Program. New LED lighting and flooring was also installed in the Student Success Center.
The Ribbon Cutting was symbolic of the efforts by the Equity From Start to Finish, African American Male Initiative. This space is located on the Griffin Campus directly adjacent to the area being serviced by the Equity From Start to Finish and K.O.B. E. (Keen on Being Excellent) Grants. The goal is not only to provide the African American Male population with a welcoming learning space, but every student that attends Southern Crescent Technical College.
During the ribbon cutting, those in attendance were welcomed by Dr. Xenia Johns, Vice President for Student Affairs and also heard from Deidra Dugger, Grant Director – Equity From Start to Finish and Carl Harris, Grant Director K.O.B.E. about the updates to the space and how this will impact students.
Following the program, faculty and staff assembled in the Event Center and were able to hear from Jonathan Grant Brown, AVID trainer. The Advancement Via Individual Determination (AVID) kickoff introduced faculty and staff to strategies and techniques that can be used to foster student engagement, thereby promoting student success. AVID is a component of the PBI Competitive Grant and is a schoolwide initiative that provides specific training, tools and strategies to enhance a teaching and learning environment.  The AVID student success model is broken down into three categories Career and Technical/Professional education, Developmental Education and Adult Education and Literacy. AVID provides professional learning and wrap-around support intended to positively affect students' persistence and completion in college.  The event represents the commitment of Keen On Being Excellent (K.O.B.E.) to provide professional development opportunities to faculty and staff that will promote student success.