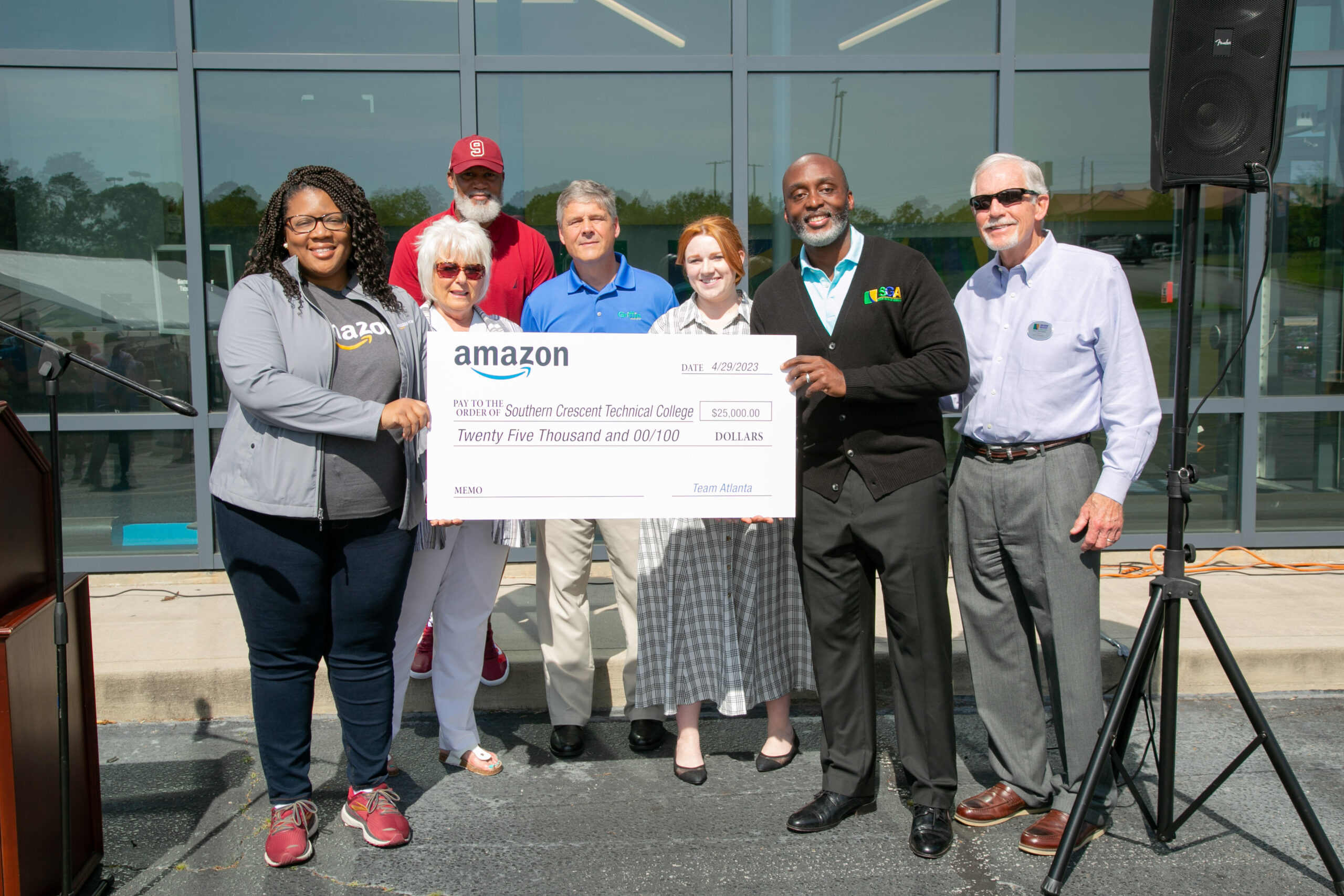 Date Posted: July 28, 2023
Local families still struggling after recent tornadoes and severe weather were able to receive much needed relief in the form of free groceries and toys at a pop-up event hosted by SCTC in conjunction with our partners at Amazon and Goodr, a sustainable waste management and hunger relief company. This community event, held on Saturday, April 29 at the Ellis Crossing Education and Training Complex at SCTC's Griffin Campus, provided groceries and toys for 200 preselected families.
A kick-off was held prior to the event where several community leaders as well as local and state representatives spoke of the importance of rebuilding in the wake of recent events. To further spread good cheer and invest in the local community, Amazon made a surprise donation of $25,000 to Southern Crescent Technical College to support the needs of the College and students.
During the event, SCTC faculty and staff members assisted participants as they selected toys supplied by Amazon Studios and shopped from the Goodr Mobile Grocery Store which provided families with a week's worth of groceries.
"We are excited to continue our commitment to communities in and around Metro Atlanta with the donation of goods to families impacted by severe weather in Griffin," said Terreta Rodgers, Head of Community Affairs, Amazon, Atlanta Region. "We are grateful to our partners at Goodr and Southern Crescent Technical College for aligning with Amazon to provide support and relief to local families during this critical time. We hope that this donation to Southern Crescent Technical College will further assist students as they pursue their educational and career goals."
"We are thrilled to partner with Amazon and Goodr to host this very special event to provide for local families that were impacted by the recent storms in our area," said SCTC President, Dr. Irvin Clark. "We cannot thank Amazon enough for all they have done to invest in our college and community. Despite the tough times we have endured this year, we continue our commitment as a responsible community partner to make a positive difference and improve the lives of those in our area."
| | | |
| --- | --- | --- |
| | | |