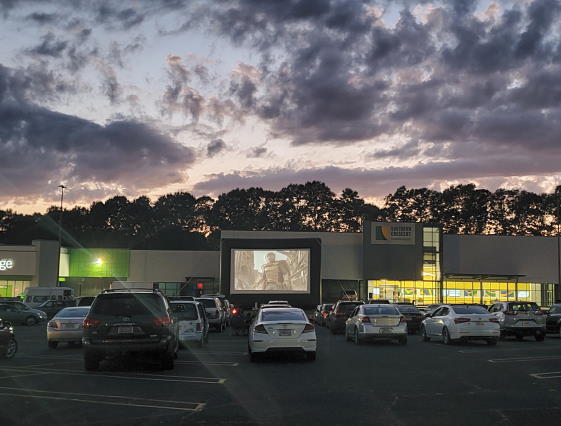 Date Posted: October 14, 2020
Southern Crescent Technical College recently hosted a Community Drive-In Movie Night on the Griffin Campus with nearly 200 individuals in attendance.  Sponsored by SCTC Student Government Association, attendees watched Spider-Man:  Into the Spider Verse on a two-story screen under the stars in front of the Ellis Crossing Education and Training Complex.
It was a beautiful evening to bring our students and community together for this fun, safe, and socially distanced event.  With all of the precautions in place for the safety of our students and faculty
Attendees remained in their cars throughout the event, but were able to stop to pick up gifts from the College as well as snacks and drinks.  A voter registration drive and pocket-sized constitutions were also distributed by the SCTC Veterans Club in the initial drive through.
Licensed Practical Nursing students assisted with the set up, traffic flow, and clean up of the event along with SCTC staff who made sure the event was enjoyed by everyone.
Dr. Xenia Johns, Vice President for Student Affairs stated, "We were excited to see so many attend the Drive-In Movie Night and were happy to provide this event to the SCTC community and our students.  We are always looking for opportunities to build strong communities through our partnerships, outreach, and services."