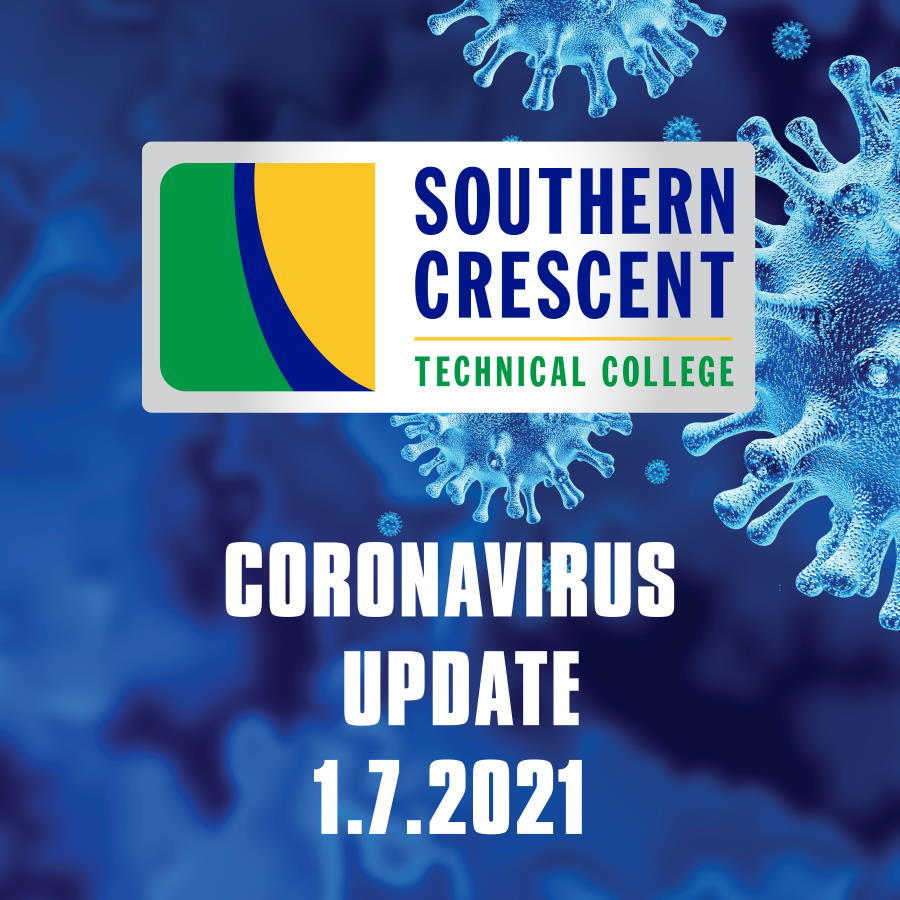 Date Posted: January 7, 2021
After careful consideration and in response to the continued increase of COVID-19 in our community, SCTC has made the decision to begin the Spring Semester on January 11, 2021 in a virtual format.  Students should contact their instructors on the first day of classes to receive further instructions. Students should also monitor their SCTC student email for updates. Face-to-face classes including limited labs are scheduled to resume on January 19, 2021.
As a reminder, most SCTC employees will be working in a virtual environment until January 11, 2021.  The remaining employees will operate on-campus with staggered work schedules.  During this time, SCTC faculty and staff will be available during normal office hours to serve you. While we encourage our students and guests to handle any affairs remotely, limited staff will be available on the Griffin Campus Monday – Thursday from 8:00 am – 6:00 pm to serve your needs.
All clinical rotations will continue as scheduled.  Students with clinical rotations should contact their instructors for additional information.
Dual Enrollment:  Dual Enrollment students should check their SCTC student email for further instructions.  For questions, contact the Office of Dual Enrollment at 770-229-3065.
Adult Education:  GED testing will continue as scheduled on the Griffin Campus.  All Adult Education classes will be offered virtually for the week of January 11, 2021.  Orientation for Adult Education classes will be by appointment only next week.  For questions, contact the Office of Adult Education at 770-229-3176.
Economic Development:  All Economic Development classes and testing will continue as scheduled.  For questions, contact the Office of Economic Development at 770-228-7364.
SCTC will reevaluate these plans and make changes as needed.
For additional information and a list of office contacts and FAQs, please visit www.sctech.edu/covid-19/.  As cases continue to rise, please be responsible as you gather with friends and family to prevent the potential exposure and spread of COVID-19.  We ask you to monitor www.sctech.edu, your SCTC email, and the SCTC social media accounts for updated information and resources.
Health officials are continuously working to quickly identify cases of COVID-19, take appropriate public health action to reduce its spread, and protect the general public in identifying potential contacts.  As a reminder, the best prevention measures for any respiratory virus, including COVID-19, are:
Wear a mask or face covering.
Practice social distancing.
Wash your hands often with soap and warm water for at least 20 seconds.
If soap and water are not available, use an alcohol-based hand sanitizer.
Avoid touching your eyes, nose, and mouth with unwashed hands.
Avoid close contact with people who are sick.
Stay home when you are sick.
Cover your cough or sneeze with a tissue, and then throw the tissue in the trash.
Clean and disinfect frequently touched objects and surfaces.
The College continues to routinely clean and disinfect all locations.  Should the need arise, we will provide additional guidance.  In the meantime, you are advised to follow all appropriate health and safety guidelines.  For accurate and reliable information about COVID-19, visit dph.georgia.gov/novelcoronavirus or cdc.gov/coronavirus/2019-ncov.