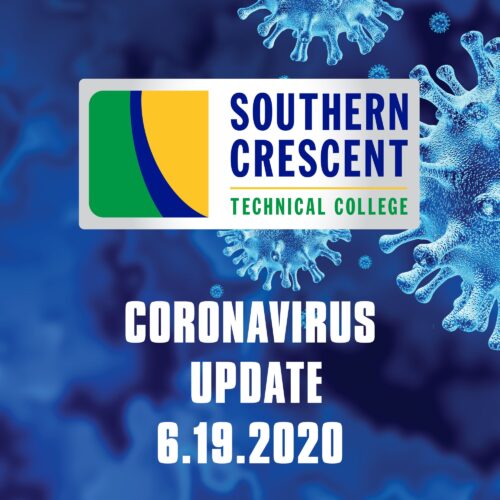 Date Posted: June 19, 2020
We've got this!
As I reflect on the past few months amidst a global pandemic, I continue to be impressed with Southern Crescent Technical College's (SCTC) resilience against adversity.  Time after time, the Southern Crescent Technical College team members have stepped up and stepped in, ensuring we put our students and communities first.  Our mission remains workforce development, and although we may be going about it through different methods than we are all accustomed to, we are working to ensure that each student receives the training and resources that they need for success.
Our Spring term ended with classes and services offered in a remote learning format.  We were excited to welcome some of our recent graduates back to campus on Friday, June 5, 2020 for a celebratory Graduate Parade.  As a sign of the times, approximately 75 cars filled with SCTC graduates and their families participated in a socially distant Graduate Parade where they were greeted with cheers and praise from Southern Crescent Technical College faculty, staff, and administrators as well as a number of dignitaries including Technical College System of Georgia Commissioner Greg Dozier, State Representatives Karen Mathiak and Sandra Scott, several local community leaders, and local school superintendents.  It was certainly a great way to recognize our graduates and proved to be a special celebration for all participants.  Our graduate celebration continues.  We will soon release a video tribute to the 2020 Graduates.  We also look forward to a formal graduation ceremony in late November.
Summer Semester is off to a successful start.  Although students remain in remote learning lecture classes, we have opened our labs for students to return to campus.  Faculty and students will spend the summer on campus completing spring and summer labs.  Our clinical partners have also welcomed our healthcare students back to complete clinical rotations.
While we have been away from the campus, there has been a considerable amount of activity on the Griffin Campus with the renovation of the One-Stop Shop for students in the Dundee Education Technology Center as well as the further completion of the Training and Education Complex at Ellis Crossing.  In addition, the last of the mobile units are being removed to open the campus for better traffic flow.  We are excited for our students and employees to return to see these improvements in person.
Expanded Student Support
In an effort to provide students with all of the tools to meet their needs, Southern Crescent Technical College is pleased to announce the launch of the Laptop Loaner Program to assist students with their technology needs since the transition to remote learning. This program will allow students to check out a loaner laptop in order to stay connected with their instructors and complete their assignments. Through this program, currently enrolled Southern Crescent Technical College credit students are able to check out a loaner laptop for academic use. These laptops were provided by a donation from the Southern Crescent Technical College Foundation through the newly established Student Technology Emergency Fund. Through an initial commitment of $36,000 to the Student Technology Emergency Fund, the SCTC Foundation purchased 100 laptops that can be loaned to students in need. These laptops were coupled with the generous donation of additional laptops from the Technical College System of Georgia Foundation.  Currently enrolled students may access the form for the Loaner Laptop Program by visiting www.sctech.edu/loanerlaptops. In an effort to support all Southern Crescent Technical College students with their technology needs, Adult Education students may request loaner laptops by visiting https://www.sctech.edu/adult-education/laptop-loaner-program/.
Open for Business: By Appointment
Effective immediately we are officially open for visitors by appointment only. The College seeks to provide the highest level of health and safety.  We have installed plexi-glass sneeze guards, extra hand sanitizing stations, and COVID-19 reminder signage.   We have also posted clear social distancing directional signage, marking 6 feet distances in hallways, offices, and elevators.  Please visit the COVID-19 section of our website to see a list of contacts for appointments. Upon confirmation of an appointment, visitors will be given instructions for building access.  All visitors are asked to wear masks and make liberal use of hand sanitizing stations. Offices will be properly sanitized before and after each appointment.
New and Improved Website
Southern Crescent Technical College recently launched a new and improved website.  It is sure to provide an exciting backdrop and enhance information sharing with the many audiences that we serve.  Among other things the new site includes student spotlights, a new and improved searchable College Catalog and Student Handbook, as well as additional student support and community information. Please browse the new site to find out more about the College and to stay on top of new developments.
Fall Semester
We are excited to welcome students back to campus for face-to-face classes on August 18 for Fall Semester.  We are working to refine our fall plans.  The plan includes a variety of options for students to access classes and services.  Options for fall classes include traditional online classes, face to face or in person, and hybrid remote learning.  In many cases we plan to give students the option of attending on one of our campuses. Because of social distancing requirements our face to face classes will be much smaller.  We appreciate your patience as we continue to refine our plans.
Continued Plans for the Future
Without a doubt, the COVID 19 pandemic will have a lasting impact on the way we deliver classes and services.  Our faculty and staff have done an amazing job providing remote learning classes and online services for Spring and Summer Semesters. As we look forward to a bright future, rest assured that although our delivery methods have changed, our focus remains on workforce development and student success.  As always, we are committed to our students and our communities and we look forward to a lasting positive impact on the communities we serve.
Fall registration is open.  We look forward to serving you!
Alvetta P. Thomas