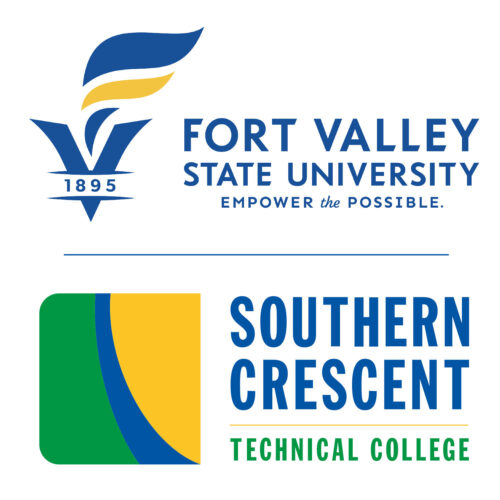 Date Posted: June 23, 2020
Fort Valley State University (FVSU) and Southern Crescent Technical College (SCTC) recently signed an articulation agreement that enhances students' ability to easily transfer earned hours to pursue a bachelor's degree at FVSU.
The agreement will apply to SCTC students with an Associate of Science in General Studies degree.
The presidents of both institutions signed the agreement on June 22, 2020. It became effective immediately.
Fort Valley State University President Paul Jones said, "We are thrilled about creating a longstanding collaborative partnership with Southern Crescent Technical College. This partnership not only forges new pathways for SCTC students to become future Wildcats, it also supports our mission to identify and recruit well-prepared transfer students to FVSU."
Dr. Alvetta Thomas, President of Southern Crescent Technical College stated, "We are excited about the opportunities that this agreement offers both our current students and graduates to seamlessly matriculate to Fort Valley State University. This partnership and the expanded educational pathways it provides demonstrate the commitment both institutions have to creating meaningful educational opportunities for our students. At the end of the day, it is our goal to create strong partnerships in order to build strong students, strong careers, and strong communities."
Fort Valley State University Provost and Vice President of Academic Affairs T. Ramon Stuart called the collaboration an important measure in supporting the students in Georgia as they continue their academic journeys.
"Now, more than ever, we must identify and develop pipelines for students to secure a quality education," said Stuart. "Through this articulation agreement, students from Southern Crescent Technical College can continue their education at Fort Valley State University as both institutions work collaboratively to prepare a highly educated workforce poised to fill vital roles and responsibilities within our society."
"We are excited to add Fort Valley State University to our growing list of transfer partners," said Dr. Steve Pearce, Vice President for Academic Affairs at Southern Crescent Technical College. "As we strive to expand opportunities to assist our students in reaching their educational goals, these agreements not only benefit our students, but also our institution and the communities we serve by providing affordable and accessible pathways for our graduates who wish to continue their studies to earn a bachelor's degree from FVSU."
SCTC students who fulfill the criteria within the agreement are guaranteed admission to Fort Valley State University. The guarantee assures general admission to Fort Valley but not necessarily admission to a specific major that may have enrollment limitations. The agreement does not prohibit other SCTC students who meet admission requirements to transfer to Fort Valley State University.
To qualify for the transfer agreement, the SCTC students must have earned a minimum grade of C or above for any course designated for transfer.