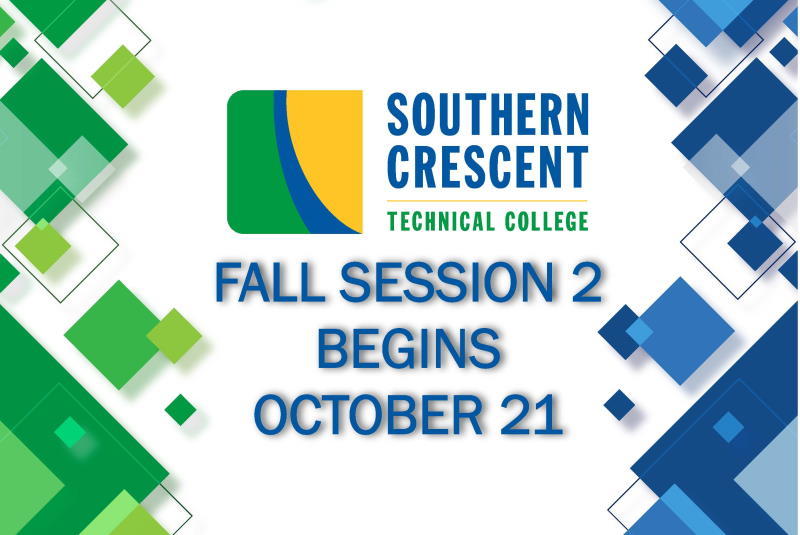 Date Posted: September 9, 2020
Southern Crescent Technical College (SCTC) is currently accepting new students for Fall Session 2 which begins on October 21, 2020 with expanded class offerings and programs for students.
Fall Session 2 will consist of 8-week classes instead of the full 12 week classes of a traditional semester.  With Fall Session 2, students will receive flexible, affordable, and accelerated courses with the same credits, the same high-quality instruction, and the same interactive and immersive online learning platforms where a student can easily fit education into busy schedules.
Expanded course options for students include the addition of many general core classes to the schedule that can be seamlessly transferred to other institutions when ready.  In addition, SCTC has identified six technical certificates of credit that can be completed in their entirety during Fall Session 2.  Those programs include:  Early Childhood Care and Education Basics, Early Childhood Exceptionalities, Early Childhood Program Administration, Commercial Truck Driving, Criminal Justice Fundamentals, and Medical Receptionist.
Dr. Steve Pearce, SCTC Vice President for Academic Affairs said, "Fall Session 2 is a great opportunity for students to get started at Southern Crescent Technical College and to get several classes out of the way quickly.  The fact that a student can now complete an entire technical certificate during this short term is exciting and may be the boost some need to get back into the workforce.  In addition, we've had multiple requests for a postponed start date and we hope that this later enrollment will meet the needs of our students.  We understand our students have jobs, family, and personal responsibilities and it is always our goal to offer additional options to help our students be successful."
SCTC President Dr. Alvetta Thomas stated, "As always, we welcome the opportunity to accept new students for Fall Semester and to help more students realize the value of technical education.  When the numerous career options available in our region for graduates with the skills offered by SCTC are coupled with the low cost of attendance, there is no doubt why Southern Crescent Technical College continues to make a marked impact on this area's workforce."
To enroll in Fall Session 2 at Southern Crescent Technical College, apply online by visiting www.sctech.edu