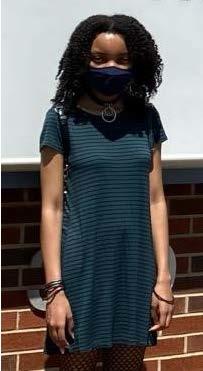 Date Posted: August 28, 2020
Adult education students face many challenges as they attempt to achieve their academic goals. Fiscal year 2020 brought challenges to adult education students and adult education programs of pandemic proportion. On March 16, 2020, adult education at Southern Crescent Technical College changed forever. Administrators and faculty found themselves quickly having to rewrite the narrative for how we would effectively serve students. Students had to quickly adapt to a new way of learning known as "remote learning" if they expected to achieve their academic goals. Some students panicked, some students paused, while some students persevered. Jordan Thomas is one of those students who chose to persevere in spite of a worldwide pandemic.
Jordan's story isn't just about preserving through a pandemic. Jordan's story is about overcoming obstacles and achieving your goals. After suffering a mental breakdown and being hospitalized for two weeks, Jordan was forced to leave high school during her 10th grade year. Although Jordan desperately wanted to return to her local high school, she was unable to do so. Her high school gave her the option of taking classes from home for the rest of the semester, but this was not a feasible option for Jordan due to her mental state.
Jordan's mother tried several options to help her achieve her goal of finishing high school. Her mother enrolled her in an online public high school; however, enrollment in the online public high school was more stress than Jordan could handle. Jordan's mother tried homeschooling her; however, this option did not work either. Without structure and a real teacher there to help her, Jordan had a difficult time focusing on her studies. Not willing to let her daughter be consumed by hopelessness regarding her education, Jordan's mother made one final suggestion to Jordan regarding achieving her academic goals. Jordan's mother suggested enrolling in an adult education program. Together they researched adult education programs in their area and found the Southern Crescent Technical College Adult Education program in McDonough, Georgia. Jordan enrolled in the program in October 2019.
Southern Crescent's adult education program was a perfect fit for Jordan's educational needs. According to Jordan, "The teachers were really helpful when it came to hands-on learning. The work wasn't stressful at all." Everything was going well for Jordan. Her mental health and education were both on track. Fast forward to the Pandemic of 2020, better known as COVID-19.  Like so many other things, Jordan's educational plans had to be restructured.
Because of the pandemic, Jordan felt like her education was falling apart, but, she was determined not to let a pandemic stop her. Jordan didn't know how she was going to achieve her goal of obtaining a GED when everything around her had shut down, including the College campus. Thanks to the Southern Crescent Technical College Adult Education program, Jordan didn't have to figure out this problem. Her instructors, Ms. Annetti Anderson and Dr. Monique Brown, had a plan. These instructors sent Jordan an email with information explaining how she could continue her classes online via WebEx. In March 2020, Jordan began attending her classes online two days each week, preparing to take the GED exam. In addition to taking the online classes, Jordan also ordered the 2019 GED Kaplan book to help her prepare, and she also took the GED practice tests offered on the GED website.
In July 2020, Jordan scheduled her RLA test and continued to study one section at a time. Passing her first test gave Jordan more confidence and determination to complete her GED in August. Each Tuesday, Jordan took a test for each subject (first RLA, then Math, then Social Studies, then Science). Due to persevering, studying, and praying, Jordan passed each test one subject at a time and earned her GED on August 11, 2020. Jordan gives much credit to her instructors and friends who helped her and encouraged her along the way. Jordan's story should be a source of encouragement to all of us to not let anything keep us from reaching our goals. Jordan states "With a bit of self–determination, no matter what the circumstances are (even a pandemic), you can achieve your goals, especially with people around you who care and want to see you succeed. Just don't give up!" Jordan plans to enroll in the Film program at Southern Crescent Technical College to continue her journey towards reaching her academic goals.