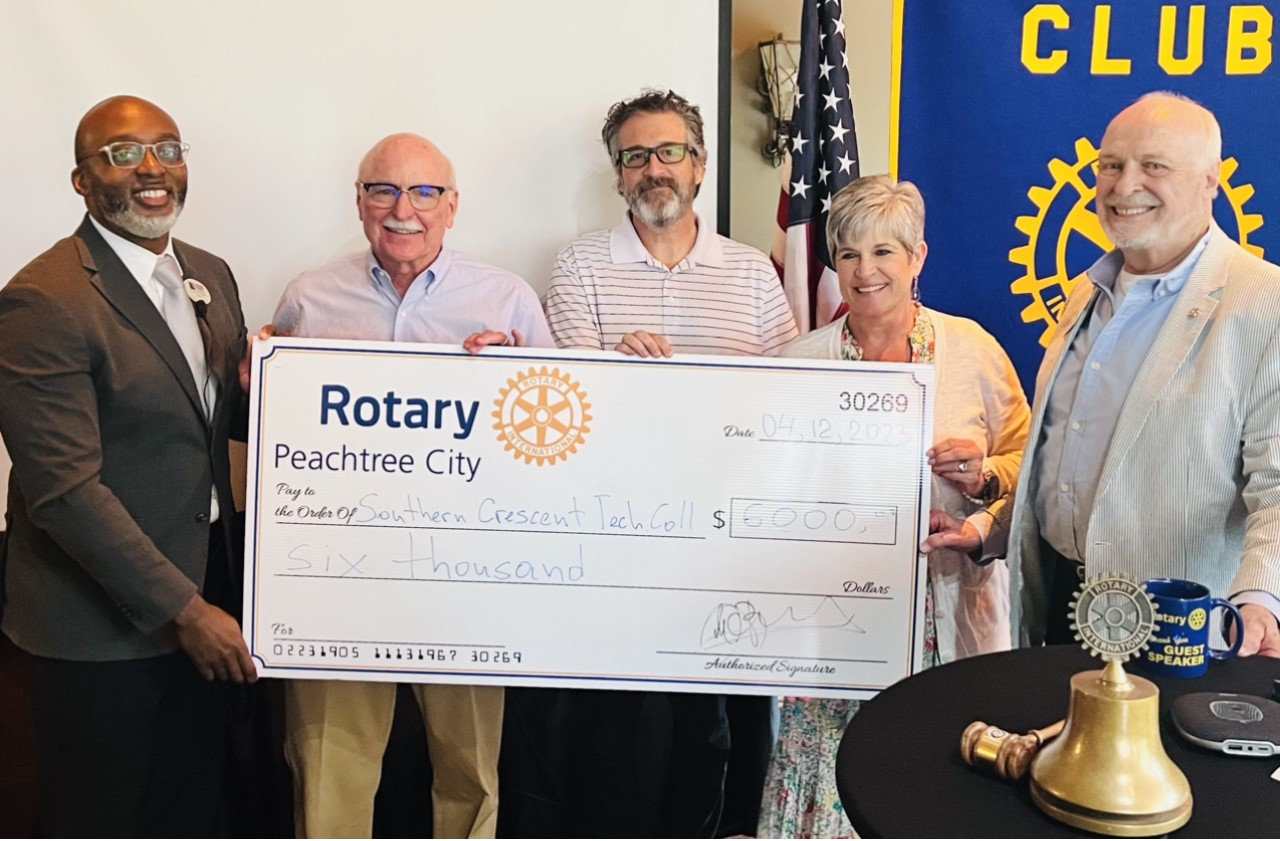 Date Posted: April 20, 2023
Griffin, Georgia, April 14, 2023 – The Peachtree City Rotary Club recently made a $6,000 donation to Southern Crescent Technical College to support student scholarships. At their regular meeting, held April 13, 2023 at Due South in Peachtree City, Southern Crescent Technical College President Dr. Irvin Clark served as the club's keynote speaker.
During his presentation, Dr. Clark spoke to members about Southern Crescent Technical College and gave his vision for the future of the SCTC Fayette County Center. He discussed plans to offer credit programs focused on high-demand careers such as mechatronics and allied health. Additionally, Dr. Clark commented about several of the College's exciting new initiatives including Registered Apprenticeships and plans to create a Small Business Center. Currently, the College has strong enrollment for dual enrollment classes at the Fayette County Center, and plans are to increase enrollment at the center by partnering with local business and industry as well and the Fayette County School System.
Dr. Clark stated, "We are excited about the success we have had at the new and improved Southern Crescent Technical College Fayette County Center over the past year look forward to expanding on those accomplishments with new programs and initiatives. Thanks to this generous donation from the Peachtree City Rotary Club, more individuals from Fayette County will be able benefit from all that the College offers. With a mission of workforce development, Southern Crescent Technical College is working each day to provide local business and industry partners and individuals with the skills and resources that they need to be successful."
Last year the Peachtree City Rotary Club also donated $6,000 for scholarships, and with that donation, $4,000 was designated for textbook and toolbox scholarships for Fayette
County students. Sixteen $250 scholarships allowed for the purchase of program-required textbooks and tools, uniforms, equipment, and/or supplies. The remaining $2,000 from last year's donation was awarded to Adult Education students to pay for GED testing fees.
Like last year, the recent $6,000 donation from the Peachtree City Rotary Club will be used to award sixteen additional textbook and toolbox scholarships for Fayette County students and to fund GED testing fees for Adult Education students from Fayette County.