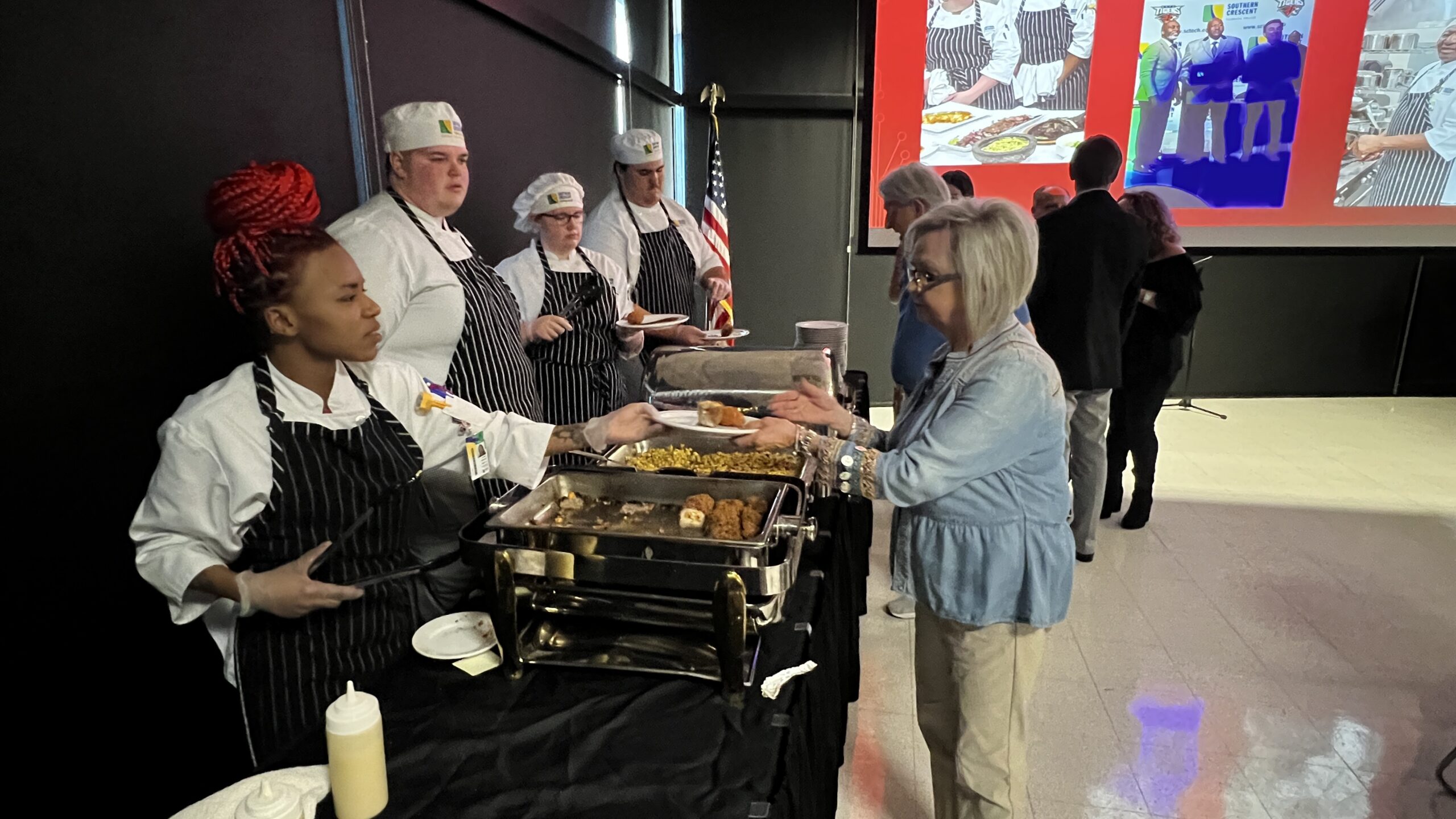 Date Posted: May 3, 2023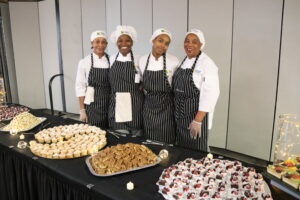 The Southern Crescent Technical College Foundation and the Culinary Arts Program and Advisory Committee's eighth annual Food and Wine Pairings, held on April 20 on the Griffin Campus, received well over 200 guests who enjoyed an evening of fine dining, wine, and fundraising.
The guests were impressed by the various appetizers, entrees and desserts, all served and prepared by the outstanding and talented students in the Culinary Arts program. Early estimates indicate that proceeds from the event will be over $43,700.00 with that money going to support student scholarships for the Culinary Arts program.
SCTC President Dr. Irvin Clark welcomed the guests and congratulated the Culinary Advisory Committee and stated that they are the pace setter for all of SCTC's advisory committees. "You are to be commended for your outstanding fundraising efforts on behalf of the Culinary Arts program and all of the students in this wonderful program," he said.
The evening began as guests first gathered in the atrium for a reception where sangria was served with various appetizers including jue pea gazpacho with fresh mint and feta cheese, tomato and caramelized onion tart with gruyere cheese, and cucumber and goat cheese with golden beets and bacon marmalade all served with Sangria De Valencia.
The gathering then moved into the Event Center where guests were able to visit five impressive stations, each with exceptional presentations and service from students. Guests were encouraged to visit the various stations which included:
Herb Crusted Roasted Beef Tenderloin Gratin Dauphinois, Spring Vegetables, Crispy Onion Straws with a Port Wine Demi-Glace

Paired with Callia Alta Malbec, Tulum Valley, San Juan, Argentina

Mediterranean Shrimp Fra Diavolo with sundried tomato, Parmesan and Herbs Risotto Pearl, Ratatouille and Spicy Tomato Sauce

Paired with Line 39 Chardonnay, Lake County, California

Pecan Crusted Chicken Roulade, Pimento Cheese, Toasted Pecan, and Sage Sweet Potato Croquettes, Corn Succotash with Georgia BBQ sauce

Paired with Il Campione Sauvignon Blanc, Marlborough, New Zealand

Plateau De Fromages – Cheese Assortment, Brie En Croute, Chutneys and Fruits with Assorted Crackers

Paired with Chasing Lions Pinot Noir, Lone Star Wine Cellars, California
Always a crowd pleaser, the dessert station featured Fresh Fruit Tartlets, Browned Butter Financiers, Bittersweet Chocolate-Espresso Terrine, Pecan Diamond Cookies, Lemon Ice Cream with Sesame Seed Garnish which was paired with Bellini, Peach Nectar & Santa Maria Prosecco, Trieste, Italy.
The Food and Wine Pairing was successful primarily due to the unwavering support of guests as well as our many contributors and sponsors. SCTC President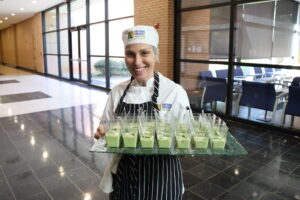 Dr. Irvin Clark expressed gratitude on behalf of the College and thanked those in attendance which were comprised of representatives from area businesses as corporate sponsors and other faithful friends of the College. In-kind sponsors included Atlanta Beverage Company, The Brickery, Costco, From the Farm – Caldwell Farms, Georgia Crown Distributing Company, Concord Café, Dick Morrow, Mangia, and Kroger. Table Sponsors for the event included Aerosol Resource Innovations (ARI), City Café & Bakery, City of Griffin- Griffin Power, Concord Café, Dick Morrow, General Storage, Henry County Development Authority, Impact Office Interiors, Jack Bowdoin, Judge Josh Thacker, Kaska Holdings, Norcom, Inc., Snider Killingsworth Insurance at Oakbridge, Southern Rivers Energy, University of Georgia Griffin Campus, and Worrell Wealth Management Group of Wells Fargo.
The Southern Crescent Technical College Foundation expressed its great appreciation when Foundation Chair Jack Bowdoin stated, "The tie that binds the College and the Foundation is that the Foundation recognizes the unmet need for funding available to technical education. One of the greatest needs for the College is student scholarships since the College cannot use state funds for scholarships."