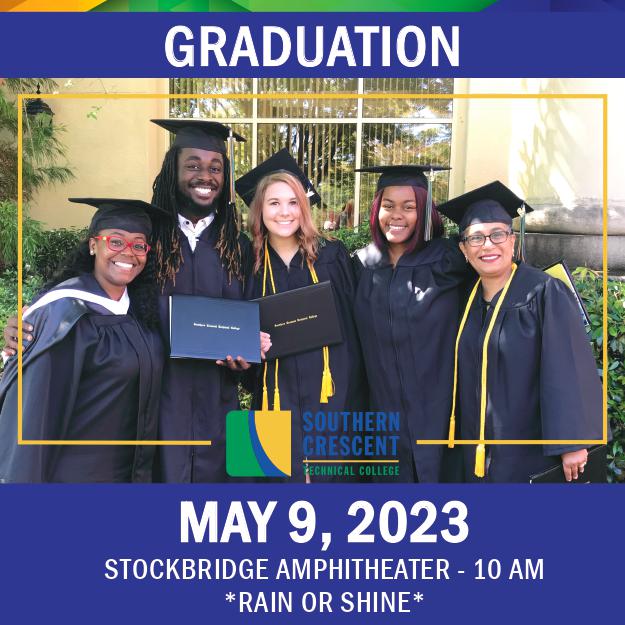 Date Posted: May 4, 2023
Southern Crescent Technical College President Dr. Irvin Clark has announced that the College will host the annual commencement ceremony on Tuesday, May 9, 2023 at 10 a.m. at the Stockbridge Amphitheater in Stockbridge, Georgia.
The graduation ceremony, sponsored by Southern Crescent Technical College Foundation, Aylo Health, Bellamy Strickland Chevrolet Buick GMC, Bennett International Group, and Takle Eye Group will be an outdoor ceremony and will honor nearly 500 credit and adult education graduates from Summer 2022, Fall 2022, Spring 2023, and Summer 2023 semesters. The speaker for the ceremony will be Carlotta Harrell, Chairwoman of the Henry County Board of Commissioners and an advocate for technical education.
Clark stated, "We are excited to be able to celebrate the accomplishments and achievements or our graduates. I understand the challenges, hard work and dedication that come with being a student at Southern Crescent Technical College and we cannot wait to share in the excitement as each graduate reaches this most-important milestone in their educational journey."
The 2023 graduation will be an outdoor event and will proceed rain or shine. For inclement weather, please bring a rain jacket or poncho. Due to safety and sightline concerns of the venue, umbrellas are not permitted inside the amphitheater.
Should severe weather occur, the ceremony may be delayed. For the latest updates on the day of graduation, please check the college website and official social media channels.
For more information on the 2023 graduation ceremony, visit https://www.sctech.edu/2023-graduation/.