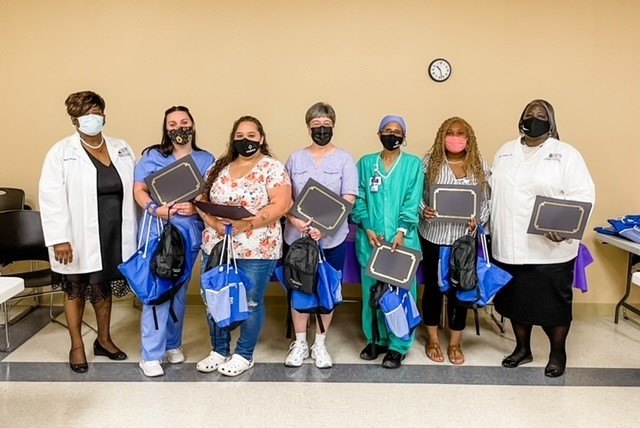 Date Posted: June 4, 2021
Southern Crescent Technical College (SCTC) continues our partnership with Wellstar by hosting accelerated certified nurse aide courses through the SCTC Economic Development division. Recently, SCTC completed the first cohort of nine Wellstar students through this partnership. These students successfully completed a 6-week accelerated program by attending classes in the evening and clinical on the weekends. This state approved 6-week course consisted of 61 hours of didactic and lab learning and 24 hours of clinical experience. This group of nine students achieved a 100% first-time pass rate on the Georgia Nurse Aide Registry.
These nine students were honored at a small ceremony held at Wellstar Spalding on Thursday, June 3, 2021. During the ceremony, Lisa Johnson, CNO for Wellstar Spalding congratulated the students and welcomed them to the healthcare team.
Dr. Mark Andrews, Executive Vice President for Economic Development at Southern Crescent Technical College stated, "Ultimately, we want to provide a pipeline of graduates who make up a skilled workforce for WellStar in Griffin.  Through continued collaboration, we are able to offer the skills and training needed for these students to make a swift and successful transition into the workforce."
Kim Register, SCTC Dean of Allied Health, congratulated the students by reminding them that they are the "backbone to our healthcare system." She went on to express, "This is quite an accomplishment and you should not take this success lightly.  You have reached this important milestone in a short amount of time due to your hard work and dedication. You are now the eyes, ears and hands of the healthcare team and will leave a lasting impact on both your patients and their family."