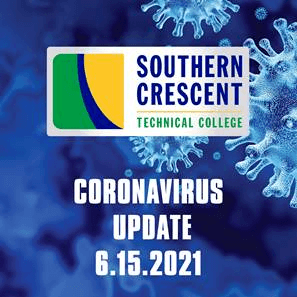 Date Posted: June 15, 2021
Southern Crescent Technical College (SCTC) has followed CDC guidance in setting safety protocols for operations throughout the pandemic.  Based on updated and current CDC guidance, fully vaccinated individuals may resume on-campus activities without wearing a face mask, including inside campus buildings.  Unvaccinated individuals are strongly encouraged to continue to wear a mask and social distance where possible while inside campus facilities.
SCTC will continue to follow the CDC and DPH protocols for reporting positive COVID-19 cases and other safety protocols, such as following the quarantine procedures as they change.  In an effort to maintain the health and safety of our campus community and in accordance with CDC and DPH recommendations, all eligible individuals are encouraged to receive the vaccine. Any faculty, staff, student, or visitor is requested to remain at home if they are experiencing COVID-19 related symptoms and are required to report their condition to the appropriate supervisor.   Please continue to consult the college's website for all COVID-19 associated updates.