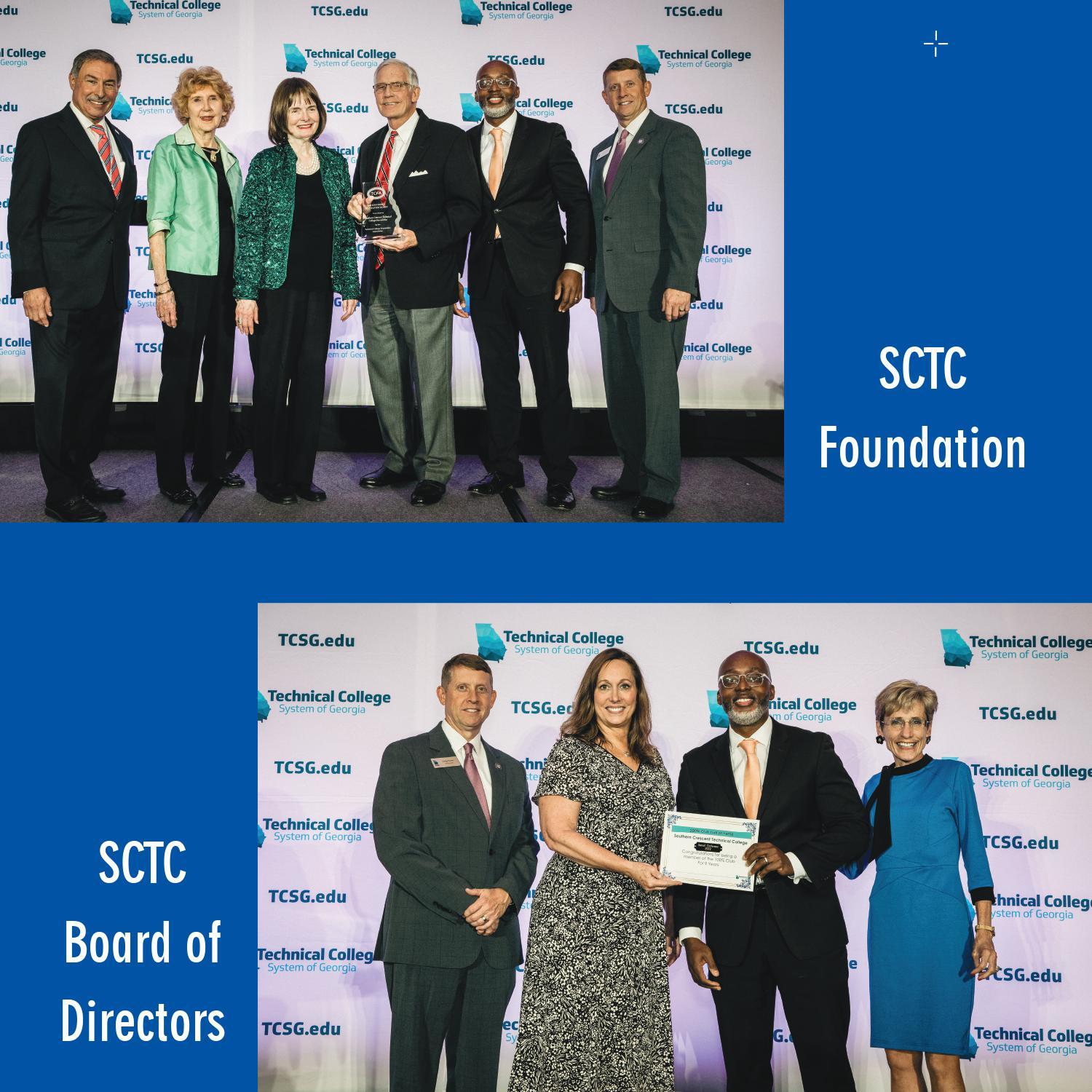 Date Posted: November 7, 2022
The Technical College System of Georgia recently held their 2022 Leadership Conference at the Hyatt Regency Hotel in Savannah on October 24-26 where Southern Crescent Technical College was recognized for multiple outstanding achievements over the past year.
During the conference awards presentation, the Technical College Foundation Association of Georgia (TCFA) awarded the Southern Crescent Technical College Foundation the prestigious status of Role Model Foundation for FY2022 for the eighth consecutive year and the Southern Crescent Technical College Board of Directors was recognized for the ninth year in a row by the Technical College Directors Association of Georgia as a member of the 100 Percent Club. SCTC representatives attending this year's conference were Rebecca Hadley-Catter from the local Board of Directors and Jack Bowdoin and Nancy Blake attended on behalf of the SCTC Foundation.
SCTC President Dr. Irvin Clark stated, "I appreciate the time and investment that our Board of Directors and our Foundation Trustees make to help Southern Crescent Technical College build strong students, strong careers and strong communities. Their commitment and dedication is evident with the ongoing awards they are receiving each year."
The Role Model Foundation award was the eighth consecutive honor for the SCTC Foundation. In order to receive this status, the Foundation demonstrated that its members had engaged in best practices in nonprofit governance, board management, and operations; had policies in place to ensure compliance with state and federal regulations, especially in financial matters; was led by a Board of Trustees whose members were actively engaged in the Foundation's development activities; and supported the professional development and state level participation of their Trustees, Executive Director, and college advancement personnel.  The TCFA Role Model Foundation Board Certification is an annual certification process. Trustees also meet three individual criteria, which can include attending graduation, classes and events held by the College or the Foundation as well as committee meetings and professional development courses.
The SCTC Board of Directors remained a member of the 100 Percent Club with all board members currently certified.  This board acts both as an advisory and advocacy body for Southern Crescent Technical College in regard to program decisions and priorities to meet area business needs, a check and balance for the development and implementation of College goals and objectives, and support in the community and in the state toward workforce development efforts.