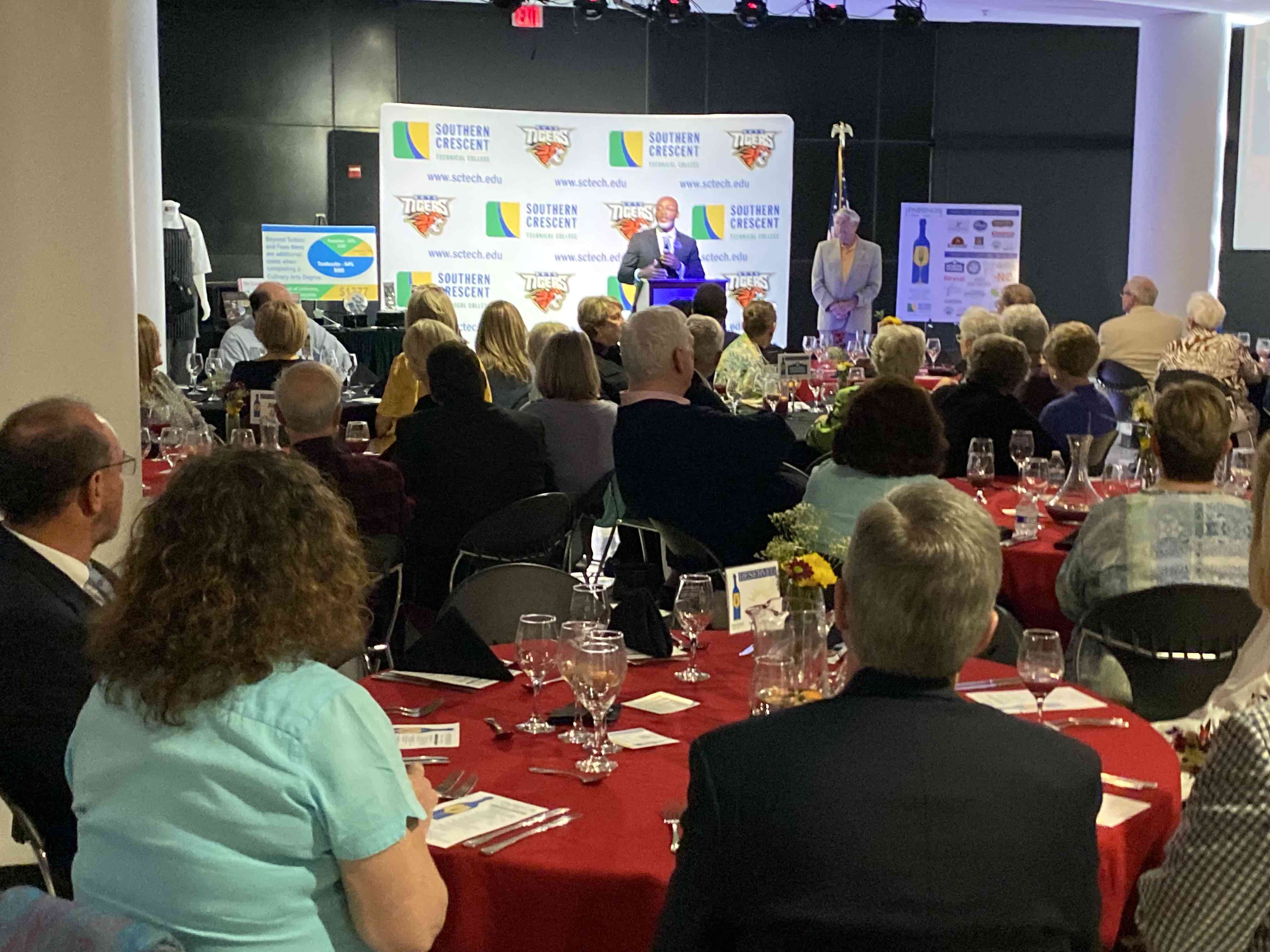 Date Posted: April 25, 2022
The Southern Crescent Technical College Foundation and the Culinary Arts Program and Advisory Committee's seventh annual Food and Wine Pairings, held on April 22 on the Griffin Campus, received well over 200 guests who enjoyed an evening of fine dining, wine, and fundraising.
The guests were impressed by the various appetizers, entrees and desserts, all served and prepared by the outstanding and talented students in the Culinary Arts program.  Early estimates indicate that proceeds from the event will be just shy of $32,000.00 with that money going to support student scholarships for the Culinary Arts program.
New SCTC President Dr. Irvin Clark welcomed the guests and congratulated the Culinary Advisory Committee and stated that they are the pace setter for all of SCTC's advisory committees.  "You are to be commended for your outstanding fundraising efforts on behalf of the Culinary Arts program and all of the students in this wonderful program," he said.
The evening began as guests first gathered in the atrium for a reception where sangria was served with various appetizers including watermelon gazpacho with fresh mint and feta cheese, chili lime shrimp tacos with guacamole and pico de gallo, and bruschetta margherita with bocconcini and soppresatta, smoked salmon poke with mango and purple potato chip.
The gathering then moved into the Event Center where guests were able to visit 5 impressive stations, each with exceptional presentations and service from students.  Guests were encouraged to visit the various stations which included:
Herb Crusted Beef Tenderloin with Duchesse Potatoes, Spring Vegetables, Crispy Onion Straws with a Madeira Wine Demi Glace

Paired with Trivento Reserve Malbec 2020, Mendoza, Argentina
Low Country Spicy Shrimp with Pimento Cheese South Carolina Stone Ground Grits served with a Frogmore sauce

Paired with Line 39 Sauvignon Blanc, Lake County, California
Chicken Paillard Involtini with Porcini Mushrooms, Spinach, Italian Herbs, Ricotta & Provolone cheeses, Roasted Garlic, Sun Dried Tomatoes, Orzo Pasta Timbale with an Arrabiata sauce

Paired with Sterling Vintner's Chardonnay, Central Coast Monterey, California
Plateau De Fromages – Cheese Assortment, Brie En Croute, Chutneys and Fruitswith Assorted Crackers

Paired with A By Acacia Pinot Noir, Los Carneros, California
Always a crowd pleaser, the dessert station featured Cream Cheese Panna Cotta, Spiced with Red Wine Roasted Fig Sauce, Fresh Fruit Tartlets, Bittersweet Chocolate-Espresso Terrine, Lemon Ice Cream with a Sesame Seed Garnish which was paired with a Bellini, Peach Nectar & Santa Marina Prosecco, Friuli Venezia Giulia, Italy
The Food and Wine Pairing was successful primarily due to the unwavering support of guests as well as our many contributors and sponsors. New SCTC President Dr. Irvin Clark expressed gratitude on behalf of the College and thanked those in attendance which were comprised of representatives from area businesses as corporate sponsors and other faithful friends of the College. In-kind sponsors included Atlanta Beverage Company, The Brickery, Costco, Deraney's Two City Tavern, From the Farm – Caldwell Farms, Georgia Crown Distributing Company, and Kroger. Table Sponsors for the event included American Trailer Services, ARI, Bowdoin, City of Griffin- Griffin Power, From the Farm – Caldwell Farms, General Storage, Impact Office Interiors, Judge Josh Thacker, Dick Morrow, Newton Crouch Company, Norcom, Inc., Nichols, Cauley & Associates, Rinnai, Snider Killingsworth, and Worrell Wealth Management Group of Wells Fargo Advisors.
The Southern Crescent Technical College Foundation expressed its great appreciation when Foundation Chair Jack Bowdoin stated, "The tie that binds the College and the Foundation is that the Foundation recognizes the unmet need for funding available to technical education.  One of the greatest needs for the College is student scholarships since the College cannot use state funds for scholarships."