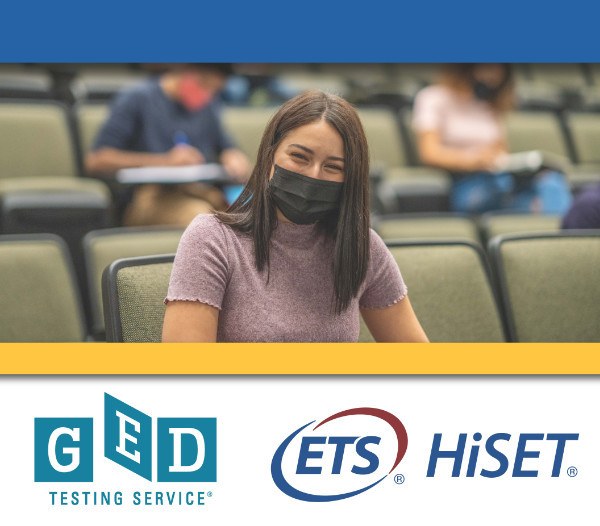 Date Posted: February 11, 2021
Southern Crescent Technical College (SCTC) now offers two ways to earn a high school equivalency diploma – the GED® test and the HiSET® exam.  Both the GED® test and the HiSET® exam measure high school equivalency skills that reflect the skills of a high school graduate. Southern Crescent Technical College offers free classes to help students prepare for taking either exam and students have the option of taking these exam preparation classes online or in person.
Dr. Murray Williams, Vice President for Adult Education at Southern Crescent Technical College said, "With experienced instructors, free classes, and free practice tests, earning a high school equivalency credential has never been easier. Both the GED® and HiSET® high school equivalency credentials open the door to a brighter future and better job opportunities. We want our students to be successful and to reach all of their educational goals and we are here to help them every step of the way."
The GED® and the HiSET® high school equivalency credentials are recognized by employers, technical colleges, and many four-year universities.
Southern Crescent Technical College offers computer-based testing through official testing centers on the Griffin and Thomaston campuses for the GED® or the HiSET® exam.  Both tests allow you to earn your high school equivalency credential and both exams are computer-based formats that can be taken in-person.  Test takers may take one subject at a time and tests can be taken in English or Spanish.  The HiSET® includes five subject areas and the GED® includes four.  Both exams come with free test preparation through the college's Adult Education department.  The Testing Center offers both exams for adult education students or any individual who is seeking to take the exam.
Students enrolled in the free adult education program classes improve their reading, writing, and math skills as well as learn how to speak English, and how to prepare for High School Equivalency (HiSET® and GED®) Tests.  The classes are free and offered at multiple locations in Southern Crescent Technical College's 8 county service area of Butts, Fayette, Henry, Jasper, Lamar, Pike, Spalding and Upson.
Southern Crescent Technical College is currently accepting new students in the Adult Education program for in-person classes with supplemental online learning.  For more information about classes or testing, please visit www.sctech.edu/adult-education/ or call 770-229-3176.