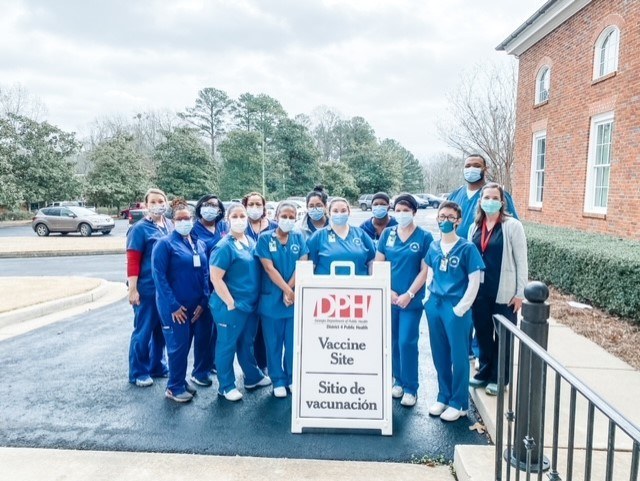 Date Posted: February 1, 2021
Eight Southern Crescent Technical College nursing students assisted in the administration of the first vaccine of the Pfizer COVID-19 series at the Upson County Health Department on Thursday, January 21, 2021. These students volunteered their time under the guidance of Angie Ballard, Nursing Department Chair, with the assessment, health screening, and monitoring process of those receiving the vaccine.
A second group of five Practical Nursing students assisted the Spalding County Health Department in their efforts to vaccinate those individuals in phase 1A of the state distribution plan. These students assisted with various administrative tasks on Friday, January 22nd to ensure a smooth process for the drive-thru clinic.
Nursing students that signed up as volunteers received both online and hands-on training prior to the event.
"The volunteer student nurses and the instructor were our saving grace last week with the vaccinations. The week prior we only had two vaccination stations and were behind the entire day. With the added third vaccination station, we were able to stay on time with our appointments and work more efficiently," stated Nikee Rooks BSN, RN, County Nurse Manager Upson County Health Department.
Kim Register, Dean for Allied Health at Southern Crescent Technical College said, "Our Southern Crescent Technical College students are excited to support this phase of vaccinations in order to help protect our community. We recognize the urgent need to get vaccines to our community members, so we are doing all that we can to joining forces with our community partners to safely and efficiently assist in our local vaccination efforts."