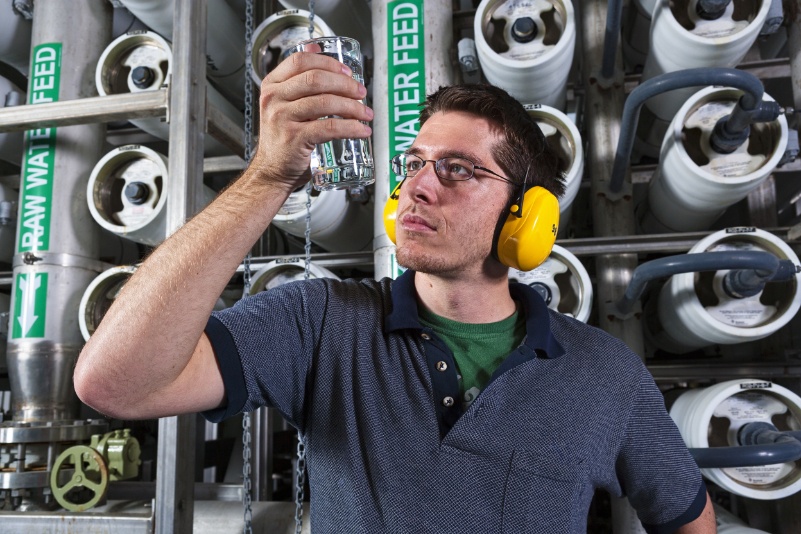 Date Posted: December 20, 2021
Southern Crescent Technical College (SCTC) has again partnered with the Henry County Water Authority (HCWA) to recruit future water and wastewater plant operators through the College's Water Quality Technician program.
Henry County Water Authority's Sheila Kern has attained the credentials and recently agreed to lead the Water Quality Technician program at SCTC. With over 15 years of experience in the field, Kern is a Class 1 Operator at the HCWA Tussahaw Water Treatment Plant and the 2020 Winner of the Georgia Association of Water Professional District 3 Top Operator Award.
Additionally, SCTC has recently received approval as an educational provider for the Georgia State Board of Examiners for Certification of Water and Wastewater Treatment Plant Operators and Laboratory Analysts. Successful completion of the Southern Crescent Technical College Water Quality Technician Program meets the educational requirements for state licensure. Beyond completion of this program, students are also required to work in a water/wastewater plant for three months to gain the required experience and to pass a state mandated exam to apply for licensure. It should be noted that water and wastewater are two separate licenses, each having separate testing requirements as well as experience requirements to earn the individual license.
Classes in the Water Quality Technician Technical Certificate of Credit will resume in January for Spring Semester. This program includes four courses totaling 12 credit hours and will take students two semesters to complete. This program focuses on the knowledge and skills required to successfully perform the duties of a water/wastewater treatment plant operator as well as the knowledge needed to pass the state license exam. In addition to proper treatment techniques, students will be introduced to mathematical calculations and laboratory analysis used in the process control of water/wastewater plant operations. Classes are a combination of hands-on, lecture and independent study with experienced water/wastewater guest speakers periodically sharing their knowledge with students.
The Water Quality Technician program is offered at the SCTC Henry County Center, located in McDonough and prepares students for entry into a career as a water/wastewater plant operator. Operators have the opportunity to advance with experience and by meeting further testing requirements by the state licensing board. An operator can advance from a Class III Water/Wastewater Treatment Operator to a Class II Water/Wastewater Treatment Operator, and finally to a Class I Water/Wastewater Treatment Operator. These jobs typically provide good benefits and good pay as operators are often employed by municipalities. Proper water/wastewater treatments are vital to public health and there will always be a need for qualified operators.
For additional information please contact Sheila Kern at sheila.kern@sctech.edu or (770) 914-4431.