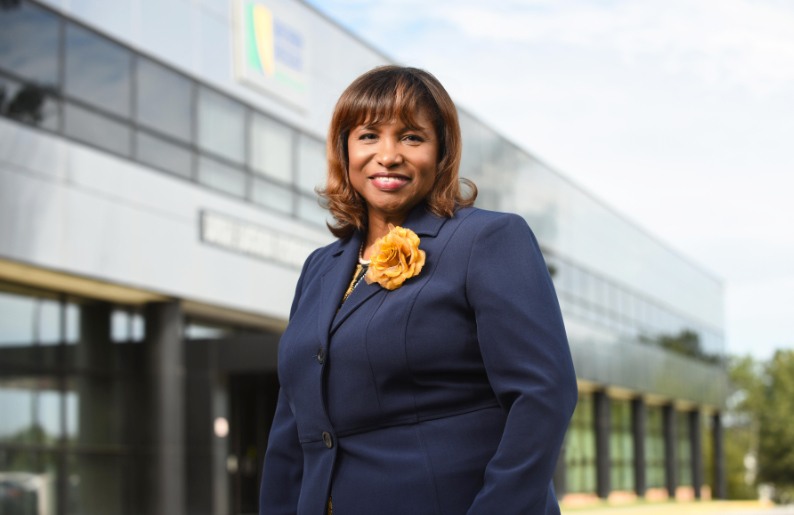 Date Posted: December 20, 2021
After 5 years of service to Southern Crescent Technical College and over thirty years to the State of Georgia, Dr. Alvetta Thomas has announced plans to bid farewell to the College.  Dr. Thomas will close out her tenure to the College at the end of December.
Dr. Thomas joined SCTC in December of 2016 after serving as President of Atlanta Technical College for 8 years.  Prior to that position, she served as Vice President for Academic Affairs at Atlanta Technical College and in various educational leadership roles throughout her impressive academic career.
"I feel as though the time is right for me to pass the torch to the next leader of this outstanding college," Dr. Thomas stated. "This decision has been very difficult as I love Southern Crescent Technical College – the students, faculty and staff, campus, and the work.  Together, we have made great strides on many levels and have remained a leader among technical colleges in Georgia. Our work in building strong students, strong careers, and strong communities remains evident in all that we do."
Dr. Thomas expressed her appreciation to the faculty and staff at SCTC in a recent announcement and stated that because of their dedication to the students and the college, SCTC has been a very special place to work and call home. "The work that we do at Southern Crescent Technical College is my passion, and I have loved every minute of it. During my time here, I have been lucky to work with and learn from such an amazing, talented, and motivated faculty and staff.  While my entire career has been a blessing, I can sincerely say that serving as president of Southern Crescent Technical College is the pinnacle of a long and rewarding career."
"It has been my pleasure and my honor to serve as the President of one of Georgia's Technical Colleges for nearly 13 years.  During that time, I have seen countless examples of students overcoming vastly difficult hardships and obstacles that are nothing short of amazing.  The daily task of carrying out the College's mission and seeing the permanent and generational changes we make in our students' lives has stimulated and encouraged me over my time of service."
"Dr. Thomas is highly regarded for her leadership, collaboration, focus, and deep understanding of the Technical College System of Georgia," stated David Campbell, Chair of the SCTC Board of Directors. "She is extremely knowledgeable and intuitive about the needs of the many stakeholders the College serves. During her career with the college, she has exhibited steadfast passion, commitment, and dedication to the organization and its mission.  The accomplishments of Dr. Thomas and her entire team have been nothing short of remarkable."
Jack Bowdoin, SCTC Foundation Chair added, "The accomplishments and recognition Dr. Thomas has received during her teaching and administrative tenure with the Technical College System of Georgia reflect her ongoing commitment to provide students the opportunity to become workforce-ready employees.  Dr. Thomas became President of Southern Crescent Technical College in 2016, and through the impact of budget cuts and the effects of COVID-19, she never wavered from her vision for the College."
Championing the College
During her tenure, Dr. Thomas has built a reputation for championing multiple large-scale initiatives aimed at better serving students, employers, and local communities. Under her leadership, she has worked tirelessly to increase enrollment, retention, graduation, and career placement rates.  During this time, Dr. Thomas led the College to become the third highest producer of graduates in TCSG compared to only having the sixth largest enrollment among other technical colleges in the state.
From overseeing multiple renovation and building projects to managing successful accreditation visits on the program and college level, she has successfully built strong campus and community partnerships throughout the College's service area.
Lily Henson, MD, CEO, Piedmont Henry Hospital stated, "I have only had the pleasure of working with Dr. Thomas for a very short time but during that brief period, I have felt so blessed to have become her friend. She is a beautiful woman, inside and out. She is a kind, wise, faithful leader and teacher. She is down to earth and funny. Southern Crescent Technical College has accomplished much during her tenure and a generation of healthcare workers have been well prepared to serve in their careers because of her vision. I wish her much joy as she moves on in this next phase of her life journey. She has much to be proud of!"
Partnering for Success
Through times of recent upheaval and uncertainty, Dr. Thomas continued to navigate the College as it expanded offerings and built partnerships to better position the College and create upward mobility for students.  A leader in the College and community, Dr. Thomas has partnered with countless individuals, businesses, and organizations to move Southern Crescent Technical College forward.
"Dr. Alvetta Thomas has been a strong ally of GSCS and a tremendous partner as we have built an excellent Griffin Region College and Career Academy (GRCCA) together. She serves on our board of directors for Partners in Education and she has been a strong educational leader in our region. Dr. Thomas, thank you for your leadership, partnership and most importantly, your friendship," stated Griffin Spalding School System Superintendent Keith L. Simmons
"Dr. Thomas is a consummate professional in education. The Southern Crescent Technical College's Henry Campus is a success because of her leadership, vision and commitment to the educational system and the community. The impact she has made on Henry County through her outstanding work with the SCTC will be seen for decades to come and she has set a high bar for anyone who follows in her footsteps," said Henry County Commission Chair Carlotta Harrell.
With a mission of workforce development, Dr. Thomas's commitment to student success remains steadfast.
Colin Martin, President & CEO of the Fayette Chamber of Commerce said, "The entire South Metro area and especially Fayette County has been blessed to have Dr. Alvetta Thomas as President of Southern Crescent Technical College. Her commitment to students has been the hallmark of her leadership as she built the presence of the College across its service area."
SCTC Early Childhood Education Graduate Kelly Browning commented, "Dr. Thomas' leadership and commitment to each of the students at SCTC is completely unparalleled.  I personally witnessed her true dedication to students as I went through the process to be chosen for the Georgia Occupational Award of Leadership.  As I attended different events, I got to see first-hand, how Dr. Thomas truly poured herself into each and every student at SCTC.  She was never absent from any of the events, she was always there, cheering us on, knowing we had the potential and the power to succeed. She always willing to be forthright, uplifting, and supportive, and she truly gives some of the best advice I've ever heard.  For me, and I know, so many others, Dr. Thomas is SCTC.  There is no doubt her legacy, and her leadership, will live on through Southern Crescent and I am eternally grateful for the influence she had in my life."
In her final graduation address a few days ago, Dr. Thomas encouraged the students to think about "what's next."  She closed by telling them that this would be her last graduation as President of Southern Crescent Technical College and stated, "And as for my 'what's next?' Well, my steps are ordered and the very best is yet to come.  I am grateful and humbled to have had the opportunity to work in this community building strong students, strong careers, and strong communities."
Southern Crescent Technical College hosted a farewell reception for Dr. Thomas on December 2, 2021 where friends, family, and community leaders were able to offer their well wishes on her pending departure.  During this event, she received a proclamation signed by Governor Brian Kemp from State Representative Karen Mathiak as well as a proclamation from the State Board of the Technical College System of Georgia presented by Board Vice-Chair and longtime friend Dr. Artesius Miller.  Both proclamations outlined and saluted her accomplishments to technical education and the communities that she has served over her lengthy and impressive career.
Dr. Thomas and her legacy have now been woven into the history of Southern Crescent Technical College.  With a pattern of always putting students first, over her career, she has led initiatives at the local, state, and national levels that have positively impacted the lives of countless individuals and communities. The Southern Crescent Technical College region, our employers, College staff and thousands of SCTC students have benefited tremendously from her leadership and her impact will continue to be felt for years to come.