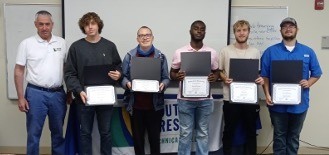 Date Posted: June 30, 2021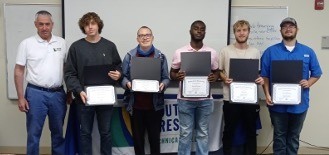 In partnership with Butts County Development Authority and Three Rivers Regional Commission, Southern Crescent Technical College has just completed an 80-hour Manufacturing Basics class for recent graduates from Jackson High School.   Five students participated in the two-week Manufacturing Basics course designed for participants to learn essential skills and knowledge to prepare them to enter the manufacturing workforce.  Manufacturing Basics graduates included Ethan Baxter, William Gosdin, Terence Pennyman, Dakota Ruiz, and Devin Grandstaff.
"The skills obtained in this course will provide graduates with important experience and hands-on training to help them secure and retain employment in the manufacturing field.  This course was specifically designed for dedicated students who had no immediate plans to attend college but planned to enter the workforce following their high school graduation," according to Dr. Mark Andrews, Executive Vice President at Southern Crescent Technical College.
Totally funded through a partnership with Three Rivers Regional Commission, topics covered in the Manufacturing Basics course included: Working Together and Teamwork, Communication Strategies, Conflict Management, Business Ethics, OSHA 10 Safety Course, Basic Industrial Systems, Forklift Operation and Safety.  Upon successful completion of the course, students will be issued a certificate of completion as well as a Forklift Certification and an OSHA 10 card.
"It is very difficult for a high school graduate to move straight into the workforce without adequate training. This program offers students the opportunity to get specialized, certified, relevant training at no cost while building a resume that will help jumpstart a well-paying career path," said Bob White, Executive Director of the Butts County Industrial Development Authority.
Manufacturing Basics graduate Ethan Baxter stated, "I really felt like this course was exactly what I needed to be able to earn the skills to transition into the workforce.  It was a great experience and I learned so much in these two weeks."
Upon completion of this course, these students were interviewed by American Woodmark – Jackson, Continental Tire – Barnesville, and Axiom Staffing Group representing Caterpillar – Griffin Power Systems.
"The demand for labor in our local industries is high, but many companies still desire at least some form of basic training/certification when considering candidates for a job. This program will set our students apart from other entry-level applicants and provide them with a competitive edge, as well as hopefully encourage them to continue their education in a field more specific to their potential career," Dr. Andrews continued.
About Southern Crescent Technical College:
Southern Crescent Technical College is a multi-campus unit of the Technical College System of Georgia and serves the workforce and community needs of Butts, Fayette, Henry, Jasper, Lamar, Pike, Spalding, and Upson counties. The College is a public, accredited, two-year post-secondary institution serving a diverse student population by offering over 200 academic credit programs and services, adult education, continuing education and programs customized for business and industry. Southern Crescent Technical College is committed to excellence and is characterized by outstanding instruction, a comprehensive commitment to state-of-the-industry training and workforce development, and a close connection to the community. As the College grows, Southern Crescent Technical College will continue to expand its educational programs and facilities to provide students with enhanced opportunities for career success. For more information on Southern Crescent Technical College or its offerings, please visit www.sctech.edu.