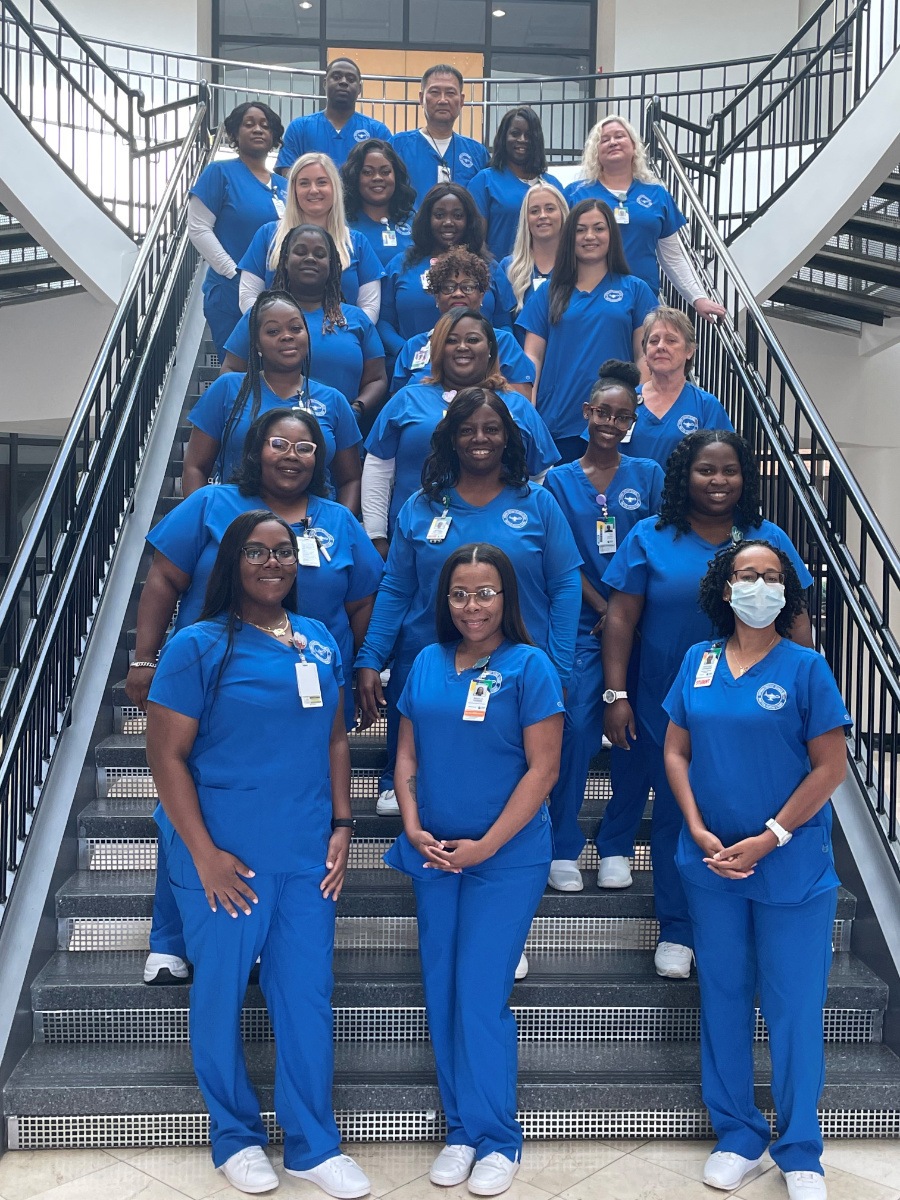 Date Posted: August 26, 2022
Southern Crescent Technical College (SCTC) Practical Nursing program held a pinning ceremony for its 22 graduates on August 11, 2022 at Oak Hill Church.
The 2022 program graduates included: Skeatha Atkinson, Chaundra Brown, Dior Butler, Haylee Cannon, Jessica Caraballo, Deborah Craig, Chalind Docteur, Maddison Franklin, Kornesia Green, Richard Harris, Shayla Harris, April Knause, Leah Matthews, Cathy Moss, Amber Murphy, Goodness Nwaobsi, Elizabeth Omole-Wyatt, Sajaya Rison, Jong-in Song, Lakeisa Thomas, Sonya Williams and Daramecia Willis.
This ceremony gives a grand send-off to nursing students signaling the end of their academic career and the launch of their professional career.  During the ceremony, each student was recognized individually as they received their pins from their instructors. The pinning is a time-honored nursing school tradition that signifies the entrance of a nurse into their new brotherhood or sisterhood of the career. The ceremony is often accompanied by the lighting of candles and the recitation of the Nurse's Pledge.
Angie Ballard, Nursing Department Chair, said, "We are so very proud of all of our nurse graduates and we welcome them to this exciting and rewarding new challenge. Southern Crescent Technical College nurses have always been standard bearers for quality and for independence. We expect the very best from you for nursing, and for your patients. A long road of accomplishments has led to this day and you will reap the benefits of your hard work for the rest of your professional and personal life. Don't be overwhelmed by what is expected of you in the emerging health care system and don't underestimate what you can accomplish."
Upon completion of the program, the graduates are now eligible to sit for the NCLEX-PN state board exams to become official Licensed Practical Nurses. The exam consists of questions and tests all areas in the nursing profession to assure practical nurses have obtained the knowledge to practice safely in clinical settings.
Southern Crescent Technical College currently offers over 200 different associate degree, diploma, and short term technical certificate of credit classes. Enroll today and get ahead in your chosen career. For more information about Southern Crescent Technical College and its programs of study, visit the website at: www.sctech.edu.