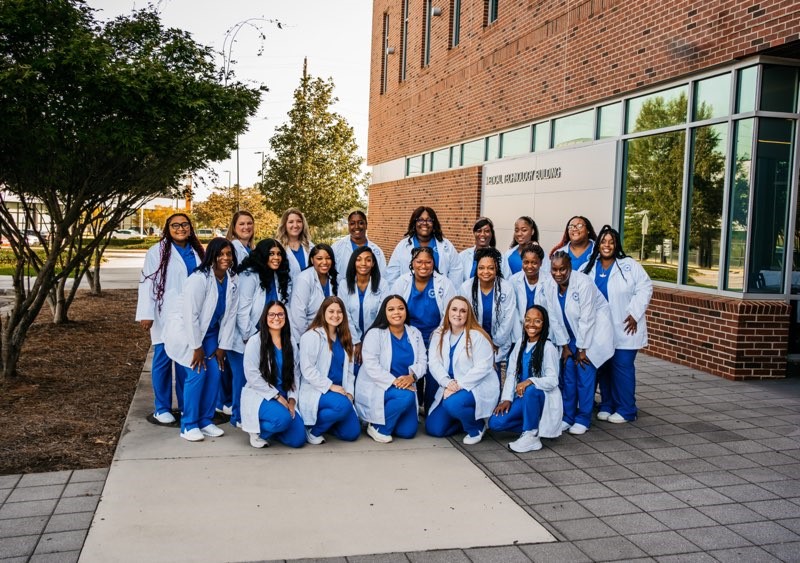 Date Posted: August 15, 2023
A momentous occasion unfolded on Thursday, August 3rd, as Southern Crescent Technical College (SCTC) hosted its annual Practical Nursing Pinning Ceremony at Oak Hill Church in Griffin. The event marked a significant milestone in the journey of 22 dedicated nursing graduates who are now prepared to take the next step towards becoming licensed practical nurses (LPNs).
The ceremony was a culmination of hard work, dedication, and unwavering commitment exhibited by the graduates throughout their educational journey at SCTC. The Pinning Ceremony, a revered tradition in the nursing field, is a symbolic gesture representing the official transition from nursing education to professional practice. Friends, family, faculty, and distinguished guests were present to witness this significant rite of passage and offer their heartfelt congratulations to the graduates.
Dr. Xenia Johns, Vice President of Student Affairs at Southern Crescent Technical College, delivered a welcome message commending the graduates for their resilience, dedication, and determination. "Today, we celebrate not just the end of your academic journey, but the beginning of your impactful careers in healthcare. Your hard work and passion have brought you to this moment, and we are confident that you will make a positive difference in the lives of countless patients," Dr. Johns remarked.
These 22 nursing graduates are now poised to take the National Council Licensure Examination for Practical Nurses (NCLEX-PN), a pivotal step towards becoming licensed professionals in the nursing field. Their education at SCTC has equipped them with the knowledge, skills, and expertise needed to excel in their careers and meet the diverse healthcare needs of the community.
As these graduates embark on their journey to becoming licensed practical nurses, Southern Crescent Technical College congratulates them and wishes them every success in their upcoming NCLEX-PN exams. The college remains steadfast in its commitment to producing well-prepared, compassionate healthcare professionals who will contribute significantly to the betterment of society.