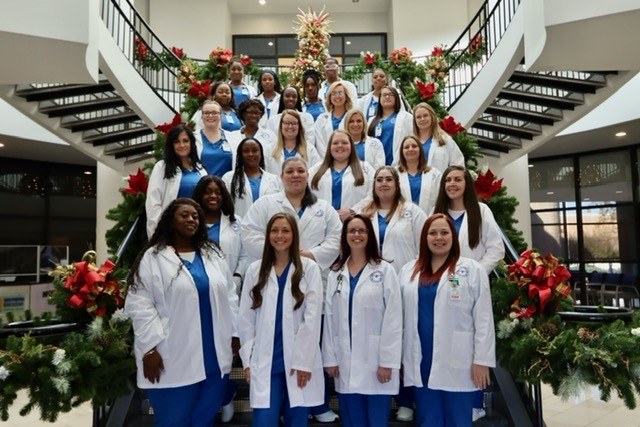 Date Posted: December 16, 2021
With family and friends in attendance, Southern Crescent Technical College's (SCTC) Practical Nursing program held a pinning ceremony for its 27 graduates on December 15, 2021 in a socially distanced ceremony in the Event Center on the Griffin Campus.
The 2021 program graduates included: Even'j Bercy, Ashley Britt, Kierra Brown, Riley Brumbalow, Twanequa Chatman, Erica Cooper, Diamond Davis, Callie Dufresne, Elizabeth Duncan, Ashley Egin, Lorissa Gross, Marie Hubbard, Audrey Ivester, Lara Jester, Savannah Lumpkin, Bethany Marbut, Jessica McDonald, Neisha-Kay McKenzie, Le Ann McWaters, Chiquita Neal, Ese Oborayiruvbe, Sara Padgett, Elena Rodriquez, Hannah Stewart, Archrisha Turner, Joy Wannemacher, and Sandra Wilson.
Attendees were welcomed by SCTC President Dr. Alvetta Thomas, who stated "Think for a moment of your own special place in this new generation of graduates as your focus now shifts outside of the classroom. You are entering into a profession of unimaginable opportunities and you are well-prepared for this next step.  Don't ever lose sight of the immeasurable impact you are making on your patient's lives.  Go forth and do great things."
Former SCTC Nursing graduate Vicki Christensen served as the guest speaker for the ceremony.  She addressed the graduates, encouraging them to believe in their skills, intuition and abilities and reminded them of the importance of their role and new profession stating, "As you transition into this new chapter, remember that you will be changing and advancing our profession on a daily basis.  Your role is vital to the success of tomorrow's health care system."
During the ceremony, each student was recognized individually as they received their pins from their instructors. The pinning is a time-honored nursing school tradition that signifies the entrance of a nurse into their new brotherhood or sisterhood of the career. The ceremony is often accompanied by the lighting of candles and the recitation of the Nurse's Pledge.
Angie Ballard, Program Director for the Practical Nursing Program said, "We are so very proud of all of our nurse graduates and we welcome them to this exciting and rewarding new challenge. Southern Crescent Technical College nurses have always been standard bearers for quality and for independence. We expect the very best from you for nursing, and for your patients. A long road of accomplishments has led to this day and you will reap the benefits of your hard work for the rest of your professional and personal life. Don't be overwhelmed by what is expected of you in the emerging health care system and don't underestimate what you can accomplish."
Upon completion of the program, the graduates are now eligible to sit for the NCLEX-PN state board exams to become official Licensed Practical Nurses. The exam consists of 85 to 205 questions and tests all areas in the nursing profession to assure practical nurses have obtained the knowledge to practice safely in clinical settings.
Southern Crescent Technical College currently offers over 200 different associate degree, diploma, and short term technical certificate of credit classes. Enroll today and get ahead in your chosen career. For more information about Southern Crescent Technical College and its programs of study, visit the website at: www.sctech.edu.