Date Posted: September 10, 2021
As the 20th anniversary of the 9/11 terrorist attacks approaches, Southern Crescent Technical College hosted a day of remembrance and celebrated local first responders for their service to the community.
Cherryl Burks, Director of Student Support Services stated, "Saturday is the 20th anniversary of the 9/11 attacks, and though that terrible September morning was two decades ago, the aftermath is still very much with us. Whether you lost someone that day, or watched in horror and confusion as the events unfolded on television, the events of September 11th, 2001 shaped every aspect of our modern society.  It is a day we will never forget!"
To commemorate this world changing and life altering event, at 8:30 am on Thursday, September 9, 2021, SCTC faculty and staff gathered socially distanced in designated areas on each campus.  At 8:46 am, the time of the first attack, attendees paused for a moment of silence, remembering those who lost their lives, and to honor all first responders.
Following that event, SCTC invited local first responders to a join the college community by participating in the Ride of Honor drive thru celebration on the Griffin Campus.  During this festive event, SCTC faculty, staff, and students cheered on our local first responders and served them lunch as a way of saying thank you for their service to our community.
SCTC President Dr. Alvetta Thomas said, "Today was a great day for us to show our appreciation to our local first responders.  With the upcoming anniversary of 9/11, we felt like it was the perfect opportunity for us to do a little for those that do so much for us.  We train students every day to enter into these important professions and we want to remind them that Southern Crescent Technical College is always supporting them."
9/11 Remembrance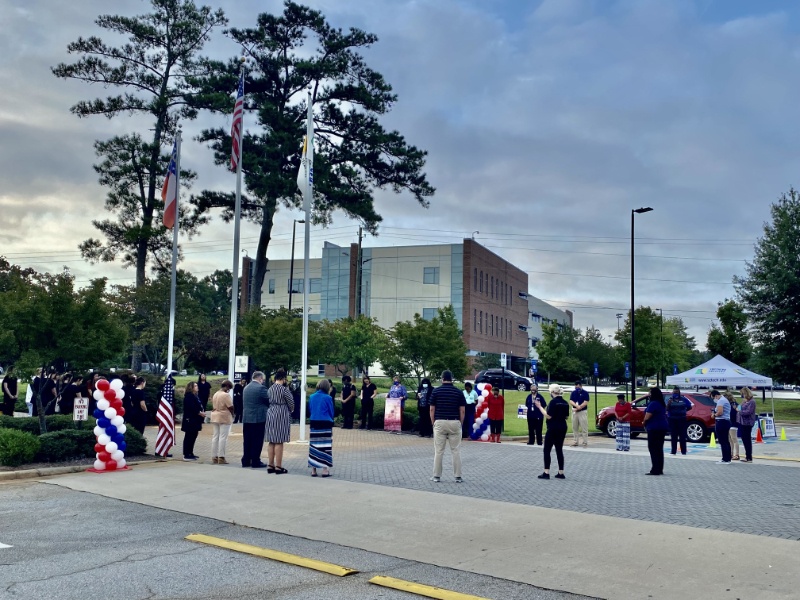 Ride of Honor