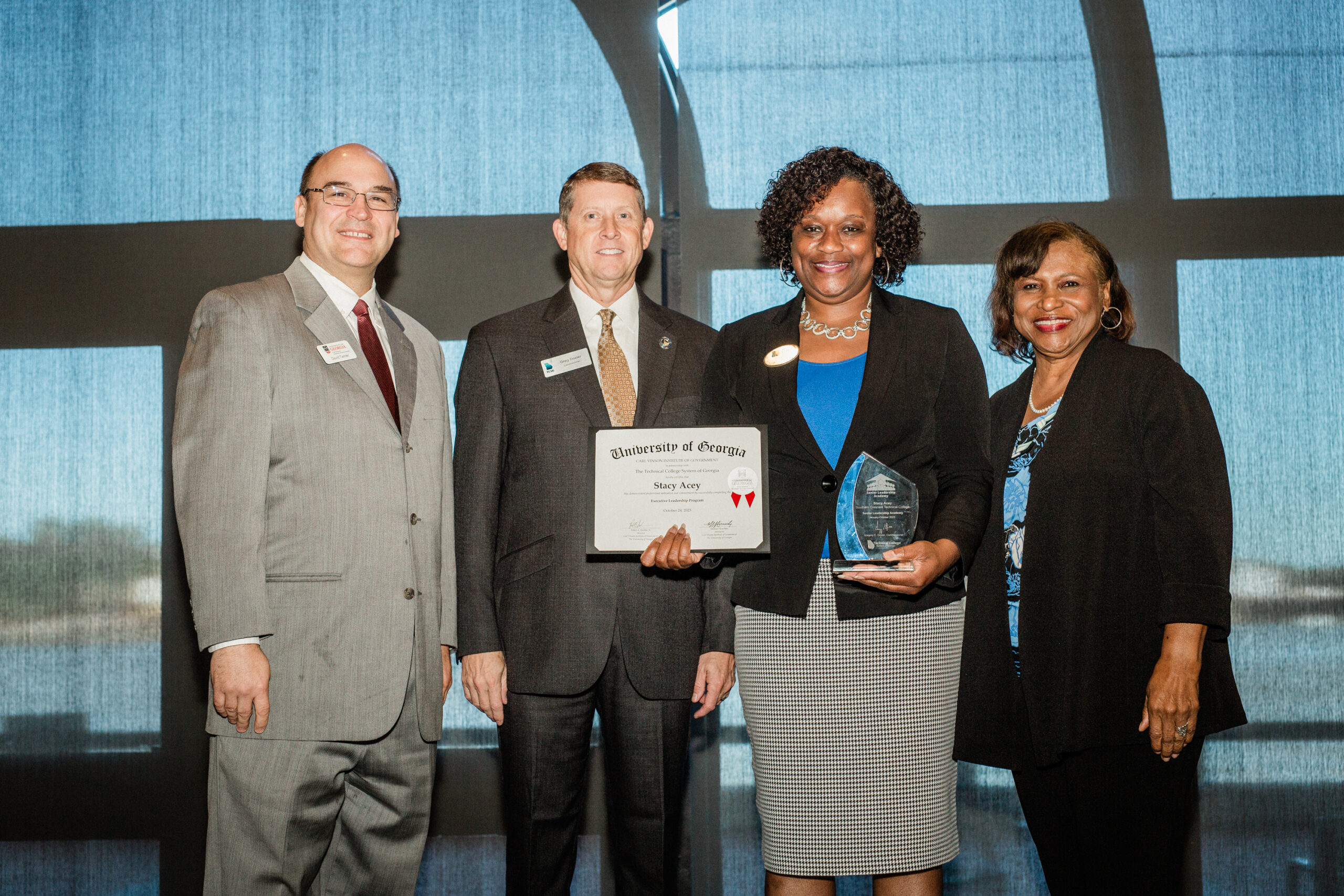 Date Posted: October 30, 2023
Southern Crescent Technical College Vice President for Administrative Services Stacey Acey of Thomaston successfully completed the Technical College System of Georgia (TCSG) Senior Leadership Academy, a transformative professional development program aimed at advancing careers within TCSG and its 22 colleges. The graduation ceremony celebrated the achievements of 25 dedicated participants who have demonstrated exceptional leadership potential during the TCSG Leadership Conference in Savannah.
"The Senior Leadership Academy represents our commitment to cultivating and empowering our own talent pool," said TCSG Commissioner, Greg Dozier. "We believe that investing in our staff's professional development not only benefits our colleges, but also strengthens Georgia's workforce development efforts."
The Senior Leadership Academy is a flagship initiative of TCSG designed to identify, nurture, and equip leaders within the organization with the skills and knowledge required to excel in leadership roles. It is a yearlong program divided into eight two-day sessions. The first cohort received 160 hours of content, including 18 hours of leadership training through the University of Georgia Carl Vinson Institute of Government.
"Through the Senior Leadership Academy, we are not just investing in our staff; we are investing in the future of technical education in Georgia," said President of the Executive Leadership Academy and Talent Initiatives at TCSG, Dr. Alvetta Thomas. "These 25 graduates represent the vanguard of leadership excellence within the Technical College System of Georgia, and we are excited to see the positive impact they will have on our colleges and the communities we serve."
The Academy is designed to provide participants with greater understanding of the operation and administrative functions of TCSG and its colleges such as strategic planning, data driven decision making, budgeting, student affairs, compliance, workforce development, and legal services, among others.
The first graduates of The Senior Leadership Academy are:
 Angela Davis, Albany Technical College
 Dr. Kristen Douglas, Athens Technical College
 Gail Edwards, Atlanta Technical College
 Christine Ball, Augusta Technical College
 Andrea Griner, Central Georgia Technical College
 Heather Pence, Chattahoochee Technical College
 Thomas Wesley, Coastal Pines Technical College
 Dr. Tara Askew, Columbus Technical College
 Dr. Elizabeth Anderson, Georgia Northwestern Technical College
 Dr. Cheree Williams, Georgia Piedmont Technical College
 Sonya McDaniel, Gwinnett Technical College
 Les Salter, Lanier Technical College
 Dr. Vinson Burdette, North Georgia Technical College
 Kim David, Oconee Fall Line Technical College
 Jeffery Davis, Ogeechee Technical College
 Tal Loos, Savannah Technical College
 Eulish Kinchens, South Georgia Technical College
 Brad Hart, Southeastern Technical College
 Stacy Acey, Southern Crescent Technical College
 Ross Cox, Southern Regional Technical College
 Dr. Nathalie Dames, TCSG
 Britney Singer-Walsh, TCSG
 Tim Bacon, TCSG
 Kristen Buoy, West Georgia Technical College
 Stevan Van Hook, Wiregrass Georgia Technical College
###
About the Technical College System of Georgia
The 22 colleges of the Technical College System of Georgia (TCSG) are Georgia's top resource for skilled workers. TCSG offers world-class training in more than 600 associate degree, diploma and certificate programs to students who are trained on state-of-the-art equipment by instructors who are experts in their fields. The system also houses Georgia's Office of Adult Education, which promotes and provides adult literacy and education programs, including the GED® testing program, throughout the state. In addition, TCSG partners with companies through Quick Start, the nation's top customized workforce training program, and through its individual colleges, who work with local industry to provide workforce and training solutions. For more information, visit www.TCSG.edu
About Southern Crescent Technical College
Southern Crescent Technical College is a unit of the Technical College System of Georgia and serves the workforce and community needs of Butts, Fayette, Henry, Jasper, Lamar, Pike, Spalding, and Upson counties. The College is a public, accredited, two-year post-secondary institution serving a diverse student population by offering academic credit programs and services, adult education, continuing education and programs customized for business and industry.
Southern Crescent Technical College is committed to excellence and is characterized by outstanding instruction, a comprehensive commitment to state-of-the-industry training and workforce development, and a close connection to the community. As the College grows, Southern Crescent Technical College will continue to expand its educational programs and facilities to provide students with enhanced opportunities for career success. For more information on Southern Crescent Technical College or its offerings, please visit www.sctech.edu.