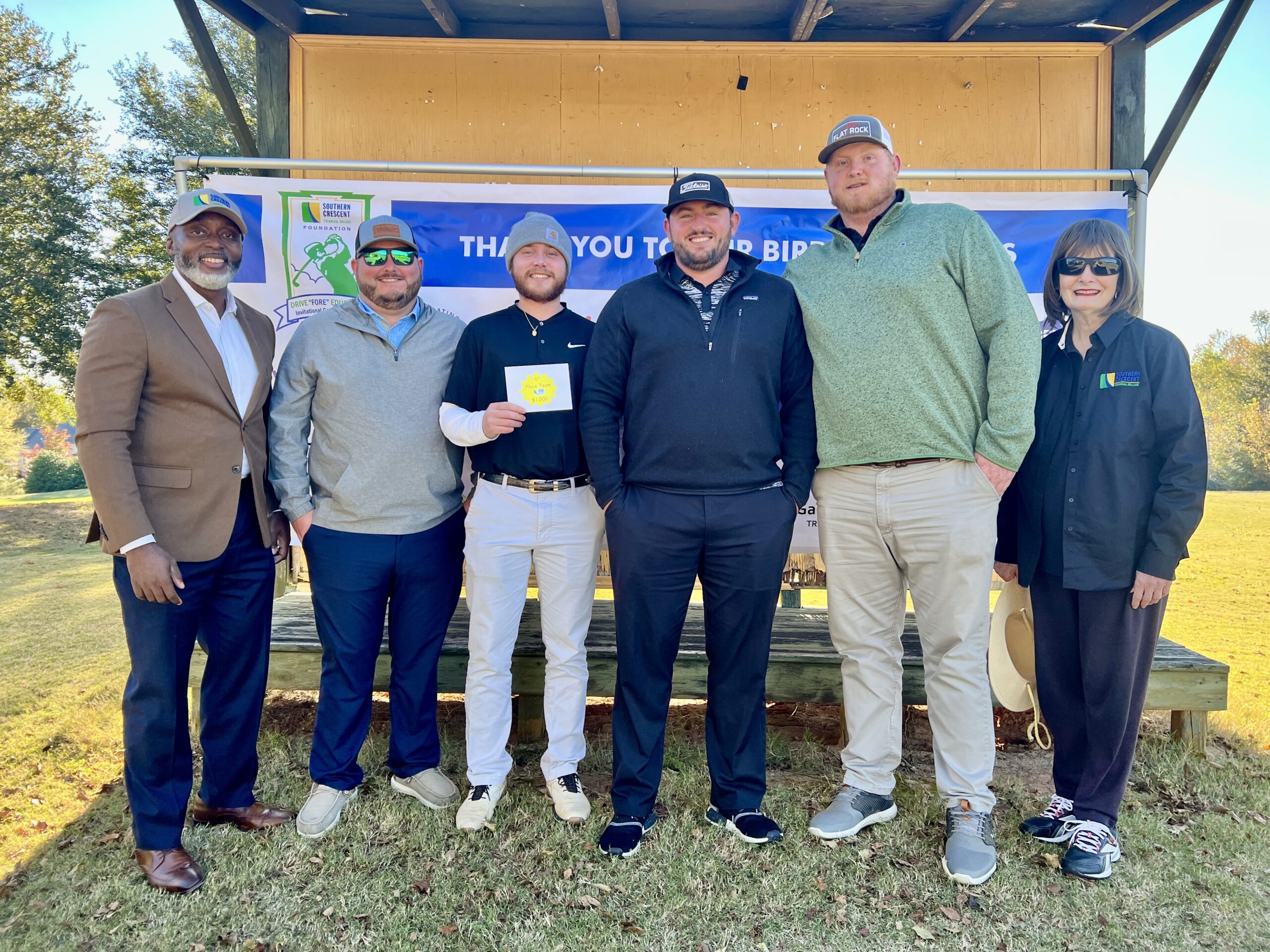 Date Posted: November 13, 2023
The Southern Crescent Technical College Foundation recently hosted the Drive "Fore" Education Invitational Golf Tournament on November 2, 2023 at the Heron Bay Golf & Country Club in Locust Grove in Griffin with 27 teams participating.
The Lauderdale style tournament was presented in partnership with Impact Office Interiors. Early estimates indicate that proceeds from the tournament will be in excess of $57,000 with that money going to support the needs of the College including student scholarships and campus expansion.
SCTC President Dr. Irvin Clark expressed gratitude on behalf of the College and thanked the golfers in attendance before the 10 a.m. shotgun start. Dr. Clark stated, "Your attendance here today shows your commitment to the mission and purpose of Southern Crescent Technical College, and we cannot thank you enough for supporting our students and helping to make their career dreams a reality. We take great pride in building strong students, strong careers, and strong communities, and your support is a vital part of the success of the College."
The Drive "Fore" Education Invitational Golf Tournament was a phenomenal success, primarily due to the unwavering support of those who participated and those who so generously donated items for auction.
The Southern Crescent Technical College Foundation expressed its great appreciation when Foundation Chair Jack Bowdoin stated, "The College deserves the very best we can offer in our support, and the communities have surely risen to the occasion with their attendance and their donations. We are very thankful for their generosity and the opportunities it affords the students of Southern Crescent Technical College."
Tournament participants represented various business and industry partners from the College's eight county service area.
United Bank took home top honors with a score of 19 under par. Double P Grading placed second with a score of 18 under par; Georgia Power finished third with a score of 17 under par; General Storage placed fourth with a score of 13 under par; and Smith & Sons Funeral Home finished fifth with a score of 13 under par with their place determined by regression.
During the tournament, prizes were also given for closest to the pin, longest drive, and the putting contest. Closest to the pin winners on Hole 3, Hole 7, Hole 13, and Hole 17 were Deron Owens, Michael McLarnan, Torrian Williams, and Abe Morrall, respectively. John Williams won the men's longest drive, Paula Butts won the ladies longest drive, and Irv Colpepper won the seniors longest drive. The winner of the putting contest was Ray Hill.
Barbara Jo Cook, Vice President for Advancement at Southern Crescent Technical College commented, "We were beyond thrilled with the participation and support we received for the Southern Crescent Technical College Drive "Fore" Education Invitational Golf Tournament. Team representation and tournament sponsorships covered each of the eight counties that we serve, and the Foundation trustees were thrilled to host this tournament as a way to bring our external stakeholders together to support the needs of the College and our students."
Tournament sponsors included the following:
Partner Sponsor: Impact Office Interiors
Eagle Sponsor: ARI Packaging
Birdie Sponsors: Beacon Security, Bellamy Strickland, Central Georgia EMC, Columns Fundraising, Coweta Fayette EMC, General Storage, Georgia Power, Henry County Development Authority, Jack Bowdoin, McLeRoy,Inc., Norcom, Odyssey Family Counseling, Piedmont Fayette Hospital, Piedmont Henry Hospital, Quad Graphics, Rinnai America Corporation, Smith and Sons Funeral Home, Technical Training Aids, Tom Gardner, Upson Regional Medical Center, and WellStar.
Hospitality Sponsor: United Bank
Driving Range Sponsors: Double P Grading and Structor Group
Cart Sponsor: Nocwing
Hole-In-One Sponsor: Bellamy Strickland
Million Dollar Shootout: Griffin Exchange Club
Longest Drive Sponsor: Southern Rivers Energy
Putting Sponsor: First National Bank
Putting Green Sponsor: Griffin Imaging
Closest to the Pin Sponsor: M&R Print Solutions
Hole Sponsors: Argus Eyed Partners and Sierra Development, Georgia Banking Company, Randolph Williams, Rubio and Sons Interiors, Inc., and Smith, Welch, Webb & White, LLC.
Additionally, the tournament had 32 tee box sponsors from area businesses and individuals. Tee-box sponsors included: AJK – Abbott, Jordan & Koon; American Trailer Services; Beck, Owen & Murray; Bennett International Group; City of Thomaston; Drs. Irvin and Kudiratu Clark; Conner-Westbury Funeral Home; Barbara Jo Cook; Country Financial Insurance; Kenneth English; Janice Moore-English; Gail Gardner; Golden Star; Dr. Tom and Helen Grayson; Griffin-Spalding Military Affairs Committee; Hill's Tire and Auto; Impact Workforce Solutions; Mesquite Mexican Bar & Grill; Nichols, Cauley & Associates; Oakbridge Insurance; Odyssey Family Counseling; Servpro; Smith and Sons Funeral Home-Monticello; State Farm Insurance – Rita Johnson; Strawn & Company Insurance; The Perfect Image; The Southern Credit Union; Thomaston Prescription Shop; and Xtreme Fun on Wheels.
Jack Bowdoin continued, "It was a wonderful turnout and an excellent tournament. A very special thank you goes to Todd Feltman, SCTC Foundation Trustee Emeritus for doing an outstanding job coordinating the tournament."