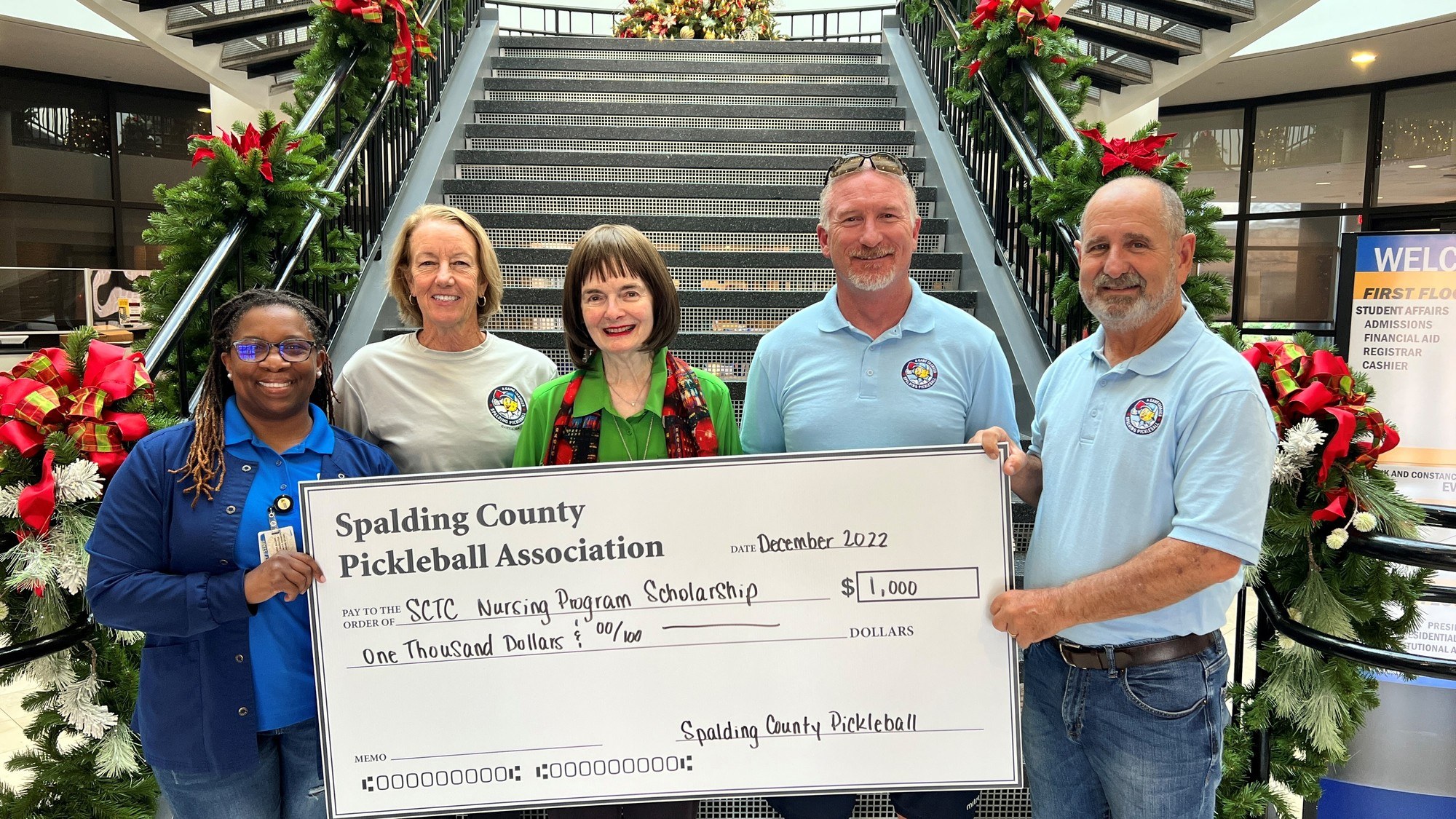 Date Posted: January 6, 2023
Spalding County Pickleball Association (SCPA) recently made a donation of $1000 to the Southern Crescent Technical College Foundation, Inc. The funds will be used to award two $500 scholarships for the Practical Nursing program at the College.
"We are so grateful for the mutually beneficial partnership between the College and the Spalding County Pickleball Association," SCPA President Lynn Lowry said. "We are so pleased and blessed to be in a position where we can contribute, once again, to the greater good of this community through the sport of pickleball and associated volunteer services. The PN Scholarship is such a worthy cause, helping people secure marketable skills through educational opportunities to improve their quality of life. It is exciting to be part of an effort such as this.
"Year after year, SCTC student nurses are there for us, providing much needed and much appreciated services to the Spalding County Pickleball Association and their hosted pickleball tournaments. The pickleball players, many of which are out-of-town visitors, absolutely love the fact that SCTC student nurses are providing onsite medical services at each and every tournament." he said.
Under the direction of SCTC Interim Allied Health and Paramedicine Dean Angie Ballard, nurses from the College have assisted the SCPA Pickleball tournaments by volunteering in the first-aid tent. "We are always encouraged when our nursing students can assist in our community," she said. "It helps our students gain leadership and contact hours while making contacts and volunteering as well. It's a win-win for everyone."
The Spalding County Pickleball Association is a not-for-profit 501(c)(3) organization promoting and growing pickleball for the betterment of our community through active lifestyle, health & well-being, exercise and fitness, sports tourism, and economic impact. Over the past six years, the SCPC has drawn many thousands of players to its open play sessions, clinics, leagues, and tournaments. From June 2017 to October 2022, the SCPA has hosted and/or operated 30 tournaments, drawing over 7,000 players and generating over $5 million of economic impact for Griffin-Spalding County.
The Southern Crescent Technical College Foundation promotes the cause of higher education at Southern Crescent Technical College by acquiring and administering cash, grants, and other funds and properties principally from industries, businesses, individuals, corporations, other organizations, associations or foundations, as well as from faculty, staff, alumni, and other friends of the College. In addition, the Foundation assists students by providing scholarships and provides assistance to the College for the support and development of the College in its educational, cultural, social, civic, and professional endeavors and development. The Southern Crescent Technical College Foundation is a non-profit corporation established under Section 501 (c) (3) of the Internal Revenue Code. The Foundation is governed by a local board of trustees who represent positive leadership and community influence throughout the College's eight-county service area of Spalding, Butts, Fayette, Lamar, Pike, Jasper, Henry, and Upson counties.
Some scholarships account for financial aid assistance while others are established for students who do not qualify or have capped their financial aid allocations. Students have expressed that they would not have been able to pursue their education without the assistance from the SCTC Foundation scholarships. Numerous possibilities exist at SCTC for donors interested in contributing to student support through naming opportunities, bequests, scholarships and in-kind donations. Donors are advised to consult the potential benefits with their tax advisor before making a gift. For more information, contact the College's office of Institutional Advancement at 770-229-3466 or email foundation@sctech.edu.