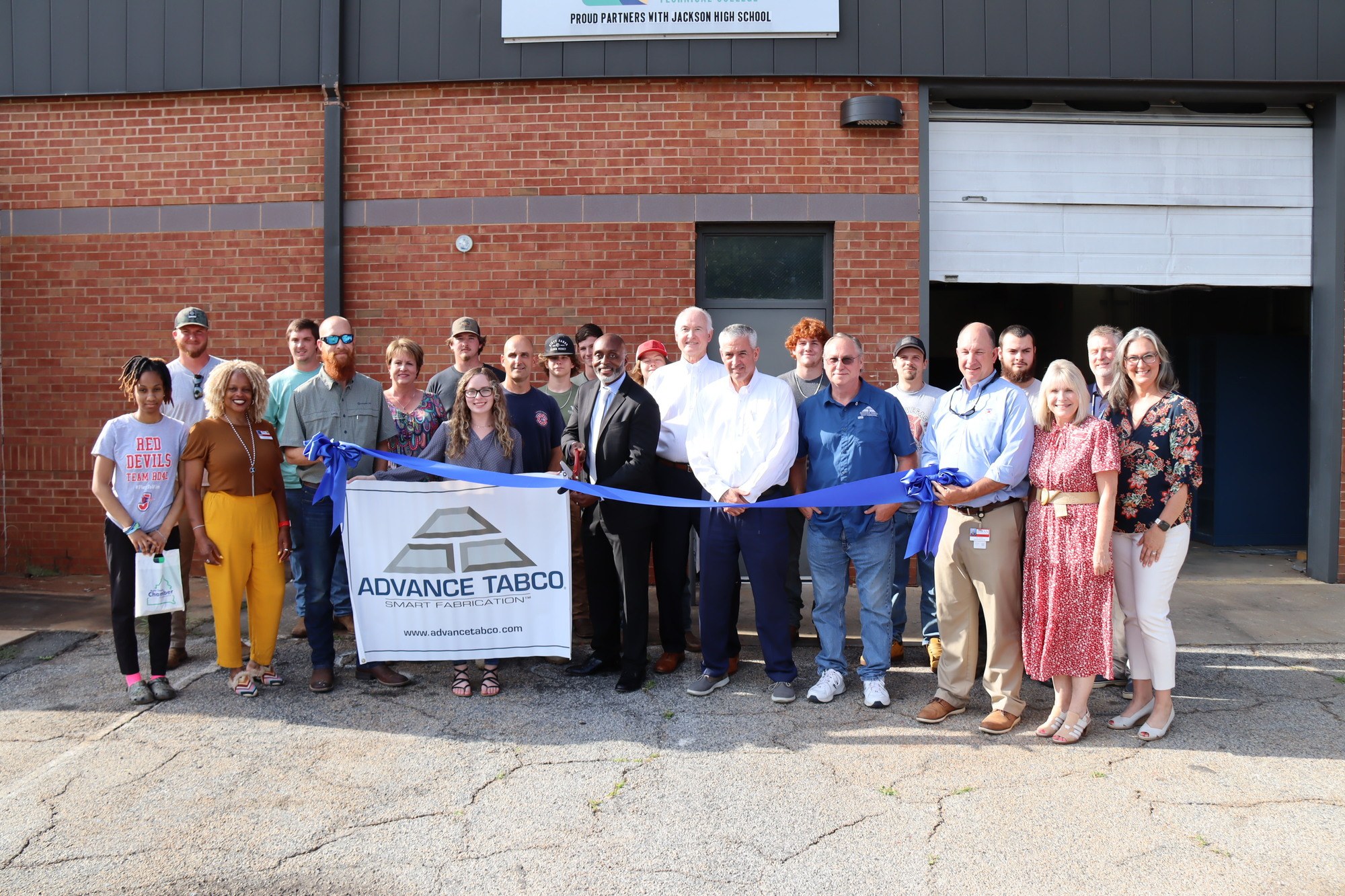 Date Posted: June 9, 2022
In partnership with the Butts County Chamber of Commerce, the Butts County Development Authority, the Butts County School System and local business and industry partners, Southern Crescent Technical College held a ribbon cutting on Monday, June 6, 2022 for the reopening of the welding lab located at Jackson High School.  This ribbon cutting also kicked off a new welding class with ten students in attendance.
Lisa Durden, Executive Director of the Butts County Chamber of Commerce, stated, "The Butts County Chamber of Commerce takes workforce development seriously and during the past year, we have taken on the task of trying to do what we can to help our community strengthen its skilled labor pool. One of the needs that was brought to our attention was the need for a welding program in our community.  We have several business partners who need skilled welders and we wanted to do all that we could to help them meet their needs."
As this project began to unfold last fall, the Chamber partnered with the Butts County Industrial Development Authority, Jackson High School, Butts County Heartland-Foothills Charter High School, and Southern Crescent Technical College to see what could be done to bring a welding program back to the existing lab at Jackson High School.
Once the major players were established, Ben Giovannetti with R&B Metal Structures and Phil Chilton with Advance Tabco offered their assistance to get the project off the ground.  R&B Metal is sponsoring 4 students and Advance Tabco furnished one of the new welding machines for the lab.  In addition, both local businesses are furnishing scrap metal from their businesses for the students to use for class.
Durden continued, "This collaborative effort of business and government working together was a great example of what we can accomplish for our community.  Most of the students had sponsors who covered the cost of the program including R&B Metal Structures, Butts County Heartland-Foothills Charter High School, and Rental Solutions. Many thanks to Bob White, Melissa Griffin, Will Rustin, Dr. Sohmer McKibben, Brent Watts, Supt. Brent Lowe, Dr. Mark Andrews, Dr. Irvin Clark, Ben Giovannetti, Phil Chilton, and many others who made this possible. It is certainly a win-win for our students and community."
The open class is being offered through the Economic Development Division at Southern Crescent Technical College with ten students from both private industry and education sectors.  The course consists of 50 hours of Basic Shielded Metal Arc Welding and 50 Hours of Advanced Shielded Metal Arc Welding.  Upon completion of the 100-hour course, students will become Certified Horizontal, Vertical, and Overhead Shielded Metal Arc Welders.
Southern Crescent Technical College President Irvin T. Clark, III, said, "I am thrilled that we were able to reopen the welding lab at Jackson High School to offer this unique opportunity to train these individuals to become certified welders to support our local business and industry partners.  I know that it took a great deal of preparation and coordination to get this project off the ground and I am thankful to everyone for their commitment and dedication as we work together to build a stronger workforce for Butts County and this region."
Following the completion of this course, plans are underway to continue this program as well as offer a dual enrollment program for high school students that will begin in the fall.