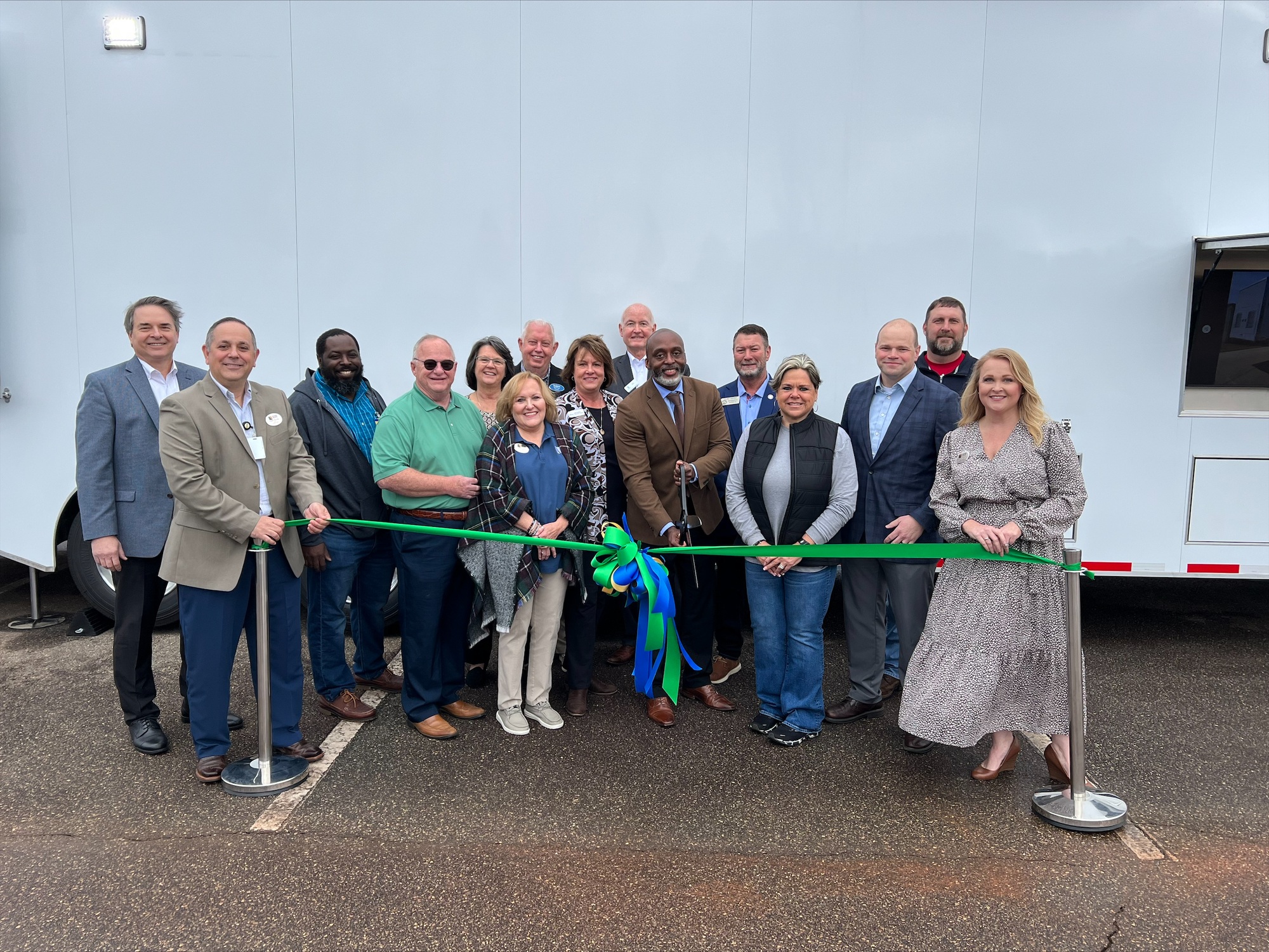 Date Posted: February 20, 2023
Southern Crescent Technical College held an official ribbon cutting at the Butts County Center this morning for a new state-of-the-art Industrial Systems Technology Mobile Training Lab. This mobile lab will assist our credit and non-credit programs in training students in the high-demand career areas of Industrial Systems, Mechatronics, and Automated Manufacturing.
During this event, attendees were welcomed by SCTC President Dr. Irvin Clark where he spoke of the importance of this lab to the workforce development efforts in Butts and surrounding counties. The mobile training lab houses a variety of training equipment utilized in advanced manufacturing facilities and can be transported for a number of different training opportunities. Additionally, this lab can remain in a fixed location to provide an additional training lab for students and industry partners.
With the new lab, SCTC can support workforce development projects for municipalities, upskill current staff at an employer's place of work, train job seekers looking to gain new skills, and work with the next generation of trades workers to develop skills and interest. Open session mechatronics training will be offered in 6-12 week cohorts in 2023 targeting incumbent workers, as well as unemployed and underemployed workers wishing to increase their skill level.
Timothy Holt, Industrial Systems Technology student at Southern Crescent Technical College, offered a student's perspective as he shared his excitement over the addition of the mobile lab and how it will make training in these fields accessible to more students.
Lisa Durden, Executive Director of the Butts County Chamber of Commerce, and Bob White, Executive Director of the Butts County Industrial Development Authority
followed commenting on the strength of the partnerships between their organizations and Southern Crescent Technical College while also highlighting the significance of this lab to local workforce development efforts.
Larry Alford, South Metro Regional Manager of the Georgia Manufacturing Extension Partnership at Georgia Tech, wrapped up the guest speakers, sharing industry insights and workforce initiatives where this lab will play a crucial factor in attracting and keeping high-demand industries in this area.
The program commenced with Dr. Clark cutting the ribbon alongside key individuals and partners who have supported this project.
Industrial Systems, Mechatronics, and Automated Manufacturing careers are categorized as High Demand Career Initiatives (HDCI) careers in Georgia. In 2022 Georgia Senate Bill 379, was signed into law by Governor Brian P. Kemp. As Georgia's first-ever state-funded apprenticeship initiative, the HDCI Program represents a historic investment by the State of Georgia in and registered apprenticeships. This program aimed to both upskill Georgians and increase skilled talent within Georgia's high-demand industries.