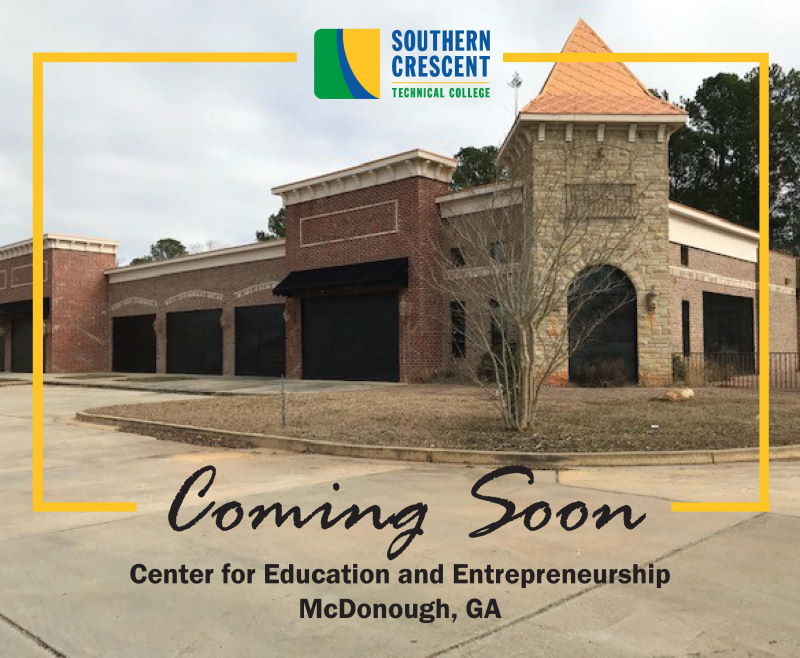 Date Posted: July 24, 2020
With the recent close of the legislative session, it was announced that $6.7 million in bond financing in Georgia's 2021 fiscal year budget would be directed for the site acquisition, design, and construction of the Center for Education and Entrepreneurship at the Southern Crescent Technical College Henry County Center in McDonough. The Center for Education and Entrepreneurship will provide small business and entrepreneurial training opportunities for students attending classes at the Southern Crescent Technical College Henry County Center.
Southern Crescent Technical College intends to increase program offerings and student support services at the Henry County Center by renovating the abandoned 26,000 square foot Lakemont Chattels Shopping Center property, located at the corner of Lakemont Drive and GA Highway 81. The shopping center property will be repurposed as the Center for Education and Entrepreneurship and it will provide additional space for a variety academic and workforce training programs that support small business development. The facility will strengthen education, business, industry, economic development, and community partnerships in the Henry County Region and has the support of the Henry County business and industry stakeholders.
Southern Crescent Technical College President Dr. Alvetta Thomas stated, "We are thrilled with the possibilities for this property and for the expansion of the Southern Crescent Technical College Henry County Center.  The property provides our Henry County Center with improved campus access, expanded programs and it will serve as a landmark to this location.  The Center for Education and Entrepreneurship is an exciting opportunity for Southern Crescent Technical College to impact the lives of countless individuals, thus building strong students, strong careers and a strong communities. We are grateful for business and industry support throughout the county.  Strong partnerships are key to the success of our programs."
The College has a proven track record for high demand academic programming at the Henry Center.  Strong business partnerships help ensure program success and a high job placement rate.  The College recently partnered with Piedmont Henry Hospital to support healthcare programs including registered nursing and cardiovascular technology.  Other programming includes a recent partnership with the Henry Water Authority for the state of the art water treatment program. The College also has a partnership with Henry County Schools to offer dual enrollment options for high school students and adult education classes for GED preparation as well as transfer agreements to four year institutions such as Clayton State University, Gordon State College, and Mercer University.
Over a third of Southern Crescent Technical College's enrollment comes from Henry County and this enrollment correlates with the population growth of the county.  Projected population growth for Henry County is expected to be 6% over the next five years, exceeding the state and national growth projections by 2% and 4%, respectively.  Along those same lines, a five-year trend projection shows that Southern Crescent Technical College's Henry County enrollment could increase to 37% of the College's total enrollment by 2024.
The fiscal year 2021 budget was signed by Gov. Brian Kemp on June 30.  Dr. Thomas continued, "We are thankful that our local Henry County legislative delegation saw the need to secure the funding to make the Center for Education and Entrepreneurship possible.  With their steadfast support, we can continue to make dreams come true for our students."
"I am excited to see the state continue to invest in higher education in Henry County," State Senator Brian Strickland, R-McDonough said. "This new facility will provide more opportunities for students coming out of our high schools and adults returning to the workforce to obtain a quality education here in McDonough and as a place to train employees for businesses that want to locate to Henry County. Moreover, this investment in this location will replace an abandoned strip mall with a state of the art facility that will serve as the corridor for the current campus for Southern Crescent and the Academy for Advanced Studies."
"The start of a Southern Crescent Technical College Campus in Henry County is one of the reasons I ran for and won a seat in the Georgia House; as I retire from the House, I am proud to see the funding for the third building," said Rep. Andy Welch, R–McDonough.
Southern Crescent Technical College is a unit of the Technical College System of Georgia.  For more information about our program offerings visit the website at www.sctech.edu or contact the SCTC Office of Admissions at admissions@sctech.edu or 770-228-7348.